Mammoth Lakes and Eastern Sierra Local News
Memorial Day weekend (and Mule Days) kicked off summer in the Eastern Sierra! Minus a few rain showers, June has been sunny and warm. Visitation surged as people couldn't wait to see the mountains (and mules). Then, the visitation went down slightly. Overall, June has been a steady month for Mammoth Lakes and the Eastern Sierra.
4th of July was one of the busiest we have seen! The parades in Mammoth Lakes and Bridgeport were packed with people watching and enjoying. Since the 4th of July, Mammoth has stayed consistently busy.
The weather in Mammoth Lakes has been sunny and warm and is expected to stay that way. It's a good time to go for a morning hike, then take a swim or go for a paddle in the afternoon. Not sure where to hike? Check out some of our favorite summer hikes here.
Fire season is officially back in the Eastern Sierra and across the West Coast. The Dexter Fire started on July 12th bringing smoke back to Mammoth Lakes. The fire was lightning caused and is burning by Bald Mountain. Thankfully the fire is now 96% contained. For up to date information on the fire click here.
Mammoth Lakes Real Estate Market Recap
If you've been following the market for some time now, you might expect us to say yet again, the market is only getting hotter. This past month however, we actually noticed the dial turned down ever so slightly. We noticed a few listings staying on the market longer than what we were used to seeing. This mostly applies to smaller condos (studios or one bedrooms), houses that need a lot of work, and houses that are priced above $3 million.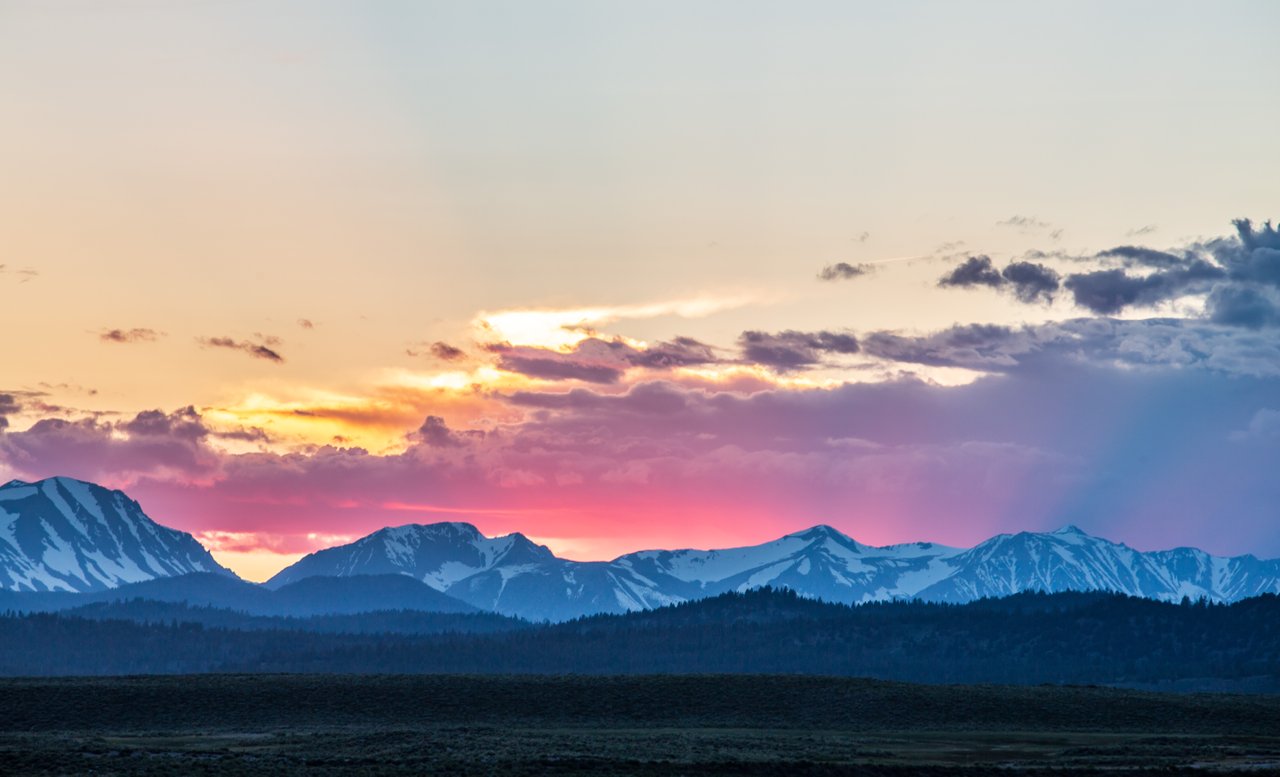 This does not mean we are suddenly in a buyers market, but rather that some buyers are deciding to postpone their Mammoth home purchase, or are deciding to wait for the right property. Of course, for highly desirable properties that are priced right, you may find yourself in a multiple counter offer situation.
Many, if not most Mammoth properties continue to sell at or over asking price. Other Mammoth properties have received surprisingly large discounts. We have seen some sellers ask an outrageous price and albeit get that price. Other sellers haven't been as fortunate. In this market, if your property sits for 30 days, it is now a "stale" listing. People will start asking, "Why has it been sitting so long." Usually it's something small like a lack of a bathroom or other times it's because it needs major repairs and the price doesn't reflect the condition.
Many agents implement different strategies with their listings. One strategy is going low and hoping for multiple offers with contingency removals off the bat. Another is listing high and giving the illusion that the buyer is getting a deal. It's important for your agent to know the listing agent's style. Make sure you ask your real estate agent what's a reasonable offer based on the asking price and the seller's agent's typical listing strategy. Sometimes you may be surprised!
Mammoth Lakes Real Estate Home Trends and Stats
The number of Mammoth Lakes home sales was slightly down from May and slightly down compared to June 2019. Still, more homes have sold in these first six months compared to the same six months in 2019 and 2020.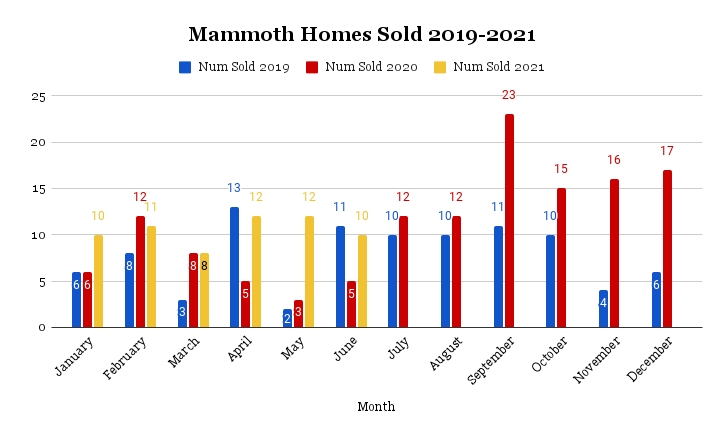 10 homes sold in June. As of July 19th, there are 20 homes on the market in Mammoth Lakes. Half of these homes are over $1,000,000 and many of the other homes are fixer-uppers. The fixers are sticking on the market, which makes sense since the asking prices are high. It wouldn't make financial sense to flip them with such a high purchase price. It's possible to live n' flip and sell in a few years if the market keeps going up -- of course, no one can predict that.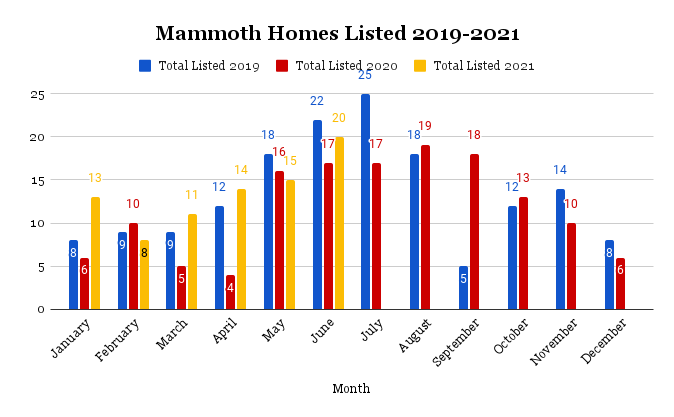 While 20 home listings in Mammoth is slightly down compared to June 2019, it is still a relatively large number of homes hitting the market in one month. So far this year, June has been the month with the highest number of homes to hit the market in one month and also higher than any month in 2020.
Mammoth homes have been selling much easier this year (even at a super high price) and the word is getting out. So far this year, 64 homes have sold. We are on track to having another record breaking year in terms of Mammoth homes sold. In 2020, 133 Mammoth homes sold and the next highest year was in 2016 at 102.

This year, the average number of days for a Mammoth home to sell from the day it's listed is 106 days. That is not a bad turnover time. The demand is still there for buying in this special spot.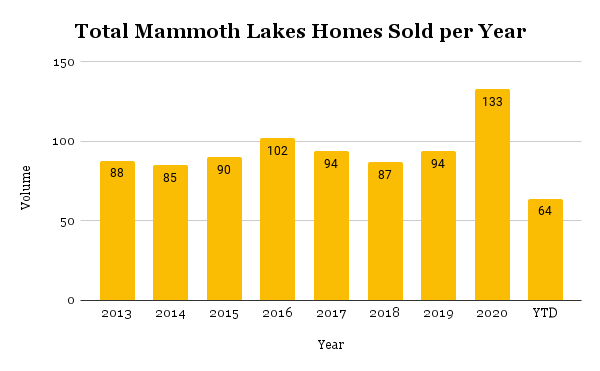 With Mammoth homes buzzing the median sale price is booming (still)! The median sale price for a home in Mammoth Lakes increased to $1,692,000 in June.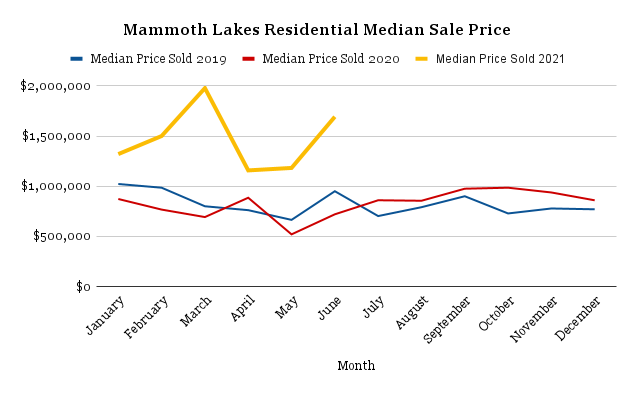 Of the 10 homes that sold in June, three homes sold for over $2,000,000. The most expensive home sold in June closed at $2,400,000. The home is located in Old Mammoth on Crawford Avenue on a private driveway. A huge castle of a home with five bedrooms and bathrooms, 4,100 square feet, and views of the Sherwin Mountain Range.

We know you're probably thinking -- it seems like there's a lot of inventory looking at the bar graph above titled, Total Mammoth Lakes Homes Sold per Year. It does look like that we have to admit! But, that graph is depicting homes sold not listed. When looking at the homes listed per year, you'll discover that inventory is still low. 160 Mammoth homes were listed in 2019. In 2020, 141 Mammoth homes were listed. And finally, 81 Mammoth homes were listed in the first six months of 2021. So far, we are on track with 2019, but demand is much higher. The high demand and low inventory is what has been driving the high prices for Mammoth Lakes homes.
Mammoth Lakes Real Estate Condo Trends and Stats
It's looking to be that demand is tapering off, right? Not so fast.. The number of Mammoth Lakes condos sold in June decreased from May, but is much higher than 2019, and 2020.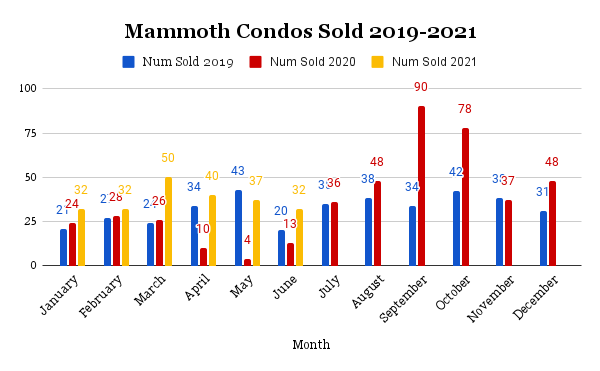 Summer is typically the busiest time of the year for Mammoth Lakes real estate. We expect to see a lot of new listings June-August and a spike in closed sales July-September sometimes even October depending on how long escrows take to close.

We were pretty surprised to see only 36 new condo listings in June, especially when we noticed the condo inventory was actually growing and finally made it up to 50 condos at some points in June.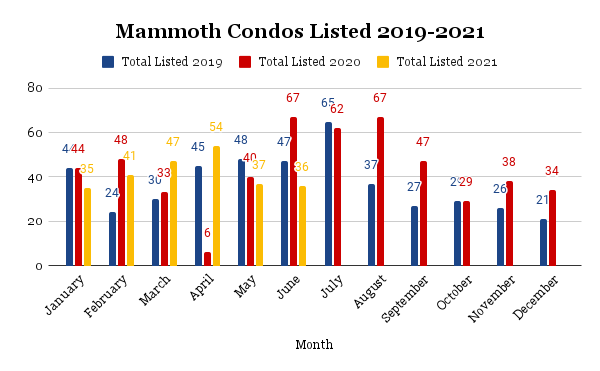 If the condo inventory is growing, but not many new condos were listed, what does this tell us? It tells us that condos are starting to sit on the market longer. Average days on market for June was 76 days compared to only 46 days in May.

As of July 19th, there are 53 active condos on the market. Of these 53, only four condos have three bedrooms or more. That means the other 49 condos are studios, one bedrooms, two bedroom, or two-bedroom+loft condos. It does seem like the Mammoth real estate market has cooled down one degree, but this may only be due to lack of desirable supply. Most of the people who can buy here are willing to wait for the right one.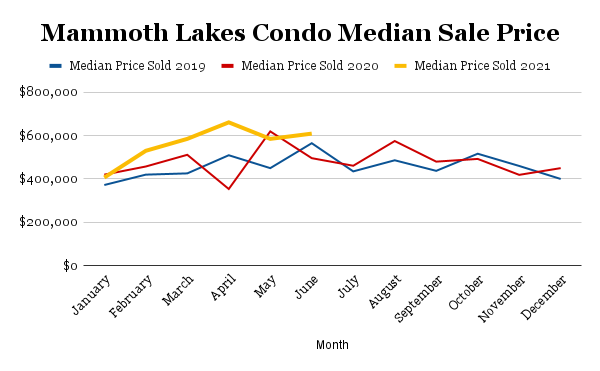 With mostly one and two bedroom condos selling and inventory still low, it's no surprise the median condo sale price only increased approximately 4.15% from $585,000 in May to $609,250 in June.

There are many factors involved, but to put it simply the demand is still alive and well. We are used to seeing at least 80+ condos on the market at any given time pre-pandemic. Right now we are seeing about half of that. Condos are still selling quickly and most of the new construction is reserved. A few CreekHouses finally sold in June, which likely brought up the average days on the market figure. However, you can still count on high prices and a competitive Mammoth real estate market.
Is now a good time to buy real estate in Mammoth Lakes?
With the inventory slowly getting larger, and some properties sitting on the market for longer than 30 days, you might finally be able to get a slight discount on price. Larger inventory also means you're able to choose from a wider variety of properties and tour many different properties to find the right one. With some properties staying on the market longer, you also have a little bit more time to make your decision, as opposed to making a sight unseen offer the day a property is listed. As we mentioned above, you still have to ready with your highest and best offer if you really want it.

Mortgage interest rates continue to hover around 3%, which means if you qualify, you can afford a larger mortgage with low payments. It's a great time to take advantage of low interest rates since they will likely start creeping back up in 2022.
Is now a good time to sell real estate in Mammoth Lakes?
Although we mentioned a slight decrease in competition this month, now is still a great time to sell. There are still a lot of buyers actively watching the market and waiting for the right property to come along. Many buyers especially want three bedroom or larger condos. So if you've been holding onto a large condo that your family no longer uses, now is a great time to sell it.
Regardless of the property type or location, all properties continue to sell. Call us to get a free market valuation on your property today!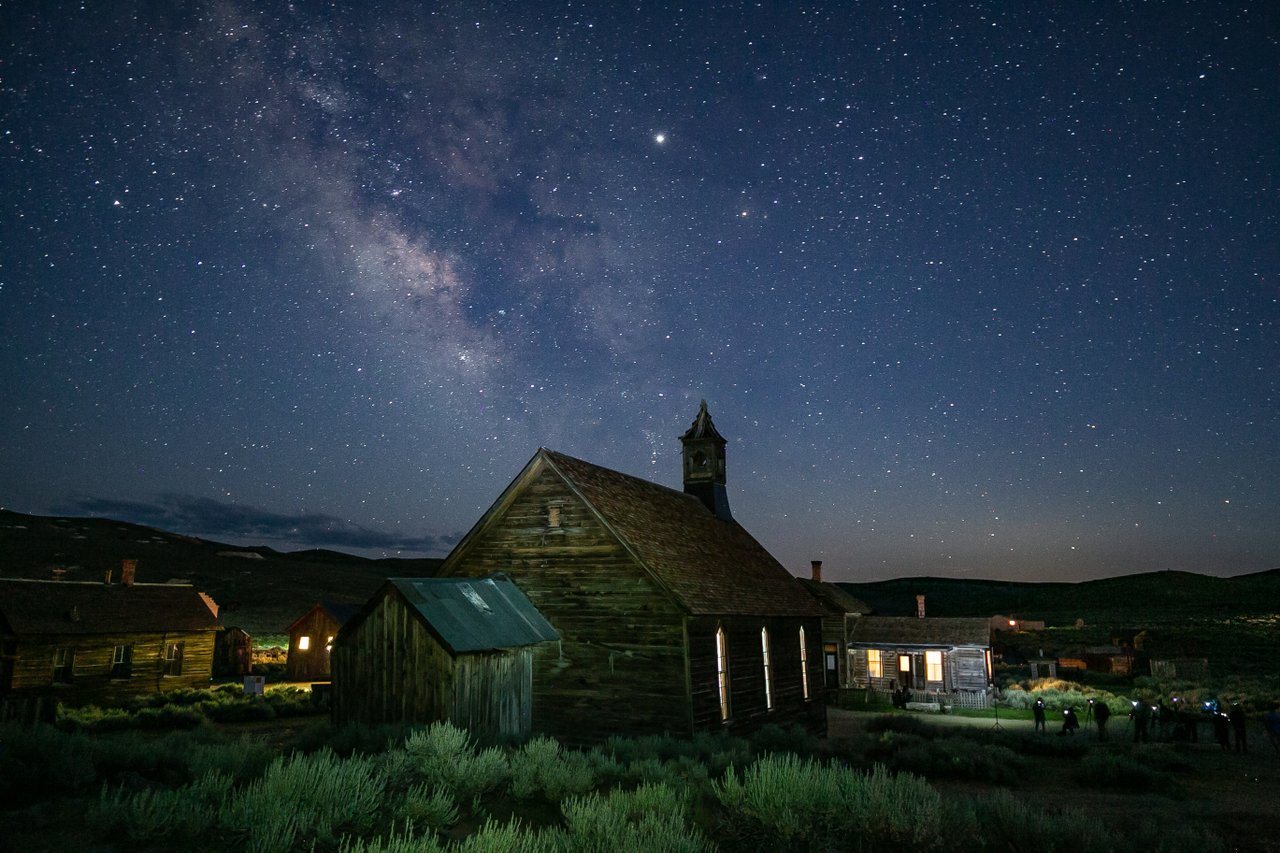 Disclaimer: Based on information from the Mammoth Lakes Board of REALTORS and other various sources. All data including all measurements and calculations of area, is obtained from various sources and has not been, and will not be, verified by broker or MLS. All information should be independently reviewed and verified for accuracy. Properties may or may not be listed by the office/agent presenting the information.