Welcome to The Most Comprehensive Mono Basin Real Estate Recap
We dive deep into the current trends and stats in June Lake, Lee Vining, and Mono City. With a B.S. in Finance from Texas State University and a teaching background and UCLA graduate, Joseph and Grace pour their brains and heart into every market update. You will discover insight about our unique real estate markets that will prepare you to become a more informed buyer and/or seller. Please feel free to contact us for any questions about real estate, skilled laborers, hikes, or you name it!

June Lake, Lee Vining and Mono City are small, but special towns in the Eastern Sierra. Both Joseph and Grace have deep connections with these communities and love spending time in all of these areas.
Local News
It has been an exciting quarter in California. As vaccination rates increased and infections decreased we finally got out of Governor Newsom's Blueprint to a Safer Economy. Mono County has been enjoying maskless activities and small festivals like the Reggae Fest, Jazz Fest, and Theatre Fest. However, the Delta Variant is a rising threat. Consider getting vaccinated if you have not already, you may save a life or two!

Summer is in full swing in the Eastern Sierra. We had a busy 4th of July Weekend. In June Lake, visitors have been enjoying hanging out at June Lake Beach and grabbing food and drinks at Epic Cafe, Hermitage Juice Bar, June Pie, June Lake Brewing and Ohanas.
Lee Vining has also been busy with visitors heading to or coming from Yosemite National Park. All businesses in Lee Vining are officially open for summer! Next time you're in town be sure to stop by Latte Da for a coffee and Mono Cone for lunch. Don't forget about the Mono Lake Committee! Ask them about the state of Mono Lake or a recommendation for a great hike.
We've been experiencing some record breaking heat the last couple of weeks! It's a great time to find a creek or a lake and take a swim. There have also been some much needed summer rainstorms.
Fire season is officially here, the Dexter Fire started on July 12, 2021 by Bald Mountain and has been causing some smoke to fill the Mono Basin. So far the smoke isn't as bad as last summer, but it's a good reminder to take the current fire restrictions seriously.
June Lake Real Estate Trends and Stats
Quarter two (April 1st - June 30th) was more active than the first quarter of this year. Spring and summer are usually the busiest times for real estate activity in the Eastern Sierra, so we typically expect sales and listings to start increasing in spring and continue increasing into summer.
What happened in June Lake in Q2:

There were eight new home listings in June Lake from April to June. This is a big increase from Q1 when only two homes were listed. Four homes sold between April and June, compared to only two home sales January-March.
The median home sales price increased from $390,000 in Q1 to $524,000 in Q2. The most expensive sale was a house at 12 Dream Mountain Drive that sold for $1,150,000. It's likely the median sales price will increase again in Q3 when a record breaking sale closes. A United States Forest Service Cabin located at 1079 Nevada Street is currently in escrow for $1,695,000. This cabin has a history. It is said that the character Woody the Woodpecker was created here. We are not sure what the cabin is in escrow for, but if it closes over $1,500,000 it will be the most expensive home to sell in June Lake...ever! It is especially surprising since the house is a Forest Service cabin, meaning the government owns the land and the owner pays a land lease! AND the property is only truly accessible in the summer!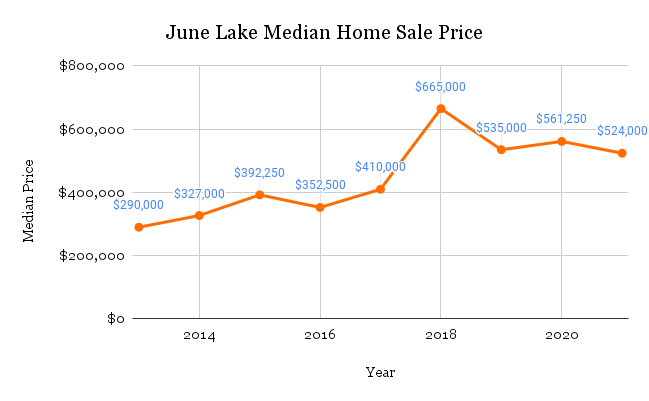 Year-to-date the median sale price of a June Lake home is $524,000. Despite the YTD median sale price not being higher than in 2020, we are seeing an interesting trend with the price per square foot in June Lake. We are seeing unprecedented increases with this number. Take a look at the tables below. Remember, the real estate market was hot from 2018 until the world shut down. Only one small home (less than 1,000sqft) sold in the second quarter of 2020 which drove the price per square foot up. Typically, small homes have a higher price per square foot since most June Lake buyers are in the $500,000 range. Then, as confidence in the market and the importance of homeownership increased, the price/sqft steadily increased as well. In Q3 and Q4 of 2020, we saw the largest number of million dollar homes in June Lake sell which kept the price/sqft on the lower side. Think, a million dollars divided by a lot of square feet.
Median Sale Price per Square Foot per Quarter 2020:
| | | | |
| --- | --- | --- | --- |
| Q1 2020 | Q2 2020 | Q3 2020 | Q4 2020 |
| $393.37 | $411.26 | $325.91 | $318.69 |
Median Sale Price per Square Foot per Quarter 2021:
| | | | |
| --- | --- | --- | --- |
| Q1 2021 | Q2 2021 | Q3 2021 | Q4 2021 |
| $394.09 | $485.08 | | |
The median price/sqft in 2020 for a June Lake home was $321.73. The 2021 YTD median price/sqft is $439.34, a 36.55% increase.
So far this year, six homes sold in June Lake and 10 homes were listed. Compare that to the first two quarters of 2020 where only three homes sold.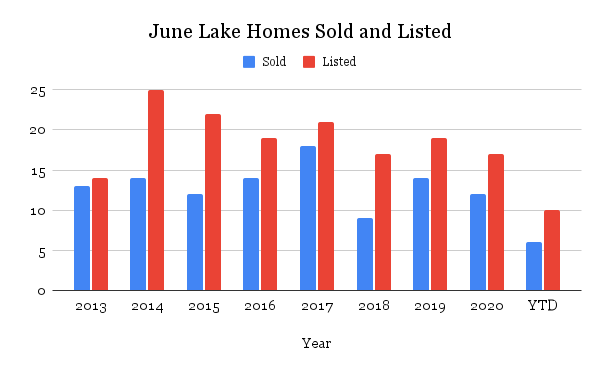 It seems likely we will see the same number of homes sold this year as in 2020 if not more. We are already halfway there, and there are currently three homes in escrow in June Lake.
One of the most interesting trends we are seeing in June Lake is that vacant land is selling much faster than usual. So far this year in June Lake, over 20 vacant lots sold, which is the same as for all of 2020. There have also been 22 vacant lot listings so far in 2021, which is 5 more listings than last year, and close to the record in 2014 of 25 listings for the year.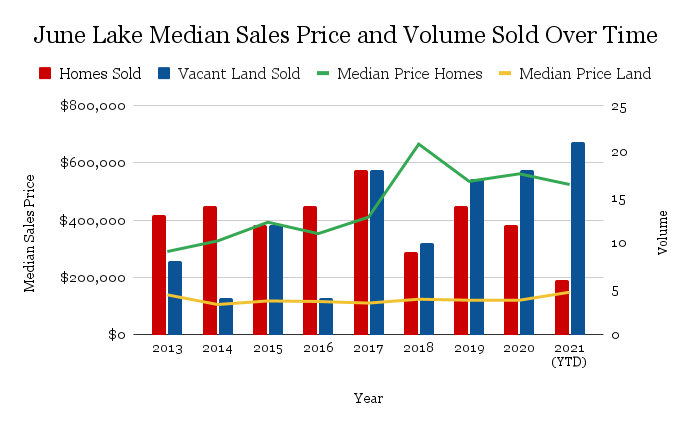 With high demand for June Lake vacant land we are seeing the median sale price slightly increase. The YTD median sale price for a piece of June Lake dirt is $148,000. That is approximately 23.33% more than 2019 and 2020 with median sale price of $120,000 for both years.
Lee Vining and Mono City Real Estate Trends and Stats
Lee Vining and Mono City are especially small communities in the Eastern Sierra, and very close together which is why we group them together. Just like June Lake, we saw an increase in home sales and listings in Lee Vining and Mono City in Q2 compared to Q1.
Two homes sold this year and two homes were listed in Q2. One of the homes (in Lee Vining) is currently pending. The home in Mono City recently closed (in Q3) for asking price. Since it is a rare occurrence that a home gets put on the market, they usually go quickly. Needless to say, the community was shocked to see some of these asking prices. Historically, Lee Vining and Mono City have been affordable neighborhoods for locals to live full-time. With the importance of homeownership at a new level and the trend of people moving to rural areas, prices and competition in these areas have been increasing.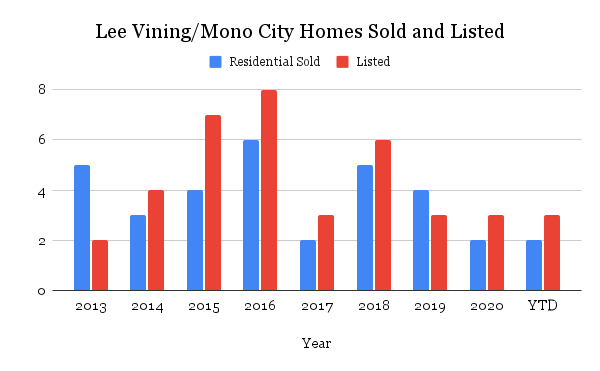 The home that sold was located at 9510 Highway 167, a small off-grid house in the Mono Basin National Forest Scenic Area. The home sold for $575,000 ($76,000 over asking)!! This sale plus the sale at 634 E. Mono Lake Dr. brought the median sale price to $487,000 for the area.
Currently there is one home in escrow in Lee Vining (91 Third St.). This will bring the median sale price up for Lee Vining and Mono City, since the asking price is $459,000.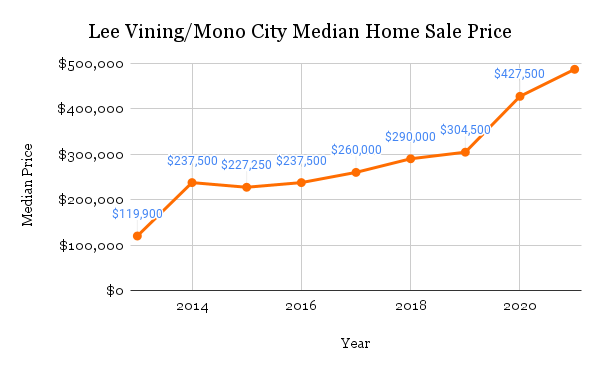 The price increases in Mammoth Lakes are finally starting to reach the surrounding communities in the Eastern Sierra including Lee Vining, Mono City, Bishop, Sunny Slopes, June Lake, and others.
As for vacant land, the activity has been low. Only one lot sold this year. The lot is on the south end of Mono City and closed in Q2 for $60,000.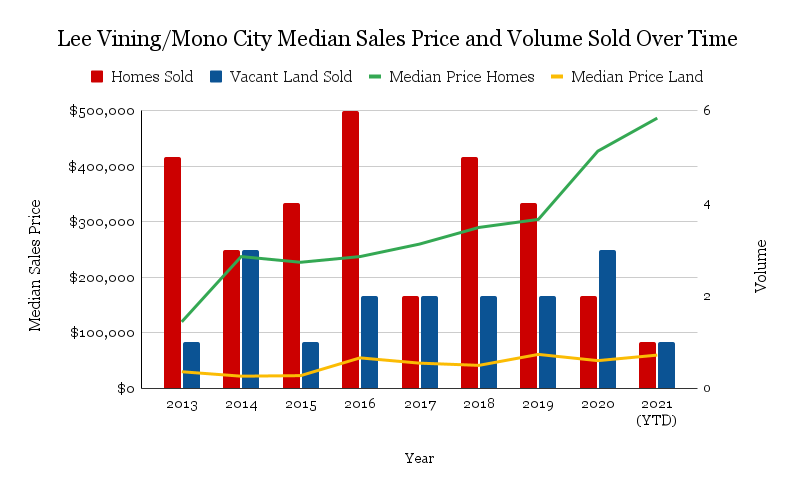 As of August 3, 2021 there is one 40 acre lot pending north of Highway 167 -- totally off-grid. It should be closing this week. The reason it took so long is because the seller needed to get a quit-claim deed since the land has only been in the family. It should close for around $99,000.
There are two active vacant lots on the market -- 0 E. Mono Lake Dr. Mono City (asking $99,000) and 54541 Highway 395 (asking $599,000). The most expensive lot to sell in Mono City was in 2006 at $120,000. The most expensive land to sell in the area was a 40 acre lot in 2004 near Sagehen Meadows for $300,000. We would be surprised if the current lot for sale does close for $99,000 and the land on the highway sells above half a million.
June Lake, Lee Vining, and Mono City Real Estate Market Summary
June Lake, Lee Vining and Mono City are all on track to meet, if not exceed the number of home sales in 2020. It's also likely that all three communities' median home sales price will increase this year compared to 2020.
Many people choose to buy property in these communities since they are slightly less busy than Mammoth, and have a small town feel. Some locals, who have been priced out of Mammoth Lakes, also choose to move to June Lake or Lee Vining.
June Lake, Lee Vining, and Mono City are wonderful communities to live in and visit. It's no surprise that properties continue to sell in these areas. It is interesting to see how desirability shot up in Mono City. Just a year or two ago, homes and vacant land would sit on the market for months. Now, it takes a week. Since inventory is zero for most of the year, be ready to put in your highest and best offer when a property hits the market. Make sure you are pre-approved and have enough liquid capital for closing costs and other fees/expenses. If you are not on automatic email notifications already, contact us so we can set you up. We are determined to find a great property for you and your family.
There are more benefits to homeownership than wealth. According to the National Association of REALTORS, families who own their own home typically have higher civic engagement, educational achievement, and better health. It is critically important we find stable homes for local families to secure the prosperity of this unique area.
If you have property that you'd like to sell in June Lake, Lee Vining, Mono City, or anywhere else in the Eastern Sierra, please contact us. We have buyers that would love to raise a family in this area. We go above and beyond with our listings. Contact us for a property marketing plan for your home, commercial property, condo, or raw land!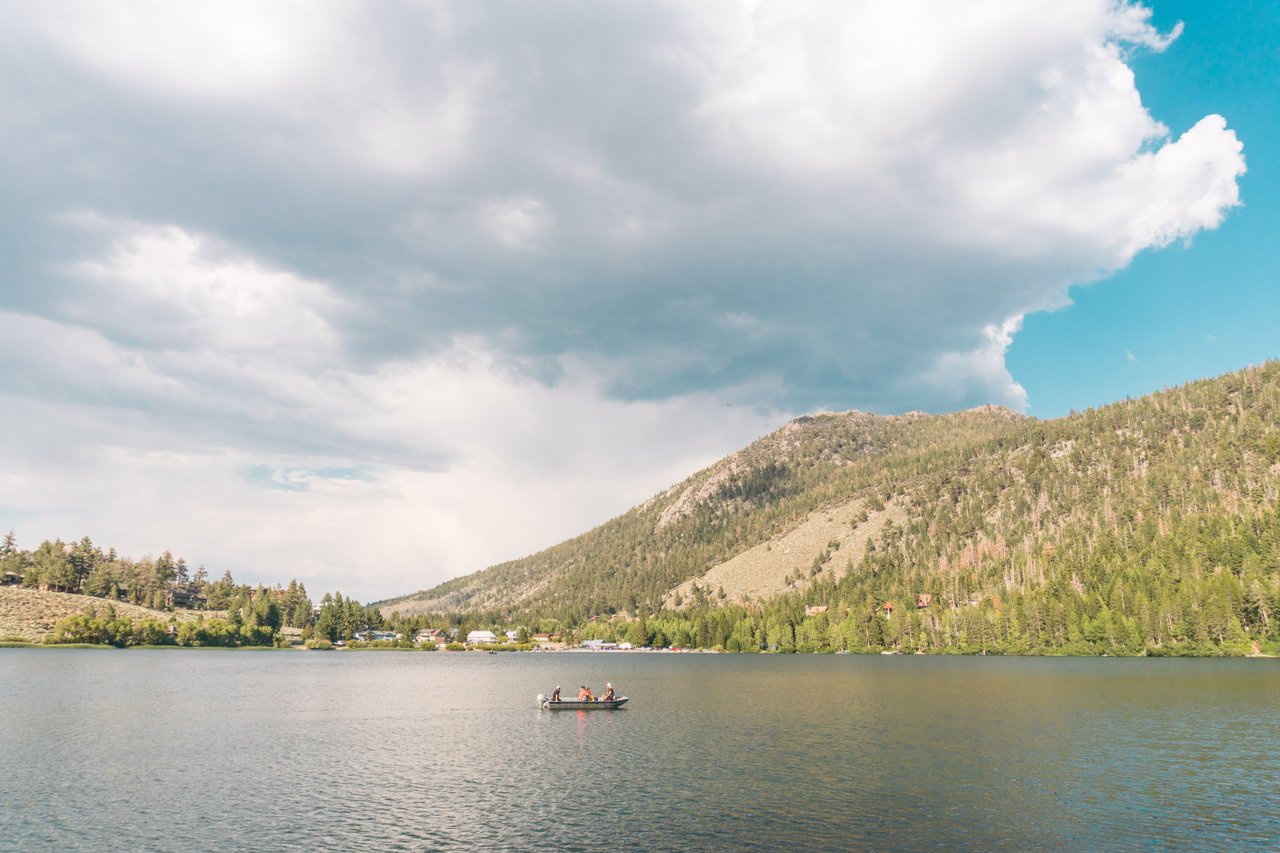 Disclaimer: Based on information from the Mammoth Lakes Board of REALTORS and other various sources. All data including all measurements and calculations of area, is obtained from various sources and has not been, and will not be, verified by broker or MLS. All information should be independently reviewed and verified for accuracy. Properties may or may not be listed by the office/agent presenting the information.