Mammoth Lakes and Eastern Sierra Local News
The Mammoth Lakes Festival of Beers and Bluesapalooza was a huge hit! Mammoth was buzzing (no pun intended) and everyone seemed to have a blast. Friday evening, smoke settled in, possibly from the Dixie Fire north of Mono County and Lake Tahoe. The skies have been clearer since last weekend. We are hoping the wind will be in our favor and everyone stays safe.
Following Bluesapalooza was the Margarita Festival in the Village, August 13th-14th which was just as popping! It was a fun time with live music and tequila tastings.
Mono County is once again requiring masks for both vaccinated and unvaccinated residents and visitors within indoor public spaces. This order began on August 6th due to an increase in Covid-19 cases in Mono County. If you're planning a trip, please remember to pack your mask!
Here is a list of some other great events happening this month and September!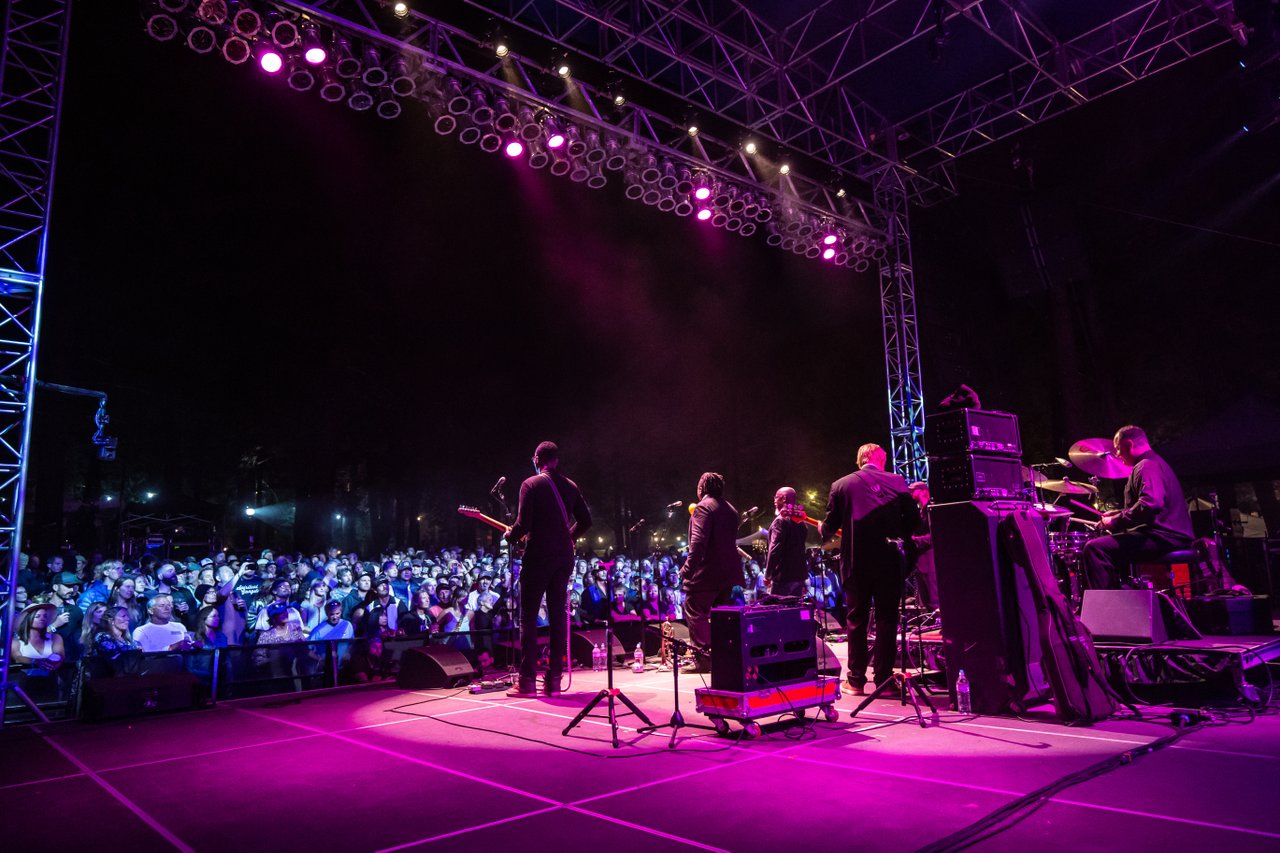 August 20th-23rd -- Wine Weekend in the Village: A full weekend with special curated dinners, a sunday brunch and a wine tasting walk.
August 27th -- Mammoth Rocks & Taste of the Sierra: A music festival with classic rock tribute bands. You won't want to miss this one!
September 5th -- Get Down at Sunset: A unique summer experience at the summit of Mammoth Mountain. Ride the Panorama Gondola to the top of the Sierra at dusk to watch the sunset over the Minarets. The top of the mountain will offer indoor and outdoor fun including a lighted glow walk to the Lakes Basin Overlook, a live set by DJ Bamboom, plus food and drink concessions.
September 6th -- Mammoth Rock n' Rye: Enjoy whiskey tastings from 40 distillers with free live music from some great artists!
September 11th -- Mammoth Gran Fondo: A 102 mile Road Bike Ride. Make it your "Bucket List Century Ride" with amazing views of the Sierra, Mono Lake and the White Mountains. Or if you prefer, try the Medio 70 mile ride or the Piccolo 42 mile ride.
September 16th-18th -- Mammoth Oktoberfest: Join the fun in the Village at Mammoth for authentic Bavarian cuisine, bier all weekend, and live music from West Coast Prost and Hazelnuss.
September 23th-26th -- Mammoth Yoga Festival: World class presenters sponsored by Yoga Lab will offer workshops and special events for everyone both on and off the mat.
Mammoth Lakes Real Estate Market Recap
The Mammoth Lakes real estate market remained competitive for the month of July. The most surprising trend we noticed was that Mammoth Lakes homes are currently selling faster than condos! The average days on the market for a Mammoth home that sold in July was 65 days. For a Mammoth condo it was 72 days. Typically, condos sell faster than homes since you're able to nightly rent Mammoth condos.
This could be due to the low inventory especially in Mammoth homes, causing buyers to move quickly when they see a home they like. Similarly, condo inventory is lacking, more specifically, there is lack of desirable inventory for Mammoth condos. People want a larger space and most homes can offer that. One bedroom condos just aren't cutting it any more (for some) and people are willing to wait for the right Mammoth property for their needs. However, with a competitive listing price, that condo will definitely sell. A one-bedroom or smaller Mammoth condo is a great way to enter the market.
Mammoth Lakes Real Estate Home Trends and Stats
Single family homes continue to sell at an unprecedented pace in Mammoth Lakes. If one trend is continuing to ring true, it's that the pandemic has increased the importance of home ownership, and access to open space.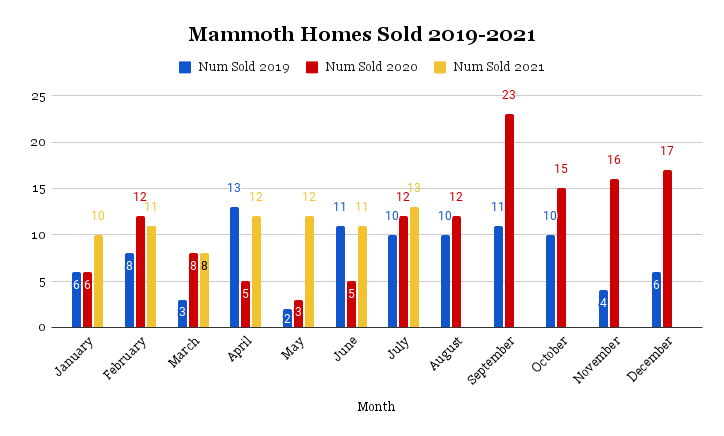 In July, 13 homes sold in Mammoth Lakes which is slightly above the last two years in July. Four of those homes were not your typical house. Two were mobile homes and two were United States Forest Service (USFS) Cabins. These sales impacted the median sales price.
Of the four "not your typical Mammoth homes" which sold in July, two were mobile homes and two were USFS cabins. The mobile homes sold for $173,500 and $192,500. The USFS cabins sold for $285,000 and $535,000 which was one of the largest cabins in the Mammoth Lakes Basin. This pulled down the median sale price. We've excluded the mobile homes (since you don't own the land) in the graph below. The USFS cabins are included.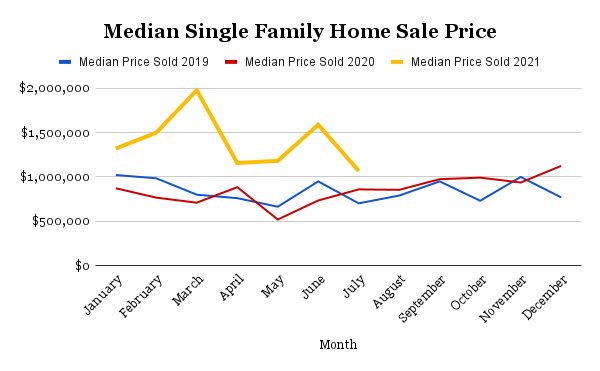 The median price for a Mammoth Lakes' single-family home in July 2021 was $1,067,500. We calculated the median home price without the USFS cabins and came up with $1,150,000. Both numbers are still above any other time in the past decade.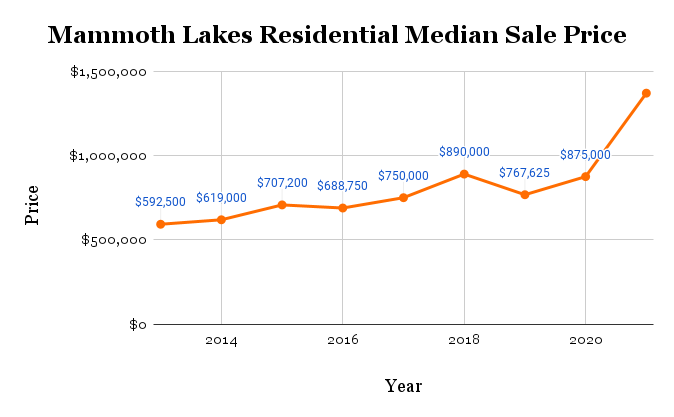 Year-to-date the median home sale price for a single-family home in Mammoth Lakes is $1,325,000.
Despite such high prices for homes in Mammoth Lakes, only 12 new homes were listed in July which is far below the last two Julys. June, July and August are prime times to sell a house. We've been wondering for a while now, "Why don't more people want to sell their Mammoth properties?" Most people have figured out by now that real estate is selling at top dollar all across the Country. And yet, there is an inventory shortage across the Nation as well. When it comes to Mammoth, we think most people are simply enjoying their properties. Covid has certainly reminded us of the importance of outdoor recreation, and Mammoth is a great place to escape the city.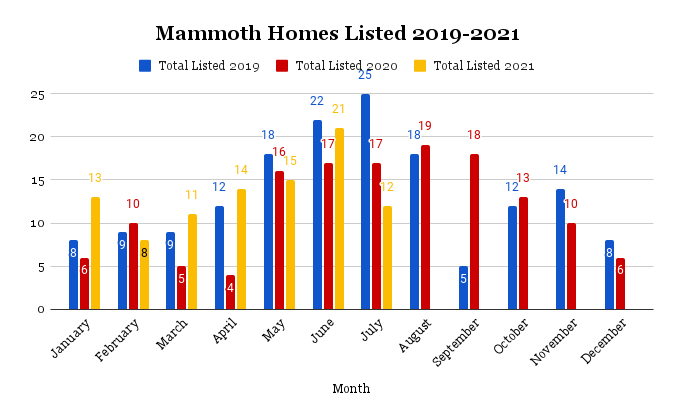 With so few new home listings in July, the residential inventory in Mammoth Lakes is still very low. As of August 18th, there are only 17 active home listings. 12 of these 17 listings are listed at over $1,000,000. Since the inventory is not steadily increasing, that tells us that any house that does get listed, is selling. Most homes are not racking up tons of days on the market and are only receiving about a 5% discount on the listed price.
Even with super high prices, 2021 has been a huge year in terms of the amount of Mammoth home sales. Just check out the graph below. It seems like almost every house is selling.
We are only seven full months into the year and 2021 is almost at par with the previous years regarding the volume of Mammoth home sales. That is quite remarkable. It seems like the reason inventory is low is because owners want to keep their property and buyers keep buying everything up! The perfect storm for a highly competitive market.
We are only seven full months into the year and 2021 is almost at par with the previous years regarding the volume of Mammoth home sales. That is quite remarkable. It seems like the reason inventory is low is because owners want to keep their property and buyers keep buying everything up! The perfect storm for a highly competitive market.
Mammoth Lakes Real Estate Condo Trends and Stats
In July, 34 condos sold which is slightly less than the previous two years. This is likely due to the continued low inventory, because buyer demand is definitely still alive. Buyers are virtually getting zero discounts based on the listing to sale price ratio (99.68% for July).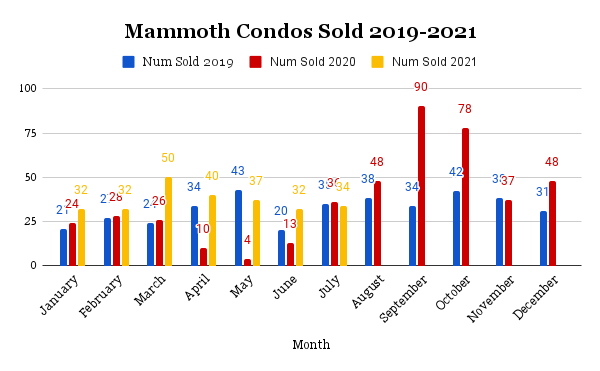 As of August 18th, there are only 37 active condo listings in Mammoth Lakes. With so few condos on the market, it makes sense that only 32 condos would close in July. Typically in the summertime, we expect to see anywhere from 80 to 100 or more active condos at a time. We haven't seen that many active condos since pre-pandemic times.
There is a massive housing shortage across the State of California (we know, no surprise there). According to the Federal Reserve Economic Data (FRED), we have about half of the housing inventory we had five years ago. Mammoth Lakes is no exception. In fact, low housing supply has always been a factor in the Eastern Sierra. We are surrounded by public land. There is only so much developable land in Mammoth Lakes and the surrounding communities. This is true for most ski towns. It's a challenge we need to work on together.

Only 34 condos were listed in July, which is far below the last two years at this time. Despite extremely high prices for Mammoth condos, current condo owners don't seem to be in any rush to sell.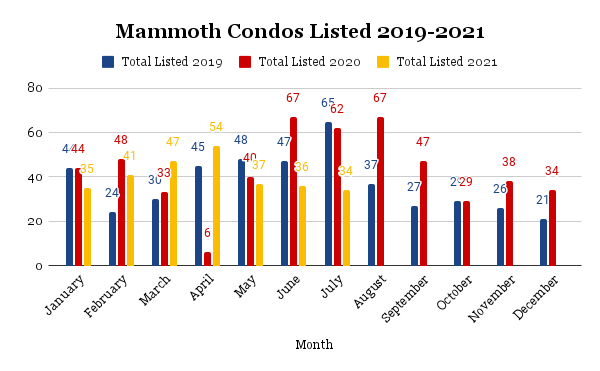 Our hunch to why so few new listings hit the market in July is simple, cashflow! Unprecedented amounts of people are visiting the mountains and some are still hesitant to fly (not to mention employee shortages). Our Southern California friends are visiting in heaps! Especially with Bluesaplooza, the rental rates are through the roof. As we get through Labor Day the summer season usually tapers off. Buyer alert! Be ready come the fall season, we may see some new listings as cashflow declines. It's a great time to see property because you can actually see them rather than snow-covered! Less renters and more listings may be in the foreseeable future!
With so few condos currently on the market, the price of a Mammoth condo continues to climb.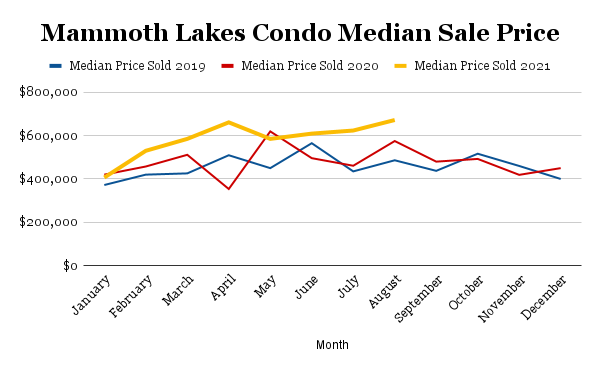 The median price of a Mammoth condo rose from $623,500 in June, to $672,000 in July. That's higher than any price in history, including before the Great Recession.
The total number of condos sold this year has already surpassed 2014 and 2015. We are also over halfway to the number of condos that sold in 2020. It's hard to say if we will be able to tie or beat the number of condo sales from 2020, given that we haven't seen large numbers of new condo listings the last two months. We still have five more months till the end of the year though, so anything is possible!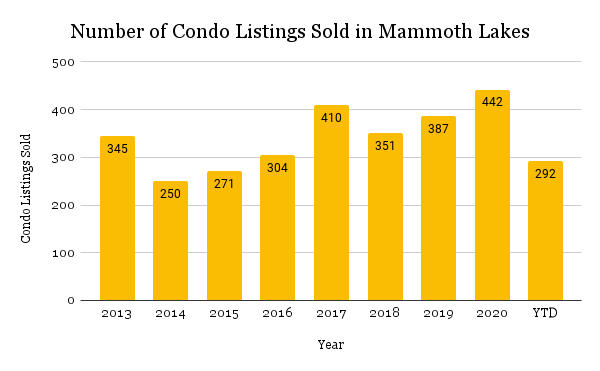 Is now a good time to buy Mammoth Lakes real estate?
We know it can be tough to compete in a seller's market, but if you've been wanting to buy property in the Eastern Sierra for a while now, it's still worth trying. The market is expected to stay strong and there are no signs of property values dropping anytime soon. If you decide to wait, you may end up paying an even higher price for a property one year from now. Not to mention, we have five tips to help you stand out in a hot market.
Mortgage interest rates continue to hover around 3%, which means that if you qualify, you can get a large mortgage with low monthly payments. Interest rates won't stay this low forever. The interest rate directly affects how much you qualify for and your payments. Every percentage point makes a big difference!
Is now a good time to sell Mammoth Lakes real estate?
We've been saying this for a while now, but YES! It's an excellent time to sell any type of property. Whether you have a house, condo or even a vacant lot that you no longer use, we are continuing to see extremely high demand for all types of properties. We are also seeing high buying demand in not just Mammoth Lakes, but all of the surrounding communities--June Lake, Lee Vining, Crowley Lake, Bishop and more! Contact us today and ask for our marketing package and about a free property valuation. We know we can get your property sold quickly and for top dollar.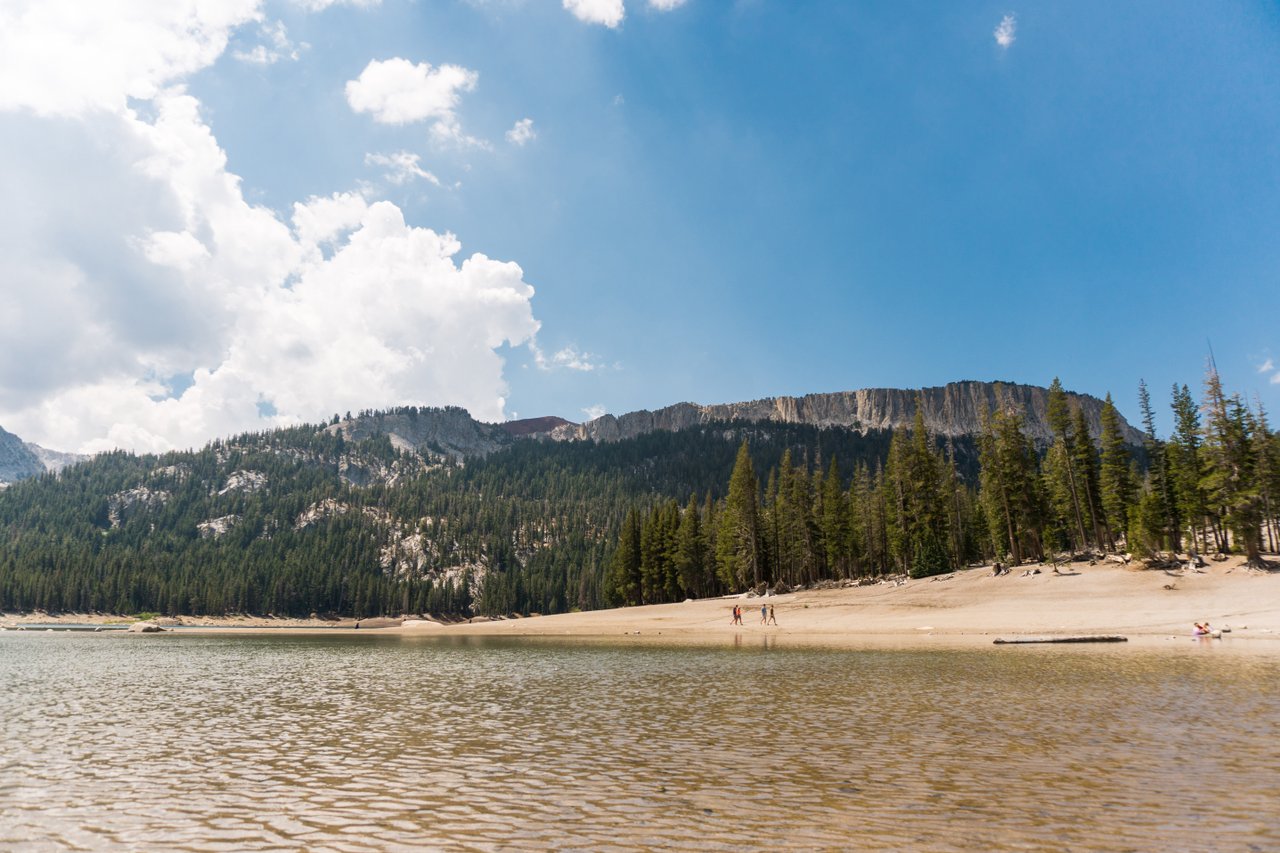 Disclaimer: Based on information from the Mammoth Lakes Board of REALTORS and other various sources. All data including all measurements and calculations of area, is obtained from various sources and has not been, and will not be, verified by broker or MLS. All information should be independently reviewed and verified for accuracy. Properties may or may not be listed by the office/agent presenting the information.