Mammoth Lakes and Eastern Sierra Local News
We hope everyone enjoyed their long Labor Day Weekend. Throughout August and up to Labor Day we welcomed plenty of visitors in Mammoth and the Eastern Sierra. We have been experiencing blue skies and lots of sunshine. We are so lucky for this. There have been a few smokey days, but nothing like last year or what Tahoe/Carson Valley is going through. Overall it's been extremely pleasant in Mammoth Lakes. We hope you are enjoying the last days of summer!

August 31st, the United States Forest Service/Department of Agriculture declared a closure to most of our local forests due to extreme fire danger and lack of resources. Good news, the Inyo National Forest re-opened on September 16th. Stage two fire restrictions are still in place, so please recreate responsibly. Let's support our firefighters who are battling some of the worst fires in history. Hats off to those who protect our homes and loved ones.
Even given the circumstances, Rock N Rye was still a huge hit! Three fun nights of music, drinks, and mountain air. Don't miss Mammoth Oktoberfest happening September 16-18 or the Mammoth Yoga Festival September 23-26. Or if you're really feeling it, participate in the Dragon's Back Fun Run on September 25th where you run up from the Mammoth Lakes Basin to the summit of Mammoth Mountain!
Mammoth Lakes Real Estate Market Update
Mammoth and the Eastern Sierra usually see a slow down in real estate activity after Labor Day. People are focused on school and keeping busy with quarter three just about to end. Visit Mammoth and Mono County Tourism do a good job of keeping the visitation steady, boasting events and fall colors. This September we have definitely seen a decrease in visitation due to the Forest Service closures. The Grand Sierra Lodge mentioned how they usually have about 70%-80% occupancy during this time due to Oktoberfest and other events. This September they are about 33% occupied.
August saw a fourth month of declining inventory for Mammoth condos. Typically, we see plenty of listings in the summer months because it's one of the best times to sell. Families have the summer off and everything is easily accessible. Living in this post-pandemic economy, it seems that people are holding onto their piece of Mammoth, as we've mentioned before. Buying demand, however, is still high and move-in and/or strategically priced properties are getting multiple offers.
Mammoth homes are also experiencing record low inventory levels. Record high buying demand and low interest rates are keeping prices extremely high. The only logical answer to when we will see "reasonable" prices again is as soon as we get more inventory and interest rates increase. The other option is if Mammoth has a wildfire, volcano scare, earthquake, or all of the above. A natural disaster might scare some people away, but there are some who find opportunity in down markets. You will be first to know if the Mammoth Lakes housing market starts to take a turn!
Mammoth Lakes Real Estate Home Trends and Stats
Mammoth homes continue to sell at a higher rate than the past couple of years. More homes are being sold, and faster than before. The average days on the market (DOM) in August was 73 days. From the day a Mammoth home is listed, to the day that it closes escrow is only 73 days. That is a quick timeframe to move one million dollars if you ask us. We probably won't see quite as many sales this year, as we did in September 2020, but it will likely be more than August 2021. There are 13 Mammoth homes in escrow as of September 16, 2021 and already six homes sold.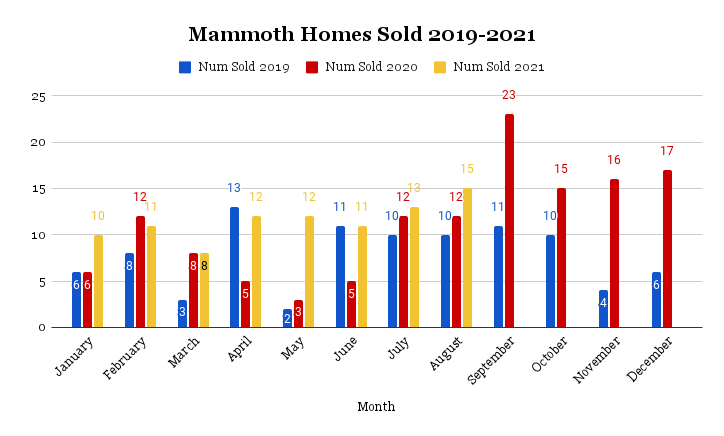 The sale price to list price ratio in August was 96.70% which means most sellers are only accepting a slight discount on their asking price. Most sellers are willing to wait for the right offer. What is the rush if you have no rush? However, closing quicker is usually better if possible. When a listing sits too long it becomes a "stale" listing. People start thinking something is wrong with the property and will often try to negotiate for a lower price. Also, you never know if a pandemic will hit and shut everything down!
Only 12 Mammoth homes were listed in August, which is low for a summer month. This trend is continuing county wide and throughout Inyo County.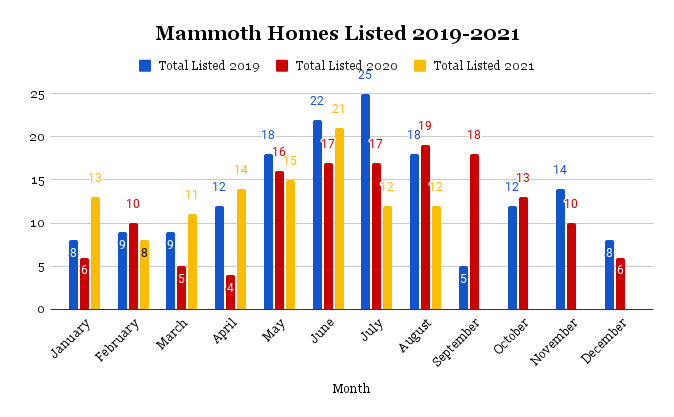 One reason we think people might not want to sell is that there is a consensus to keep your money in assets and not cash. People are buzzing about inflation and this may be a reason inventory is so low. Home appreciation has historically beat inflation so, why stop a good thing?
Even though homes are selling, the median sales price for a Mammoth home dropped for its second month in a row. It's too soon to tell if this trend will continue. Most of the homes that sold in August were under $1,000,000. Only two of the 15 homes which sold closed above listing price. Sellers took an average of a 3%- 4% discount. However, we did see a few big price deductions and discounts. Those sellers were likely reaching with their list price, so they accepted a lower offer.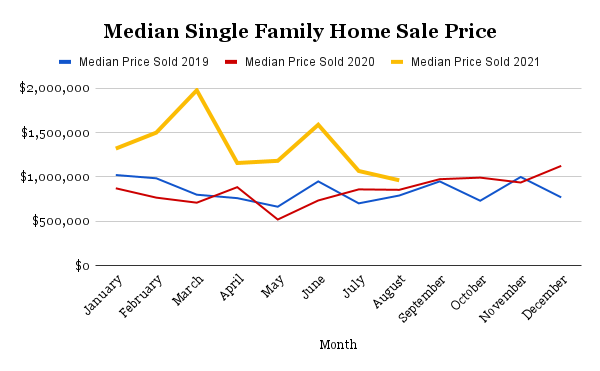 August was the first month this year to see a median sale price under $1,000,000. The median sales price for a Mammoth home in August was $962,500. The past two years in August, the median sales price for a Mammoth home usually increases, as you can see in the graph above. The least expensive Mammoth home sold for $515,000 and was in poor condition. The most expensive home sold for $1,775,000 and is close to Mammoth Mountain's Canyon Lodge. With 10 out of 15 Mammoth homes selling for under one million, the median sale price leveled out. We are not worried about this decrease in sales price, since it's only been two months. What does raise our eyebrows is when rundown homes sell for an extremely high price. But that's California for you! It's all about that land value.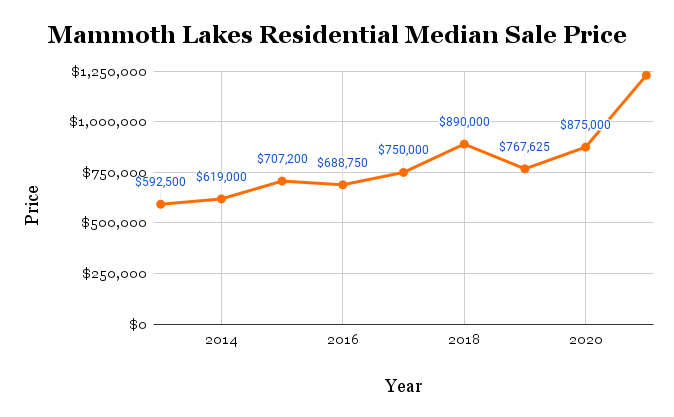 Year-to-date (YTD) the median sale price of a Mammoth home is $1,230,000. This is another reason why August's decrease in median price shouldn't shock you. 2021's YTD median sale price is still approximately 40.57% more than 2020 and 38.20% higher than the last peak (2018) in the past decade. What about before the Great Recession, before 2008? Yes, our median sales price today is still higher than that, which was approximately $900,000 in 2007. Until we see the YTD median sales price get closer to the years previous and much more inventory, we won't be convinced it's turning into a buyer's market. As of right now, it is still a seller's market.
Mammoth Lakes Real Estate Condo Trends and Stats
Mammoth condos are on a third month high of increasing sales volume. Pretty much on par with the past two years, which is all expected. It is unlikely we will see the amount of sales we did in September 2020 this year. As of September 13th, there are 76 Mammoth condos currently in escrow. However, approximately 20 of those condos are under construction and will not be able to close until construction is finished.
One of the reasons we saw so many sales last September is that many condos were initially pulled from the market in March due to Covid. Starting in June, many of these condos were put back on the market. Assuming 30-60 day escrows for many of these condos, that left us with a surplus of condos going into escrow in the summer and closing in September.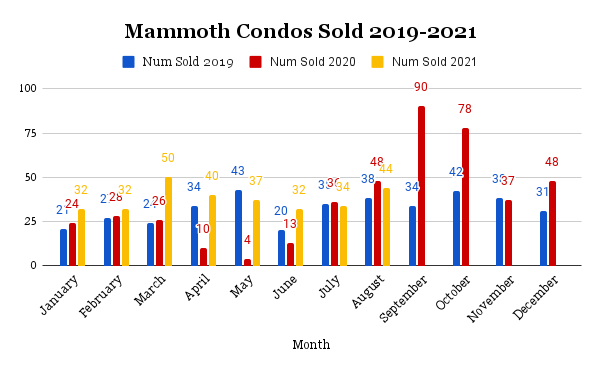 We are still seeing certain properties go into multiple counter situations. Typically these are nicely updated, in a desirable location close to the Village or Mammoth Mountain. With so few listings on the market, when one of these properties becomes available, it is gone fast! We are coming close to the end of 2021 and there are many people who want a spot for winter. So it's likely we continue to see an average number of condos sell.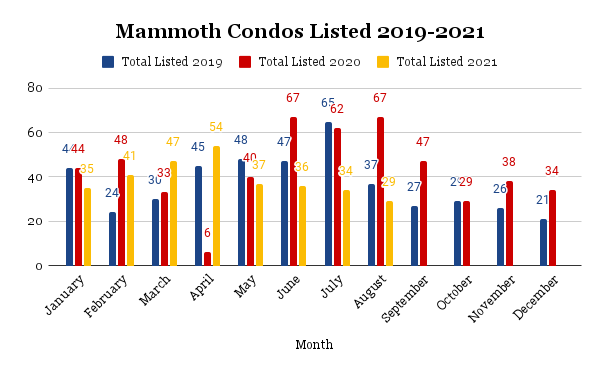 Historically in Mammoth Lakes and the United States, the fall months offer fewer listings and competition. This fall we might experience even lesser inventory. August is the fourth month in a row of declining listings. As of September 16th, there are only 29 active condo listings in Mammoth Lakes. For a couple of months the active condo listings jumped up to around 50 condos, but has since declined.
It's possible some condo owners may decide to sell this fall if their rental revenue decreases with the decreased visitation. We have our fingers crossed for more listings (or at least a steady supply) this fall. For now, it seems the lack of inventory is keeping condo prices high.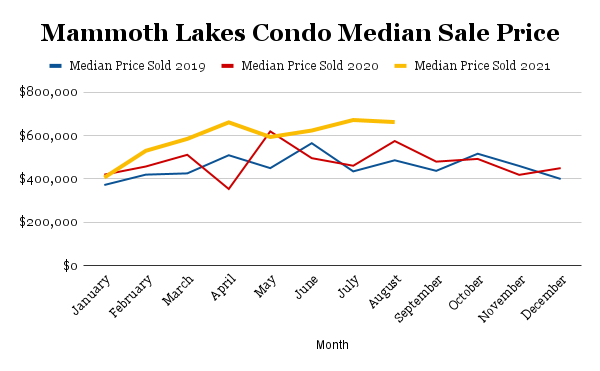 The median sale price for a Mammoth condo in August was $662,500, about a $10,000 decrease from July. The sale price/list price ratio was 100.64% meaning, many Mammoth condos sold over asking price. When we look at all 44 condos that sold in the month of August, it looks like most of the condos that got a discount were under $600,000. Most Mammoth condos under $600,000 are studios, one-bedrooms, and some two-bedrooms. Of the 18 condos that sold below $600,000, only four sold above asking price (average over asking was approximately $18,000). Two, of those same 18 condos sold at asking price. The other 12 closed for under asking price. This is the same trend that we've been preaching since the start. People want larger spaces because family and friends are utmost important in the post Covid economy.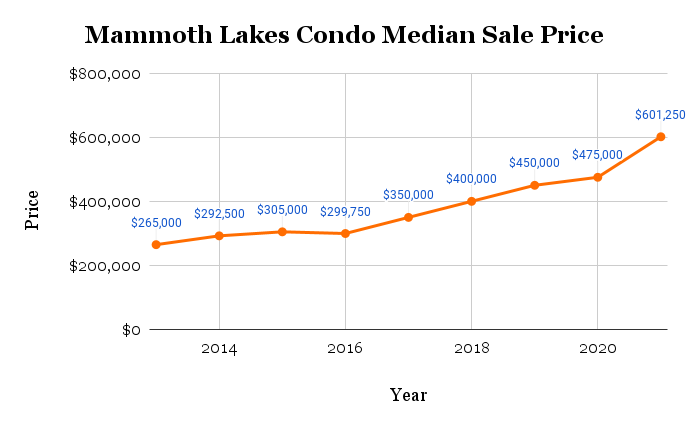 Most likely due to larger and more expensive Mammoth condos selling, the median sales price continues to climb. Year-to-date the median sale price of a Mammoth condo is around $600,000. Of the condos that sold over $600,000, and over asking price, they averaged $39,000 over the listed price.
We truly hope more listings hit the market this fall. However, even if we get double the amount of listings, it is unlikely prices will drop. It will be nice to have more options and maybe a slight discount in price when negotiating. If you would like to participate in this market, be ready to submit your highest and best offer from the get-go (if you really want the property). If you need a leg up, check out our blog here or contact us!
Is now a good time to buy Mammoth real estate?
This month we're looking at what the California Association of REALTORS have to say and looking at the Housing Affordability Index (HAI). The HAI measures whether or not a typical family earns enough income to qualify for a mortgage loan on a typical home at regional/national levels based on recent price and income data.
In quarter two of 2021, only 23% of Californians could afford a median-priced home ($817,950). Sadly, only 9% of people in Mono County can afford a median-priced home. In Mono County, a household would need an annual income of $176,800 to qualify for a mortgage of $960,000. And for a condo? Well it's a little better. To afford a condo around $585,000, you'll need to make approximately $108,000 in income every year. If there is a monthly HOA fee your income will have to be higher.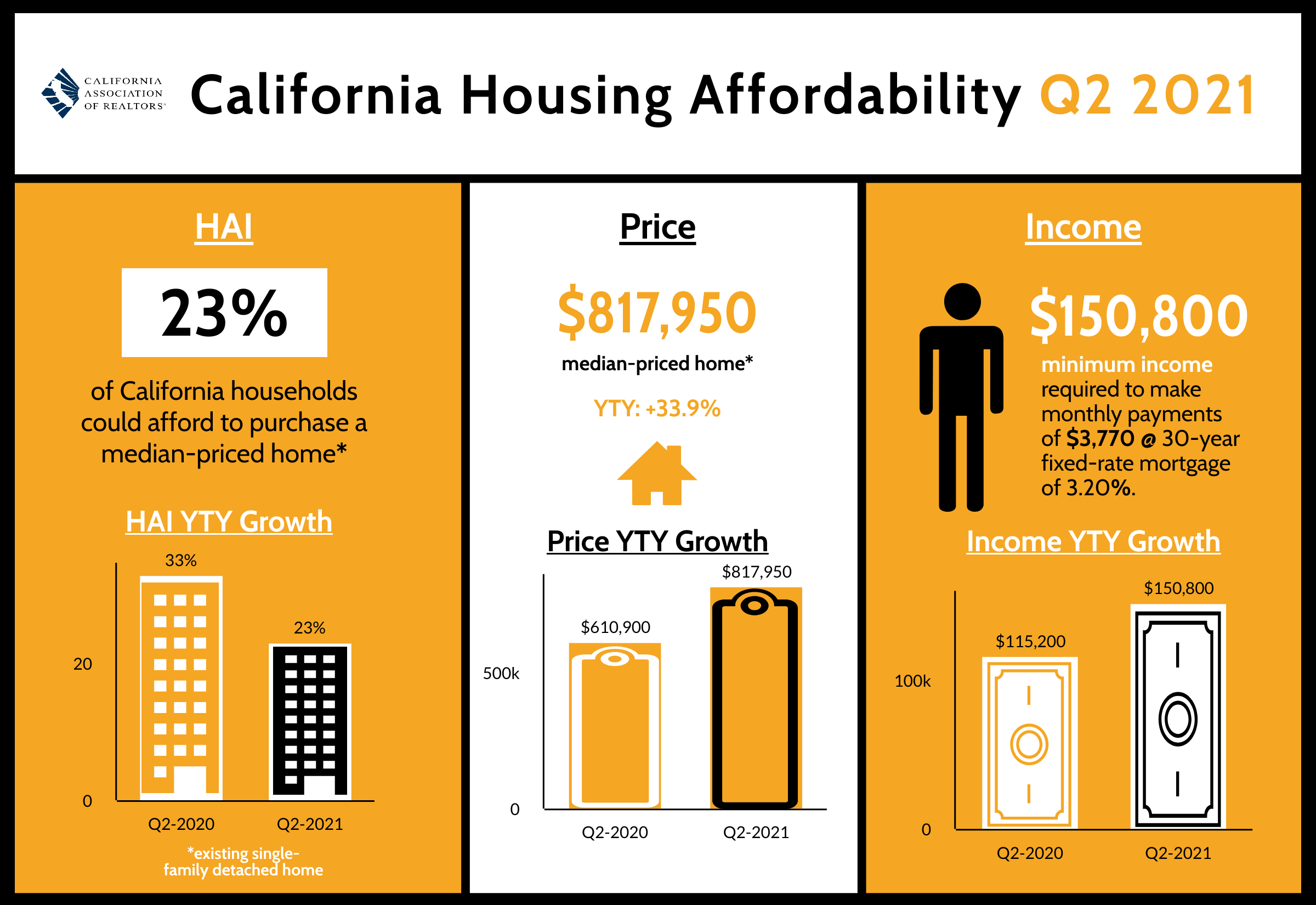 If you're making a healthy six digit salary, buying a home in Mammoth is within reach. Interest rates are practically at inflation rates which helps you qualify for a larger mortgage. If you're comfortable with the monthly payment, then it is a good time to buy for some people. But for most (i.e. locals), this isn't the best time. Prices are simply too high and there aren't enough high paying jobs in the area. Something must be done if Mammoth Lakes wants a sustainable and prosperous future.
Is now a good time to sell Mammoth real estate?
72% of Californians say it is a good time to sell a home, according to the California Association of REALTORS Housing Sentiment Index. Days on the market is a great indicator if you would like to sell your property quickly. For a Mammoth home, the average days on the market for August was 73 days. Last year it was 90 days for the month of August and over 150 days in 2019. Of course, price is also a great indicator. Home prices have pretty much recovered from the Great Recession.
If you're not finding value in your Eastern Sierra property any more or you just need to sell, there is someone out there who will happily buy your property. It's a great time to sell, as many sellers are getting great deals. Some buyers are removing contingencies from the get-go and are sweetening the deal by paying for all inspections. No matter the condition or type of property you have, we'd be honored to help you. Please feel free to contact us for a free consultation.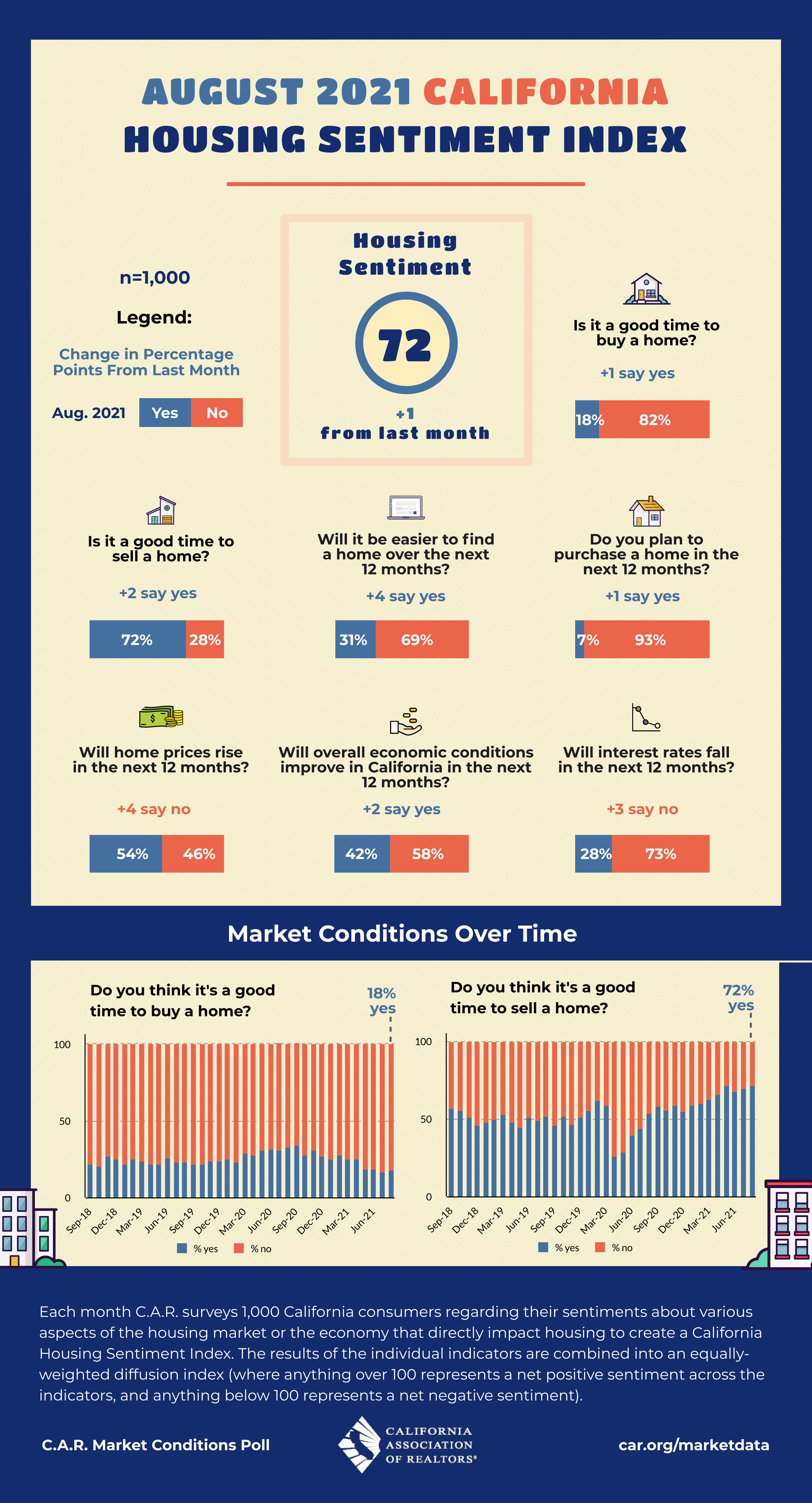 Disclaimer: Based on information from the Mammoth Lakes Board of REALTORS and other various sources. All data including all measurements and calculations of area, is obtained from various sources and has not been, and will not be, verified by broker or MLS. All information should be independently reviewed and verified for accuracy. Properties may or may not be listed by the office/agent presenting the information.