Mammoth Lakes and Eastern Sierra Local News
Summer is slowly winding down here in Mammoth Lakes and fall is in full swing. The last couple of weeks have been cooler and we've been finding ourselves needing a jacket in the mornings and evenings and some nights a fire. We've had so many beautiful clear days, but these last few have been really smoky. We recommend checking not only the weather forecast, but also the air quality index when making your plans.
The fall colors are really starting to pop in the higher elevations! If you've been waiting for a time to visit to see the colors, now is your chance! Feel free to message us for any recommendations on where to see the colors.
The yoga festival and the Summer Jam Festival happened on the last weekend in September and were both big successes. Those were the last two festivals of summer and now we can all anxiously await for Mammoth Mountain's opening day and more winter festivities. Mammoth Mountain is currently scheduled to open on November 13th (weather permitting). Who else is starting to get excited for winter and the upcoming ski season? We're really hoping for a big winter!!
We've already had TWO SNOWSTORMS!! We can hardly believe it!! On Friday, October 8th and on Monday, October 11th there was snow falling in town, not just up high in the mountains. There's even snow still sticking around in town. It's suddenly looking very wintery here in Mammoth Lakes.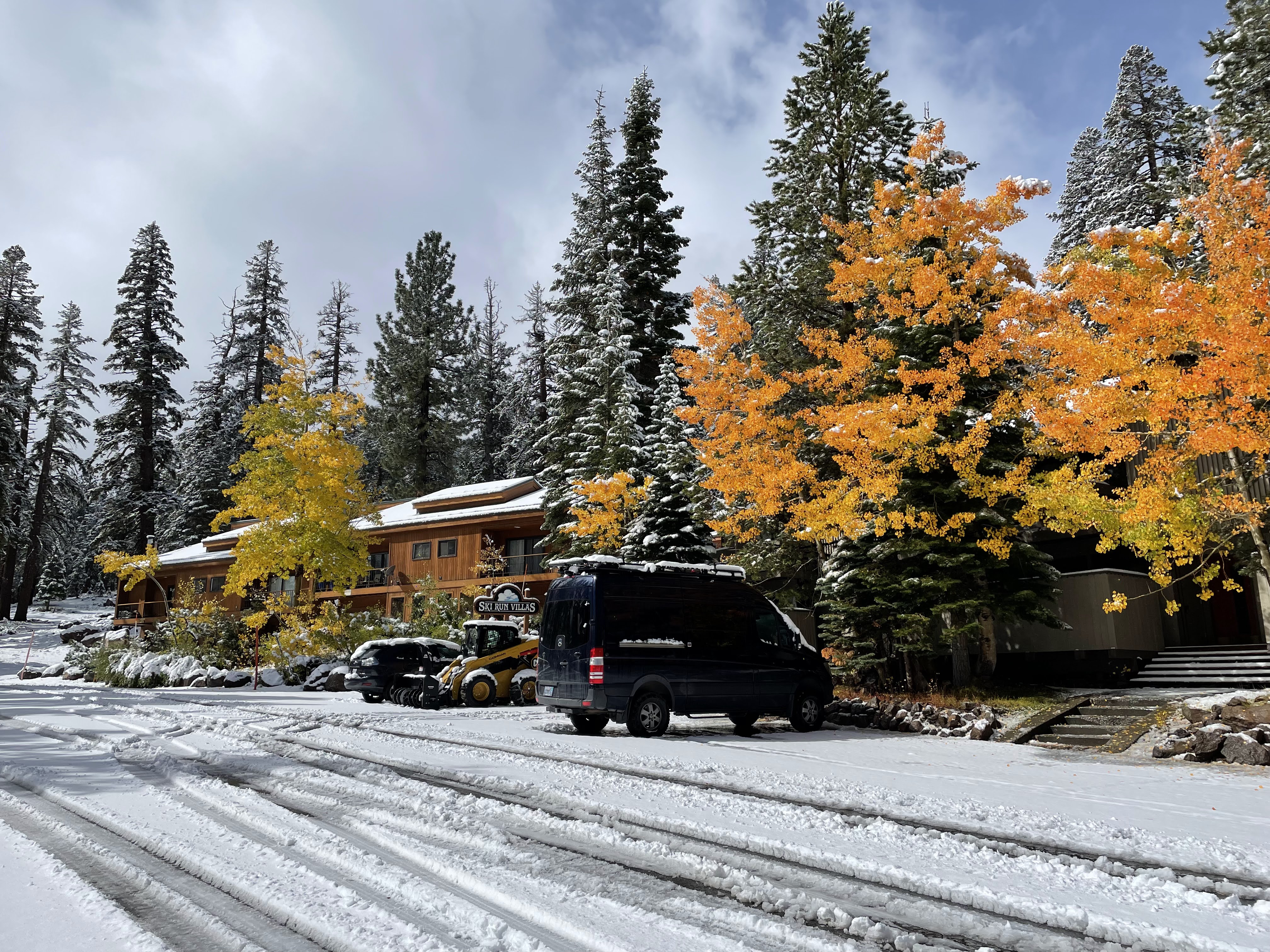 Mammoth Lakes Real Estate Market Update
While we are no longer in the summertime boom of real estate, the demand to buy property in Mammoth Lakes remains at an all time high. The inventory of properties for sale, however, is at an all time low. With such low inventory, any "reasonably priced" property is in escrow within a few days.
For example, an upgraded two bedroom condo in the Aspen Creek condo complex popped up for sale and was listed at $459,000, which is slightly higher than a recent sale for a two bedroom condo in the same complex ($440,000). This is, however, pretty low for a two bedroom condo in Mammoth currently. This condo got so much attention that there were 15 offers within 5 days. It's currently in escrow and we can't wait to see at what price it closes because we know it's going to be way over asking price (rumor has it more than $100,000 over).
The number of condo and home sales this month was higher than the sales in 2019 (which was already a strong market). The real constraining factor on the market is our lack of properties to sell. Without a doubt, if there were more properties on the market, they would sell! Friendly reminder, if you have a property you've been holding onto, but are no longer using, it's a great time to sell at top dollar.
Mammoth Lakes Real Estate Home Trends and Stats
While September is generally a slower month for real estate than July and August, we still expect to see a decent amount of closed sales. Oftentimes many escrows that start in July and August might not close until September depending on a variety of factors. This was definitely the case last year in September 2020 when 23 homes sold. This year, 12 homes sold in September which is slightly down from August, but still a fairly large amount of home sales for one month.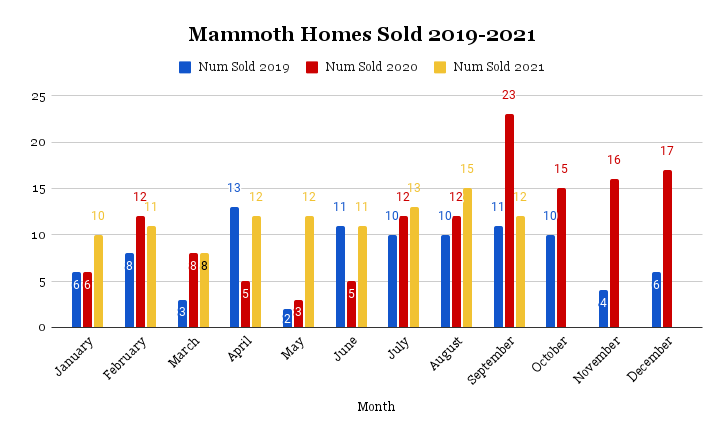 Although we didn't see a huge spike in home sales for September, like we did in 2020, the home sales have been much more consistent this year compared to last. We didn't have that same dramatic pause like we did in 2020. We weren't really expecting to see a large boom of sales in September since it seems like the market has been fairly steady all year long.
Despite every REALTOR's best effort to convince homeowners now is a terrific time to sell, the number of new home listings for September was only nine. This is down slightly from last month when we had 12 new listings, and also only half the amount of new home listings we had in September 2020.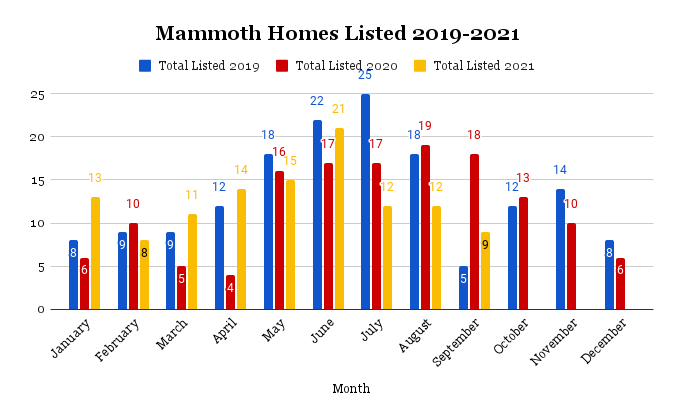 While we don't typically expect large numbers of new listings in the fall, more listings would help decrease some of the competition on properties in Mammoth Lakes. As of October 12th there are only 22 homes for sale in Mammoth Lakes, and six of these homes have been sitting on the market for over 100 days. 18 of these homes are listed at over $1,000,000 and eight Mammoth homes are listed over $2,000,000. This means that if you're looking to buy a home in Mammoth Lakes there really aren't a lot of options (or any) if you simply cannot qualify for a jumbo loan.
The low inventory and demand for Mammoth homes is keeping the price high. In September, the median sales price for a Mammoth home was $1,072,500, this is a slight increase from August's median price of $962,500.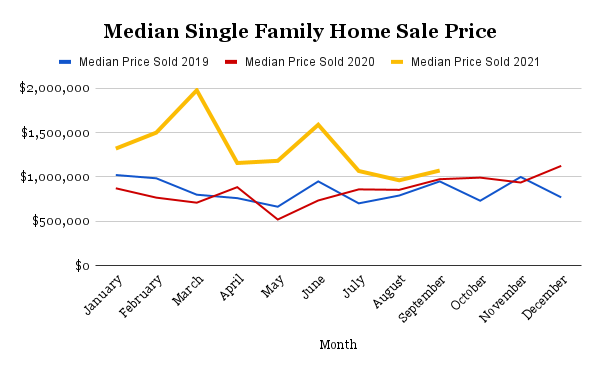 As we mentioned last month, we won't be convinced that prices are declining until we see a long streak of declining prices. The year to date (YTD) median sales price for a house in Mammoth Lakes is currently $1,224,000 which is 39.89% higher than 2020's median price of $875,000.
So far this year we've sold more homes than in any other year except 2020. Watching the market everyday and seeing active Mammoth homes fluctuate between 15 and 30 homes for sale, this seems impossible. This fact, shows that people are listing their Mammoth homes and they are flying into escrow almost immediately.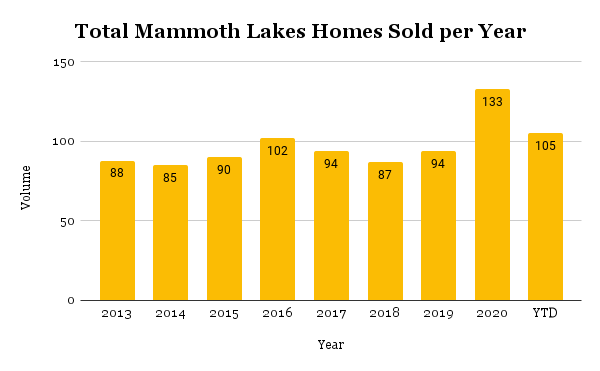 The amount of supply simply doesn't meet the demand. It's amazing to see the amount of property selling at these prices. However, a Mammoth home is much more to people than just an investment. A Mammoth home is a destination where you get to escape the city, have fun, and create memories.
Mammoth Lakes Real Estate Condo Trends and Stats
Condo sales remained high for the month of September. In Mammoth Lakes, 42 condos sold compared to only 34 condos in September 2019.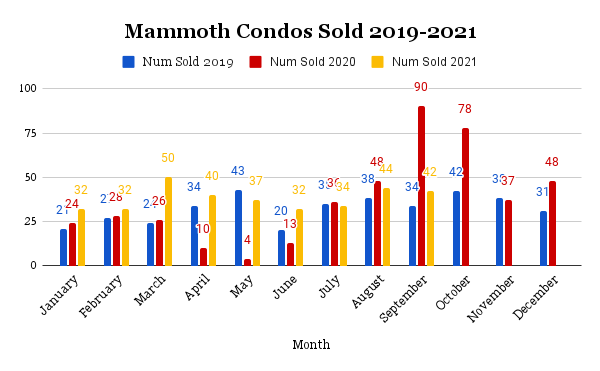 Comparing September 2020 to September 2021 is fascinating. Last year 90 condos sold in September alone, it was a record breaking month for condo sales. This year we didn't see that same huge spike, since condo sales have been consistently above average all year long. Last year, there was a huge pause in the real estate market due to COVID. Everything stopped from March until June when the real estate market in Mammoth exploded. There was a huge influx of buyers and sellers starting in June. Escrows at that time were taking at least 45 days if a loan was needed which meant that many of the escrows that were opened over summer, weren't able to close until September and some even October.
Even though we didn't have a huge spike in closed condos this September, we are still on track to sell roughly the same amount of condos as last year.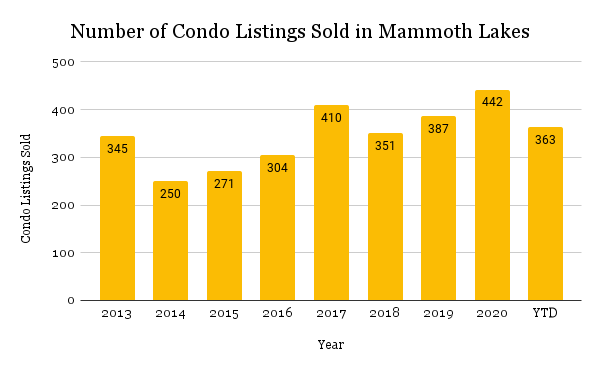 With all these condos selling, that tells us that people are choosing to list their Mammoth condos, even if it doesn't feel like it. We were pretty surprised to see 37 new condo listings in September because the entire month the number of active condos hovered around 20, which is extremely low. As of October 12th there are only 16 condos for sale in Mammoth Lakes.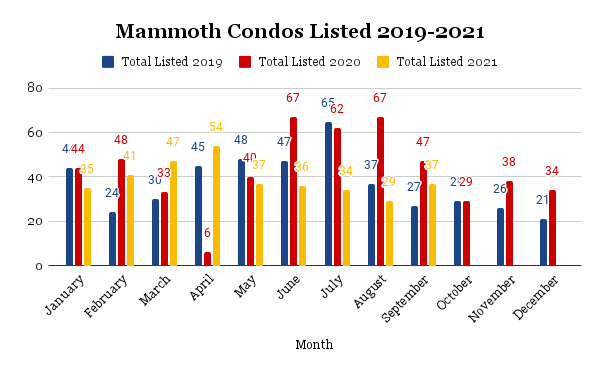 With only 16 active condos on the market, that means if you're a buyer looking for a condo right now, the pickings are slim. It's no surprise that when a condo in a desirable location, or that's been updated nicely hits the market, we are still seeing multiple offers and condos selling above asking price. The sale price to list price ratio for September was 100.46%, this means that many condos continue to sell above the asking price or at the asking price, while only a few condo sales will get a discount on price.
There was a slight dip in median price from August to September, but no need to sound any alarm bells just yet. The median price decreased from $662,500 in August to $582,400 in September. This was likely caused by the large number of smaller condos that sold in September.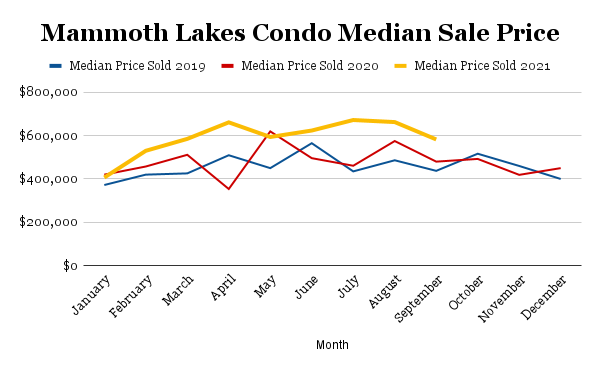 In September, approximately 14 condos sold that were either a studio or one bedroom. Most of these condos sold for under $500,000 which is likely part of what brought the median price down for September. The most expensive condo to sell was one in the Lodges (AKA Snowcreek VI) complex, a newer Snowcreek development which sold for $1,349,000. Compare that to August, when the most expensive condo to sell was in the Stonegate complex and sold for $2,100,000. The combination of so many smaller condos selling, plus a less expensive price cap compared to August, it makes sense that the median sales price dipped this month. Also, this looks to be a consistent trend.
The YTD median sale price for a Mammoth condo is approximately $599,000. Well above the last couple of years and on a strong upward trend since 2016. Looking at the data and the state of the Mammoth real estate market, we are not predicting a huge decrease in Mammoth property prices in the near future.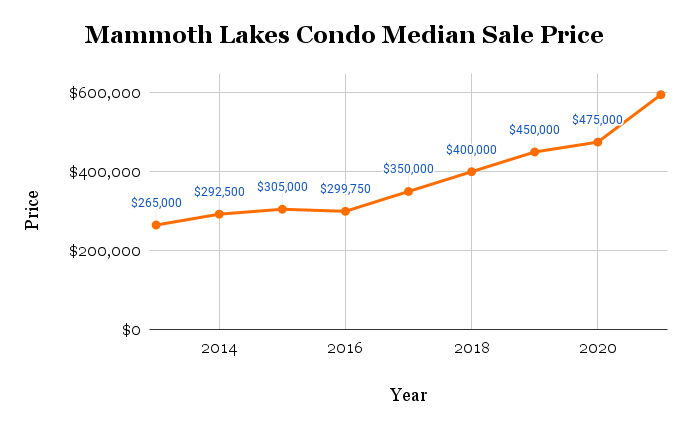 Many of our peers were quite astonished (including us) about the Aspen Creek drama, mentioned earlier. Not only was the last sale in the complex $440,000, there is also a $60,000 assessment in Aspen Creek! Not only were there 15 offers, we had copious inquiries in our office. This proves our point that there are still plenty of buyers waiting for the right Mammoth condo or home.
Is now a good time to buy Mammoth real estate?
You probably know this by now, demand is high and the competition is strong. We've seen cash offers that didn't make the cut. With that being said, it's a good time to buy if you want to take advantage of these historic low interest rates. Also, it's possible prices will continue increasing. However, you're going to have to be ready to bring it your all and not get emotionally attached to any property, especially if you want to negotiate.
Nationally, bidding wars and offers are on a decreasing trend. If you're looking for a home in a primary market, it's becoming a better time to buy. In Mammoth Lakes and the Eastern Sierra, it depends on the property, pricing, and your agent. If the property is in a great spot and is priced competitively, you know what's going to happen. If you have a great agent who is in constant conversation with the local housing market, they could give you a heads up before properties are listed. This is why it can be crucial for you to work with an agent who knows the market and will go above and beyond for you.
Is now a good time to sell Mammoth real estate?
It's a great time to sell in Mammoth Lakes, June Lake, Lee Vining, Mono City, Bridgeport, Bishop, Swall Meadows, Paradise, and beyond! Work with an agent who will price your property competitively so it's more likely you will get great offers off the bat. A great agent will also tell you if an offer is more likely to close vs. other offers. Also, they will save you money by working with local escrow and title companies. Lastly, work with someone who you will get along with. There will be a few bumps along the way and an extraordinary agent will keep you calm and have a game plan in the thick of it.
Contact us to learn more about our philosophy and our extraordinary marketing and communication plan. We really do our best to provide all our clients the best service the Eastern Sierra has to offer.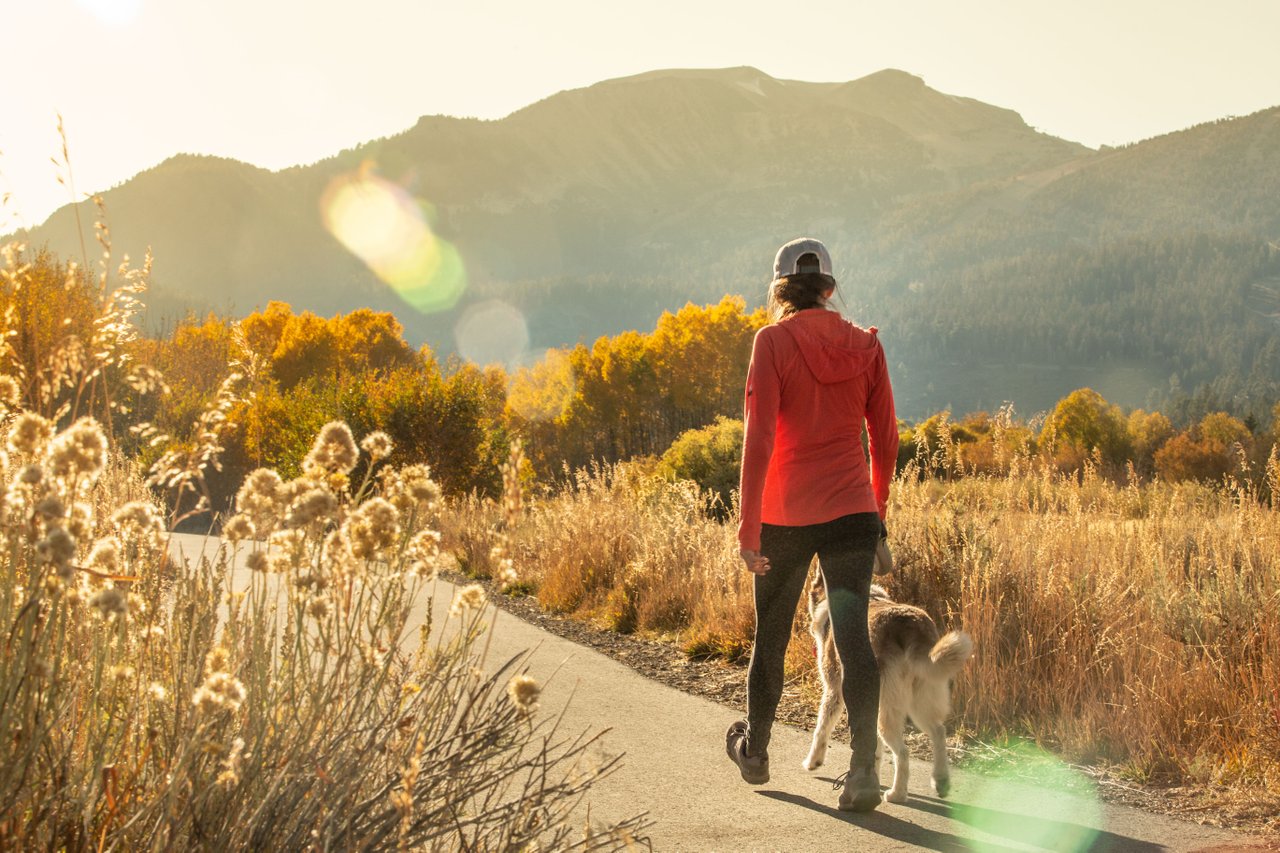 Disclaimer: Based on information from the Mammoth Lakes Board of REALTORS and other various sources. All data including all measurements and calculations of area, is obtained from various sources and has not been, and will not be, verified by broker or MLS. All information should be independently reviewed and verified for accuracy. Properties may or may not be listed by the office/agent presenting the information.