Welcome to The Most Comprehensive Mono Basin Real Estate Recap where we dive deep into the current trends and stats in June Lake, Lee Vining, and Mono City. With a B.S. in Finance from Texas State University and a teaching background and UCLA graduate, Joseph and Grace pour their brains and heart into every market update. You will discover insight about our unique real estate markets that will prepare you to become a more informed buyer and/or seller. Please feel free to contact us for any questions about real estate, skilled laborers, hikes, or you name it!
June Lake, Lee Vining and Mono City are small, but special towns in the Eastern Sierra. Both Joseph and Grace have deep connections with these communities and love spending time in all of these areas.
Eastern Sierra Local News
Summer throughout the Eastern Sierra was busy and full of visitors. We have been so lucky this summer with warm weather and mostly smoke-free skies. We cannot believe that we're already in the 4th quarter of the year!
The forest service announced a forest closure on August 30th to help prevent any new fires from starting due to limited resources. With limited recreation opportunities, visitors rapidly decreased during the forest closure. Luckily, the forest reopened on September 15th. Hiking, biking, camping and fishing are all once again permitted throughout the Eastern Sierra. Despite the forest re-opening, the last couple of weeks of September were slower than expected in terms of visitation.
Fall is in the air and the leaves are starting to turn at the higher elevations! There has definitely been an increase in visitation with the fall colors starting to peak in some areas. Who doesn't love seeing colorful leaves and chilly mornings? We also had our first snow of the Season on October 8th and a large dump on the 11th! The temperature has been below freezing at night, we might not see colorful leaves until next year. If you can, make it out this week. You might see snow covered yellow and red leaves!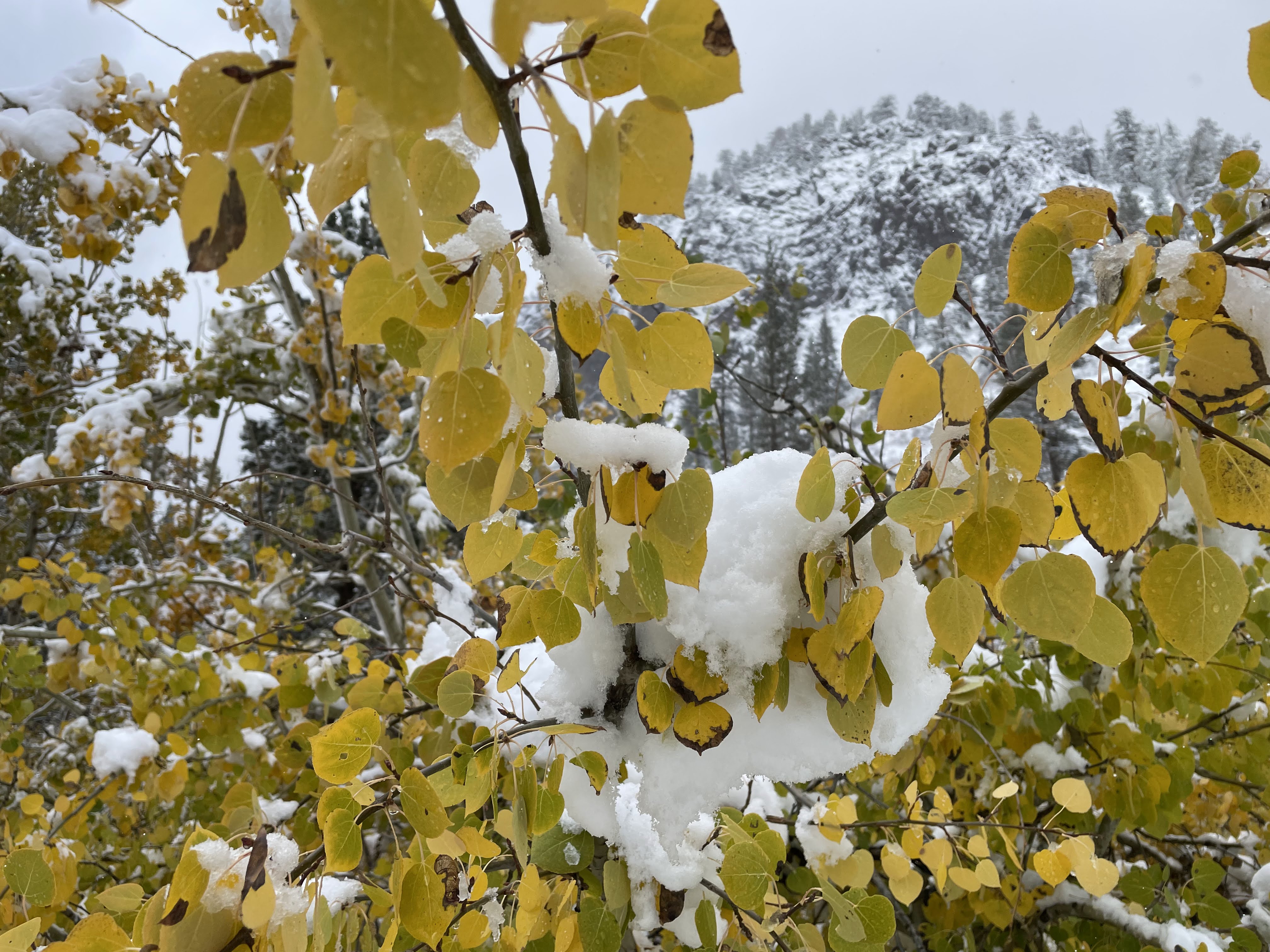 Mono City, Lee Vining, and June Lake Real Estate Summary
In the Mono Basin, real estate activity has been steady and prices are painfully high. The good news is that some June Lake buyers are getting discounts. However, unique properties (i.e. cute cabins in the forest) are receiving multiple offers and going above asking price.
So far, 2021 has had more listings than 2019 and 2020. Historically, the number of listings in Lee Vining and Mono City is much less than in Mammoth Lakes, June Lake, Bishop, and most of the Eastern Sierra. Since there are only a few hundred homes and most people live here full time, we just don't see the same amount of volume as in other communities. In recent history, 2016 had the largest number of homes on the market, which was eight residential homes in Lee Vining and Mono City combined.
Overall, the real estate market for the Mono Basin has been slow but surprising. Demand is still higher than ever and so are prices.
June Lake Real Estate Trends and Stats
The third quarter (Q3) of the year is July 1st - September 30th. We normally expect to see a good amount of real estate activity throughout this quarter since it includes two of our busiest summer months. June Lake saw a fair amount of activity.

In Q3, there were eight residential listings in June Lake and five homes sold. This is pretty similar to Q2 when eight homes were listed and four sold. As of October 12th, there are only three homes for sale in June Lake and four homes in escrow.
One event that was a bit strange was that three homes were either canceled or put on hold within a few weeks of listing. Usually this happens when sellers get cold feet about selling, or sometimes a family member decides they actually still want the property. A lot of June Lake homes have been in the family for a long time and there is a lot of emotion involved.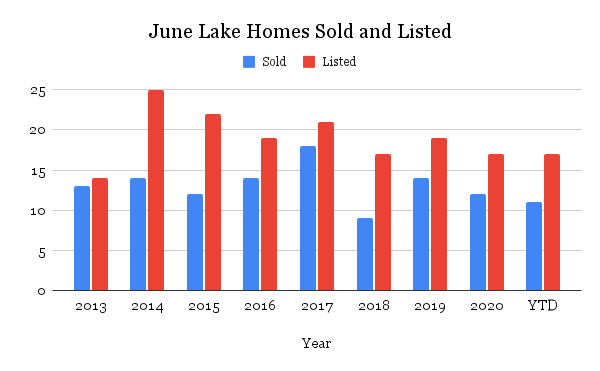 If you've been watching the market everyday like we have, you've probably noticed the shortage of inventory across the Eastern Sierra. It seems like nobody is listing their property. Is that the case or is it that people are buying everything up quickly?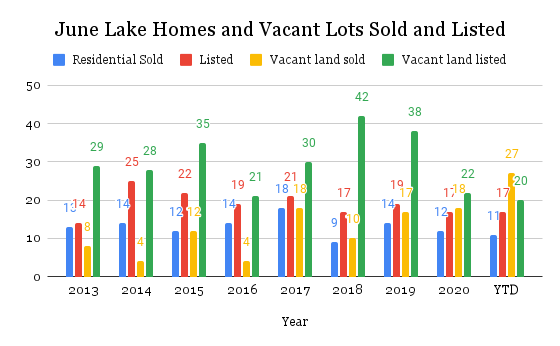 Looking back at the number of listings since 2013, you can see that 2021 is approximately on par with the past few years when comparing June Lake homes. Remember three homes have been canceled and a few June Lake homes have been sitting on the market mainly due to price. However, most June Lake homes have been bought up. The sweet spot in June Lake is around $500,000 for a home. If it has a view and is a "classic cabin" type, it'll sell within days. We still have a little less than three months left in 2021, so it's possible we may even beat 2020 in terms of residential listings and sales.
One of the most fascinating trends we're seeing is the amount of vacant land selling in June Lake. This is the first time in recent history that the number of vacant land sales out paced the number of listings. The year-to-date (YTD) median sales price for a piece of June Lake land is $153,000. This is about a 21.5% increase from the past few years.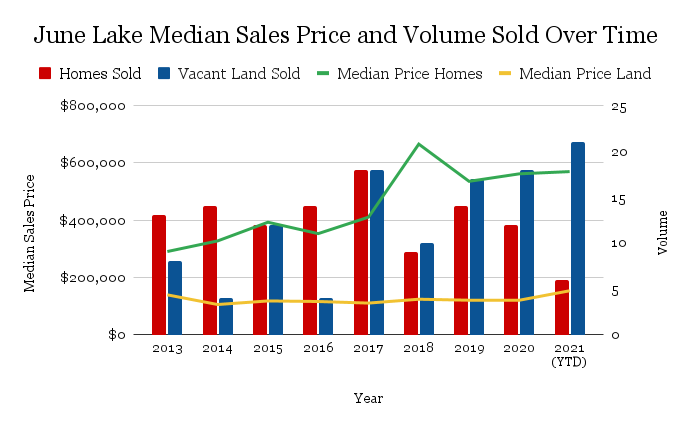 The median sales price for a single family home in June Lake increased to $725,000 in Q3 from $524,000 in Q2. The most expensive home to sell was a forest service cabin on Silver Lake that sold for $1,595,000! This is the most expensive residential sale in June lake ever! Arguably the most astonishing fact about this, is that the cabin sits on US Forest Service land. So technically, the owner doesn't own the land. The cabin is on a land lease!
The YTD median sales price for a June Lake home is $634,500. June Lake homes have been selling for high prices post-covid. This number will likely increase when the four homes which are in escrow close. All four homes were asking more than $700,000. Prepare for the highest yearly median sales price June Lake has ever seen in Q4.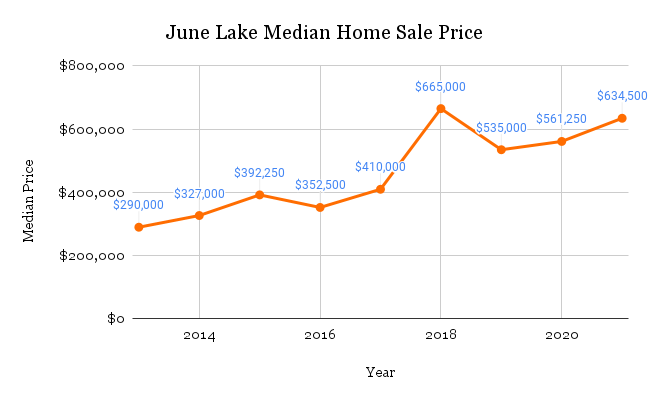 The least expensive June Lake home on the market is listed at $599,900. The most expensive June Lake home with an accepted offer is likely in escrow for more than $1,000,000. There are definitely plenty of June Lake buyers on standby waiting for the right home to come on the market.
As of October 12th, 2021 directly from the MLS:

Lee Vining and Mono City Real Estate Trends and Stats
Lee Vining and Mono City are especially small communities in the Eastern Sierra, and very close together which is why we group them together.
In Q3, there was only one new residential listing in these towns. Two homes sold, which were previously listed in quarter two. Below is a summary of the residential real estate activity in Lee Vining and Mono City this year (not very much).

Looking back at the past few years, it's turning out that 2021 is average or just below average in terms of homes listed. Homes in Lee Vining and Mono City are definitely selling. It's quite rare when a home hits the market, so they go quickly when they do.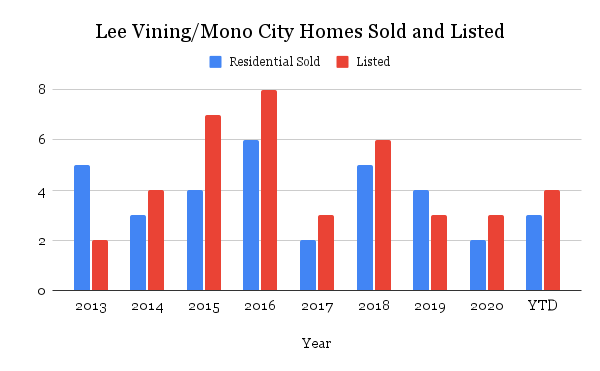 If the home on 135 Twin Lakes Dr. in Mono City does sell for anywhere near the asking price ($615,000) the median sales price will increase. It's been hovering around $430,000 for most of the year. The most expensive home to sell in Mono City and Lee Vining, according to the local Multiple Listing Service (MLS), is the house on 138 Peeler Lake Dr. Mono City. This house sold in December 2020 for $550,000. The off-grid house located on 9510 Hwy-167 sold for $575,000 in May of this year, which takes the cake for the most expensive residential sale in the area (recorded on our MLS).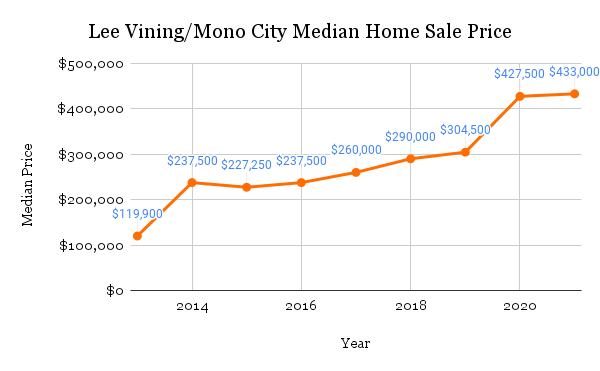 As for vacant land in Lee Vining and Mono City, there were two lots listed in Q3 and they were quite expensive compared to recent sales. There has been only one vacant land sale this year in both Mono City and Lee Vining, so the median sale price is that number of $60,000. In 2020, there were three lot sales and the median sale price was $50,000. And in 2019, the median sale price for a vacant lot was $39,000. This shows an upward trend for the median price of vacant land in Mono City/Lee Vining and throughout the Eastern Sierra. Below is a recap of the vacant land activity in Lee Vining and Mono City.

This past quarter we saw two lots listed at approximately $100,000, then expired or taken off. As mentioned above, the asking prices for the two lots was much higher than the comps. However, they might have sold if they waited longer. We are seeing more Bay Area buyers in Mammoth Lakes and the Mono Basin. This may be due to the lower prices here versus the Tahoe area. Also, the recent record breaking fires may have scared people away from Tahoe. With that being said, these lots are in the interior of the neighborhood (not bluff or view lots), so it's likely that most people would rather wait for one that meets more of their needs/wants.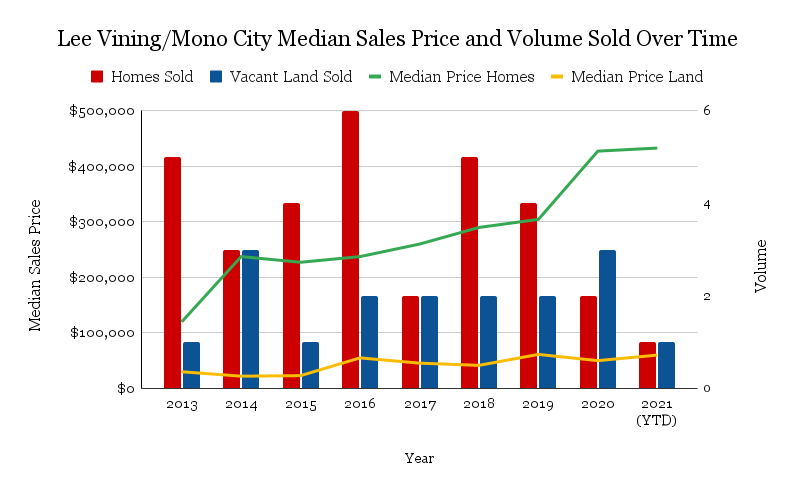 In addition to the residential and vacant land activity there has been above average commercial activity in Lee Vining. The Mono Inn, a historic building/restaurant/hotel with incredible views of Mono Lake, sold off market in Q2 for $1,200,000. Also, the Tioga Inn was listed in Q2. It quickly had a lot of interest and received multiple offers. They finally accepted one and were set to close in September. In the MLS it is still pending.
Lee Vining, Mono City, and June Lake Real Estate Market Summary
Although we didn't see a lot of real estate activity in Lee Vining or Mono City, the demand is definitely there. There are a lot of locals and visitors who need/want a home in the Mono Basin. A lot of people are moving out to Bridgeport and northern Mono County. It's the last somewhat affordable place in the Eastern Sierra. This area is quite far from the ski areas, but gorgeous in scenery.
The most interesting trend is the number of vacant land sales in June Lake. Historically, vacant land prices have stayed consistent due to the supply and high building costs. Now, it seems like people can't get out here fast enough. It's possible that people are realizing the Eastern Sierra only has so much buildable land. The amount of private land is limited and the rest is public land. This is a huge reason why real estate is so expensive in resort/ski towns. In the past few years we've seen a huge change in the town of June Lake. More businesses and more tourists. Just four years ago it was hard to find a cup of coffee. Now there is a live music venue, juice bar, dispensary, bakery, new restaurants, more events, and yes, coffee! We do expect more growth in the Mono Basin. Our worry is if it'll grow respectfully and that we will maintain the natural beauty through sustainability. Let's do our part to educate ourselves and others to keep our backyards awe-inspiring!

If you have property that you'd like to sell in June Lake, Lee Vining, Mono City, or anywhere else in the Eastern Sierra, please contact us. We have buyers that would love to raise a family in this area. We go above and beyond with our listings and clients. Contact us for a property marketing plan for your home, commercial property, condo, or raw land!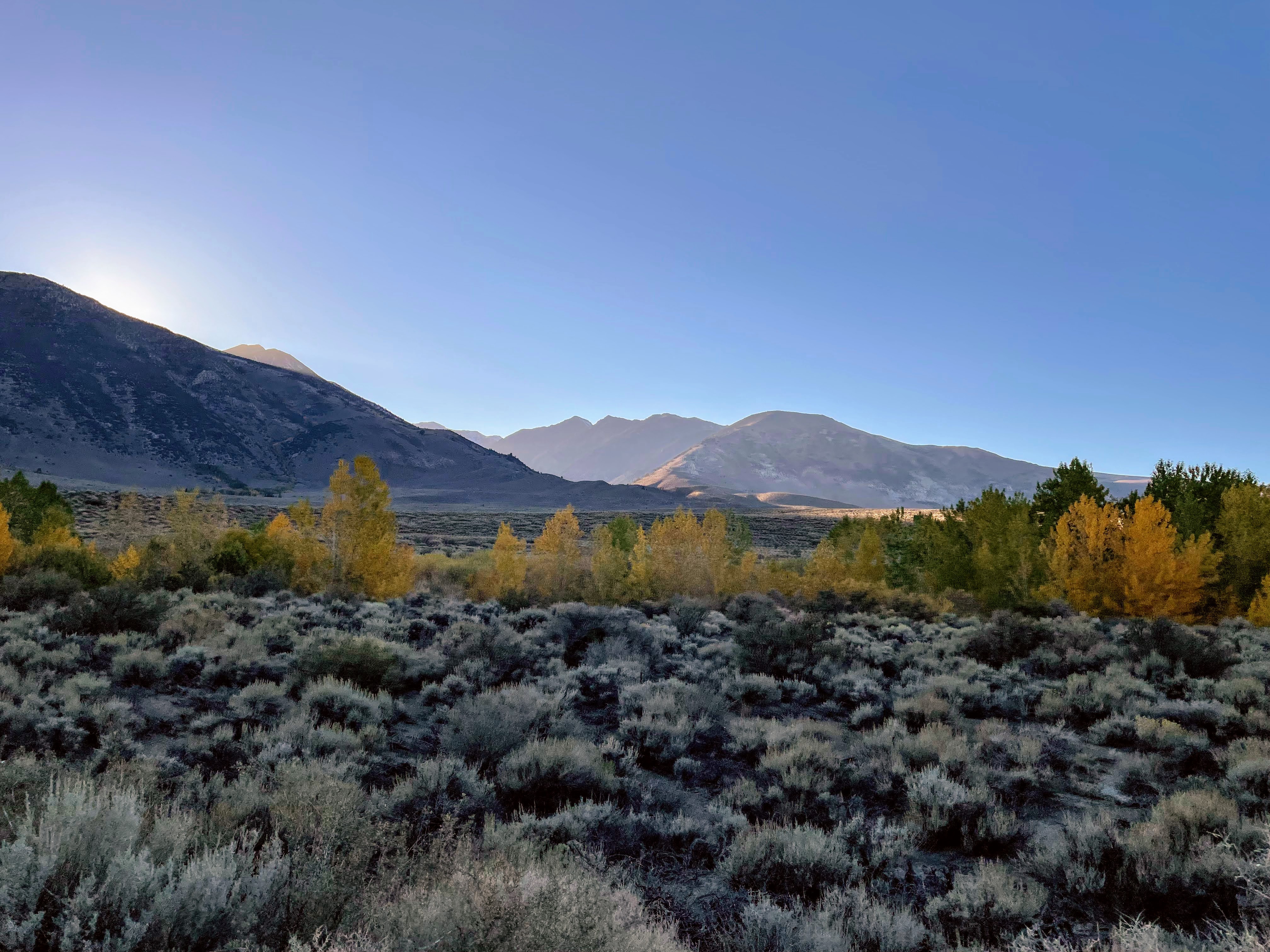 Disclaimer: Based on information from the Mammoth Lakes Board of REALTORS and other various sources. All data including all measurements and calculations of area, is obtained from various sources and has not been, and will not be, verified by broker or MLS. All information should be independently reviewed and verified for accuracy. Properties may or may not be listed by the office/agent presenting the information.