Mammoth Lakes and Eastern Sierra Local News
The fall colors in the Eastern Sierra are just about done now except for the occasional aspen with some yellow leaves south of Bishop. October was full of a lot of beautiful fall weather. We even got quite a bit of early season snow. Mammoth Mountain is claiming 32 inches of snow so far.
With so much snow, Mammoth Mountain opened ahead of schedule on October 29th. Opening weekend was busy in town and on the Mountain. Many visitors were excited to be able to ski in October. From what we were able to find, it looks like Mammoth Mountain hasn't opened in October since 2004. To see a history of opening and closing dates you can click here.
On November 3rd, the Parcel Phase 1 broke ground. The first phase of the Parcel includes 80 affordable apartments that will be available as long term rentals. The apartments should be available summer 2023. This project is long overdue and will tremendously help with the long term housing shortage.
Bear activity has been high in Mammoth Lakes as the bears are busy preparing for winter. Remember to lock all dumpers and do not leave food in your car. Once a bear finds a food source they will continue to come back to it. Let's keep our bears wild and not let them eat trash. They deserve better!
Mammoth Lakes Real Estate Market Update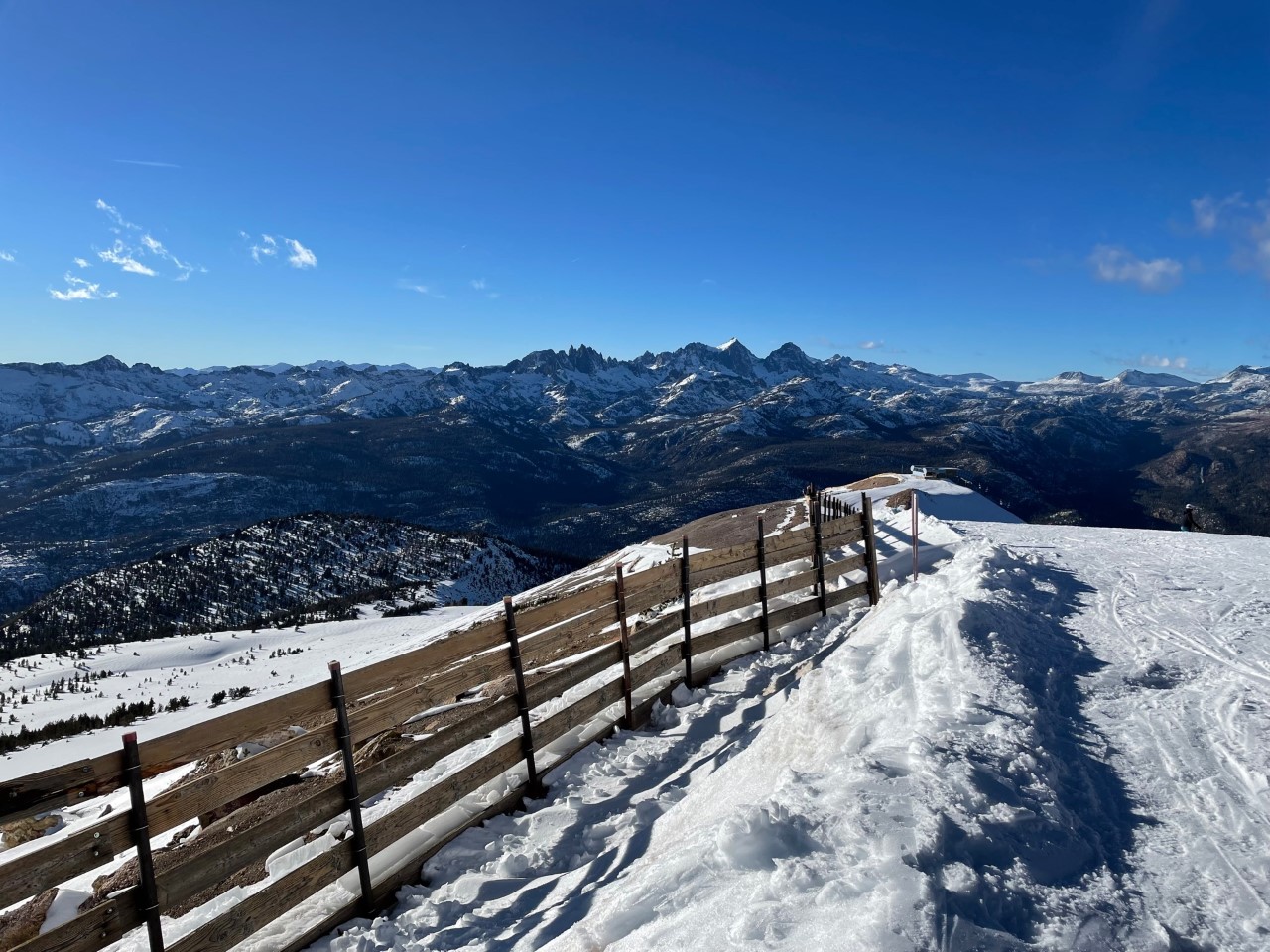 We know we've been saying for a while now that the inventory in Mammoth Lakes and across the Eastern Sierra is extremely low. Somehow it seems that in October, our inventory got even smaller. Most of the month we hovered around only 12 condos for sale and about 21 homes for sale in Mammoth Lakes.
Remember that Aspen Creek condo we mentioned last month? The one that got over 15 offers in five days? For the full story you can read it here. Well, that one quickly closed. The two bedroom, two bath Aspen Creek condo was listed at $459,000 and closed for $566,000, all cash and well above the last comp in the same condo complex.
Aside from the Aspen Creek condo that sold last month, we are still seeing a lot of multiple offer situations, especially for condos. There are a lot of serious and ready buyers waiting for a condo that meets their criteria, and when one hits the market they are able to make an offer within a few days. Many of our buyers right now are looking for two bedroom or larger condos, and ideally renovated. So when a condo like the Aspen Creek mentioned above, hits the market, we are still seeing a lot of multiple offer situations. This is mostly due to the lack of condo inventory.
Mammoth Lakes Real Estate Home Trends and Stats
Now that we are fully into fall, the visitation typically drops off in Mammoth Lakes, which also leads to a dip in real estate sales. In October, only 8 single family homes sold in Mammoth.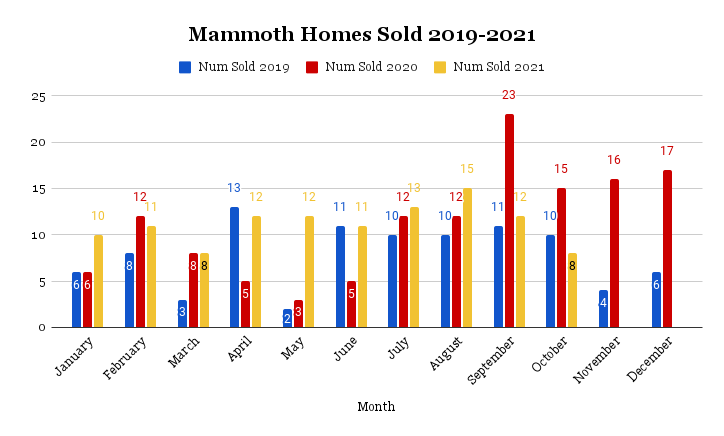 That is a 33% decrease since September. This is likely due to the low number of active homes for sale.
An interesting statistic from last month was the number of new Mammoth home listings. There were 14 home listings in Mammoth Lakes in October, which is more home listings than we've had in the last three months. It's not a secret that we get plenty of serious buyers looking to land a place before the holidays.
Even with 14 homes listed in October, the number of active home listings in Mammoth hovered around 20-22 all month. As of November 18th, there are only 18 active residential listings in Mammoth. You would think that with only 8 closed sales in October and 14 new listings, the inventory would grow, but unfortunately that hasn't been the case. Mammoth homes are continuing to sell quicker than we've ever seen before. There are currently 11 Mammoth homes in escrow. I think we can expect to see a decent amount of these closing by the end of November.
Now this is fascinating. The median price for a single family home decreased from $1,072,500 in September to $925,000 in October. A mobile home in the Ski Trails Mobile Home Park sold for $195,000 and five other homes sold for under $1,000,000. This is the first time this year that the median sale price of a Mammoth home dipped under 2020 levels! Is this a sign that the market is cooling off?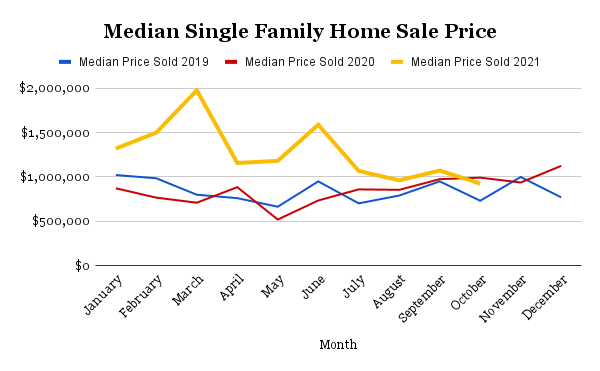 The year to date (YTD) median price for a single family home in Mammoth is still much higher than in 2019 and 2020. Right now the YTD median sales price is $1,185,000. The fluctuations in median price this year are similar to the last two, the biggest difference is the decreasing trend in median sales price throughout 2021. The year started incredibly strong and then peaked again in the summer as usual. Now it seems like buyers are slowing their roll regarding Mammoth homes. It takes a special buyer (or local) to purchase a home in Mammoth due to Measure Z, a local ordinance prohibiting nightly rentals (30 days or less) in most residential areas. Most people want to offset mortgage payments by renting out the property when they are not here. For some, paying a mortgage for half-time living is too much stress on the wallet. That is why it takes a bit longer for homes to sell in Mammoth Lakes and Mono County. If there is a sector of the market to negotiate right now it is within Mammoth homes.
Mammoth Lakes Real Estate Condo Trends and Stats
Mammoth condos have always been all the rage. You can rent them nightly and the HOA takes care of trash, snow removal, water, maintenance, amenities and sometimes more perks! As more people buy Mammoth condos, the prices are going sky high. As of November 12, there are only 11 condos on the market. This is rock bottom and we are definitely seeing bidding wars. No one has seen prices this high and the number of people bidding for them.
In October, 37 Mammoth condos sold, which is slightly down from September. The only reason fewer condos sold is likely due to the even smaller inventory. If there were more condos on the market, they would have easily sold.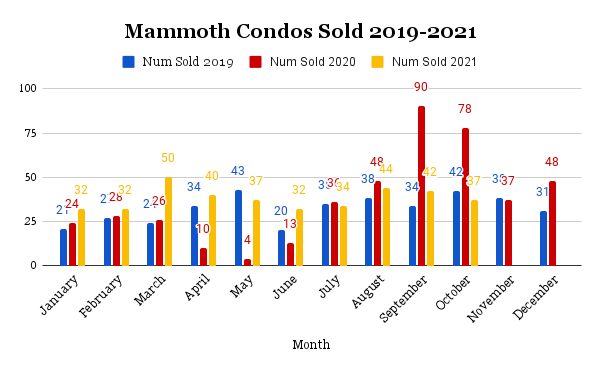 Last year in September and October we saw a huge spike in condo sales. This was due to the pandemic. When Covid first hit, the real estate market took a huge pause from March until June, then the world started opening up. This created a huge backlog of sales. Many people started their real estate search again in June and July, so we had a huge surge of condos that opened escrow in summer and closed in September and October. This year however, we've had a much steadier flow of Mammoth condo sales.
Despite incredibly high prices and how quickly most condos are selling, only 24 condos were listed in October. This is lower than the last two years in October.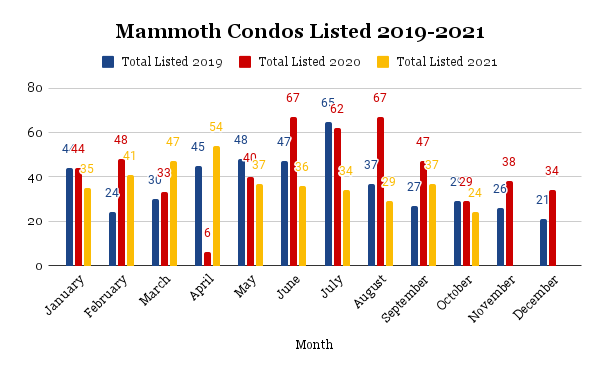 While we do normally see the listings start to decline in the fall since the visitation slows down in Mammoth and children are back in school, we've really been hoping to see more listings hit the market. More listings would help to make the market less competitive and decrease the number of multiple offer situations.
Since the inventory remains painfully low, it's no surprise that the median sales price for a condo remains high. In October, the median sales price increased to $614,000.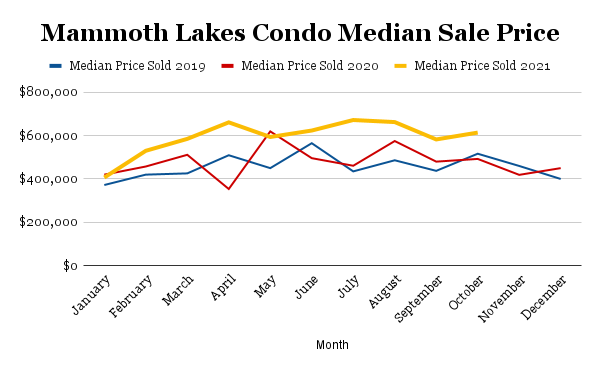 YTD the median sales price for a Mammoth condo is $595,000 which is about 25.26% higher than in 2020.
Of the 37 condos that sold in October, almost half were studios and one bedroom condos. The most expensive condo to sell was a Snowcreek V condo that sold for $1,965,000. We are still seeing more 'smaller' condos sell than large condos which keeps the median price down. It seems like many people are still holding onto their Mammoth condos. With the continued ability to work from home, many people are now finding more use for their condos. Some people are even trying to upgrade from smaller one bedroom condos to two bedroom or larger condos.
One statistic that is really interesting to look at is the difference in the average price for a two bedroom condo in 2020 compared to the YTD average price of a two bedroom condo. In 2020, the average sale price for a two bedroom condo was $493,620. The YTD average sale price for a two bedroom Mammoth condo in 2021 is currently $638,927. That is a 29.48% increase in the average sale price of a two bedroom Mammoth condo. We expect that number to increase even more as we close the year out. It seems like prices keep going higher, but at a slower rate. The Nation Association of Realtors is predicting that home sales will continue to sell faster than in pre-pandemic levels. Which brings us...
Is now a good time to buy Mammoth real estate?
California housing affordability is expected to slightly drop to 23% next year from a projected 26% in 2021, according to the California Association of REALTORS. Additionally, mortgage rates are expected to increase moving forward. If buying a Mammoth property right now won't break the bank and you can make an extremely competitive offer, it could be a good time for you. The only drawback is the availability of active listings. We don't have a lot of options. We should see a lot more listings this coming spring as we historically do.

If you're serious about buying a Mammoth property this season, contact us. Once we know exactly what you are looking for we can find you a great property!
Is now a good time to sell Mammoth real estate?
Now is a perfect time to sell, of course! Sellers are experiencing multiple counters and getting over-asking price offers in a matter of days. The competition is low for sellers due to the small number of listings on the market. It's extremely possible you can sell your property at an excellent price.
For a free no-obligation property valuation, contact us! We are always happy to help.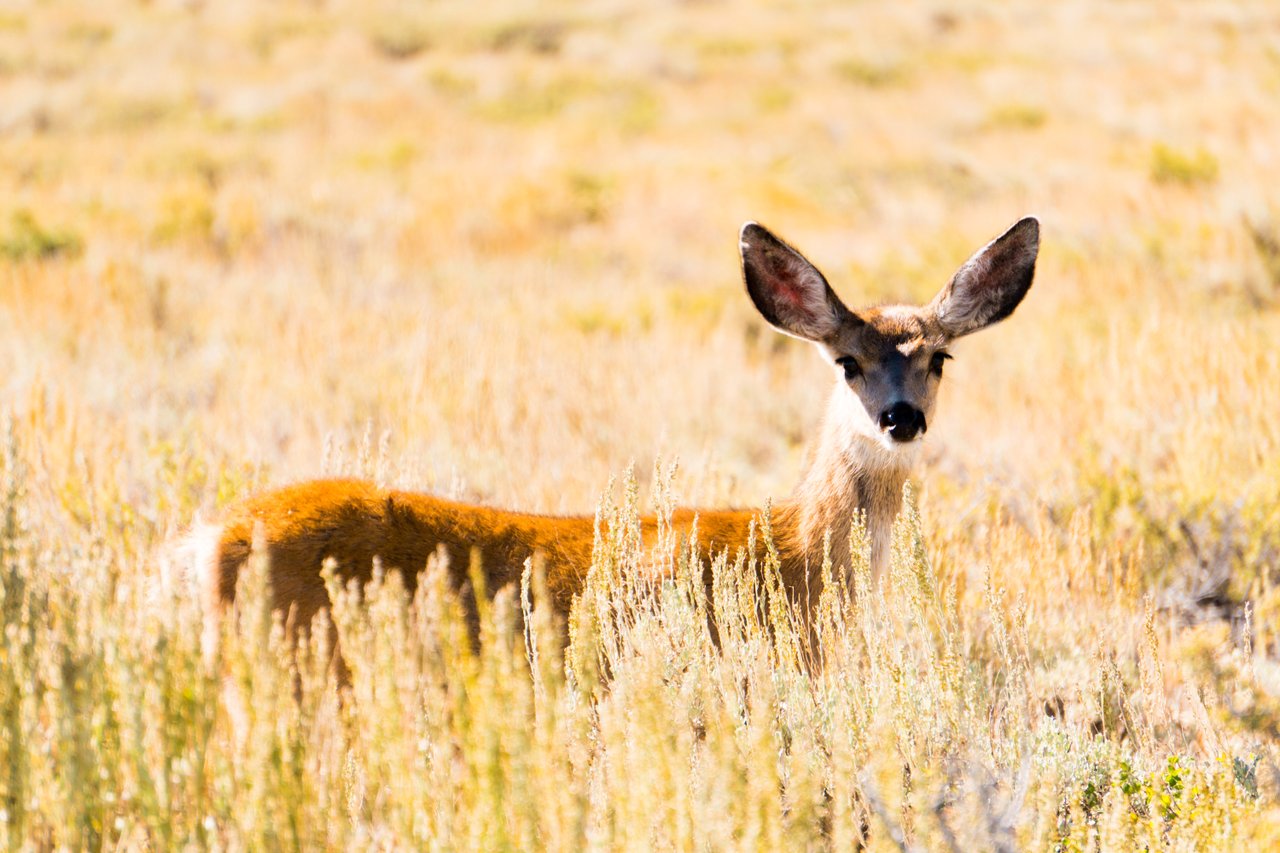 Disclaimer: Based on information from the Mammoth Lakes Board of REALTORS and other various sources. All data including all measurements and calculations of area, is obtained from various sources and has not been, and will not be, verified by broker or MLS. All information should be independently reviewed and verified for accuracy. Properties may or may not be listed by the office/agent presenting the information.