Mammoth Lakes and Eastern Sierra Local News
In Mammoth Lakes and the Eastern Sierra, the month of November was oddly warm and sunny. There was only one snowstorm on November 9th. So far December has brought some much needed snow! The first storm moved in on December 7th, followed by another storm on December 13th which produced over four feet of snow within two days! We spent almost all day shoveling snow with the rest of the Town. Mammoth Mountain, got completely buried and had to stop operations on December 14th. We now have an incredible base! Make sure you get some laps in before the powder is tracked out!
The one positive outcome of the low snow in November is that some lakes were able to freeze solid and many people were able to ice skate on frozen lakes. This is one of our favorite activities. If you're interested in trying it out we HIGHLY recommend having the proper safety gear on hand and checking the ice depth with an ice screw. You can read about some safety tips when skating on a lake here.
To avoid the risk of falling in a frozen lake, you can always ice skate at the Mammoth Lakes ice rink which opened on November 26th and is now open daily. You can check here for the schedule.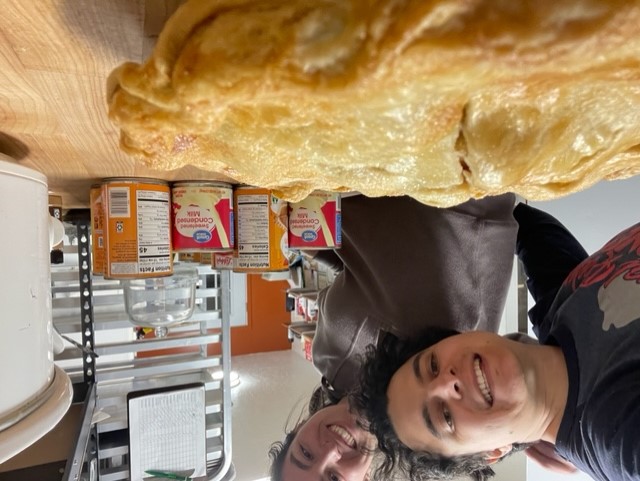 For Thanksgiving we held our annual Pie Pickup Party and baked over 30 pies to give out to our clients and friends to show our gratitude. We could not have done it without the help of Epic Cafe in June Lake. They lent us their kitchen so we could bake our appreciation pies. Thank you to Epic Café and everyone who enjoyed one of our pies! Please let us know if you would like one for next year.
United Airlines is starting their flight service to Bishop on December 19th. You will be able to fly from Los Angeles, San Francisco and Denver to Bishop. The Mammoth airport will still operate, but for smaller, semi-private flights. Hopefully the flights into Bishop will be able to land more frequently and with fewer weather delays.
Now that we are getting closer to Christmas and New Year's there are some fun events coming up. December 20-23 get photos with Santa and Woolly in the Village. There will also be fireworks and music in the Village on December 31st. If you come to town, make sure you come and say hi to us!
Mammoth Lakes Real Estate Market Update
If you've been following the Mammoth Lakes real estate market, this might not be too shocking, but the inventory throughout the Eastern Sierra remains at an all time low. We are down to only 8 condos and 11 homes on the market as of December 19th. Normally at this time of year we might see more like 80 condos and 40 homes. We've been talking to many other real estate agents and no one has seen a market quite like this one EVER.
Condos remain hot commodities. Most two bedroom condos that hit the market receive multiple offers within a few days. We don't know the final sale price of any of these condos, but from what we've heard and seen, most of them are selling way over asking. Like, $50,000-$100,000 over asking price. It's a tough time to be a buyer no doubt, but it seems many buyers are still determined to secure their spot in Mammoth, even if it means paying over the asking price.
Mammoth Lakes Real Estate Home Trends and Stats
November is an interesting time for the real estate market in Mammoth Lakes. Visitation is usually on the lower side with the exception of Thanksgiving week. Despite the lower visitation, we often get a lot of serious buyers at this time who are ready to purchase a property for the upcoming ski season.
This November, seven Mammoth homes were sold. This was the third month in a row of declining home sales. There are still a lot of people who want to buy homes in Mammoth, one of the reasons more homes didn't sell was the lack of homes for sale in Mammoth.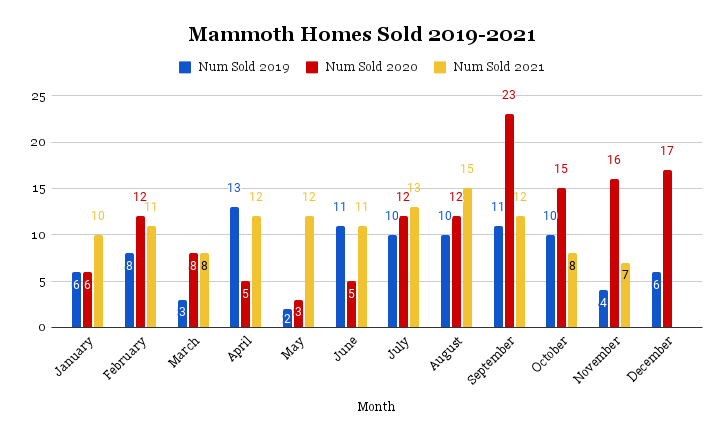 When making a big decision like a primary or secondary residence, most people want to be sure they love the property, and it can be hard to find the right one, with so few homes to pick from.
Only 5 homes were listed in November, which is one of the reasons the number of active homes for sale in Mammoth shrank.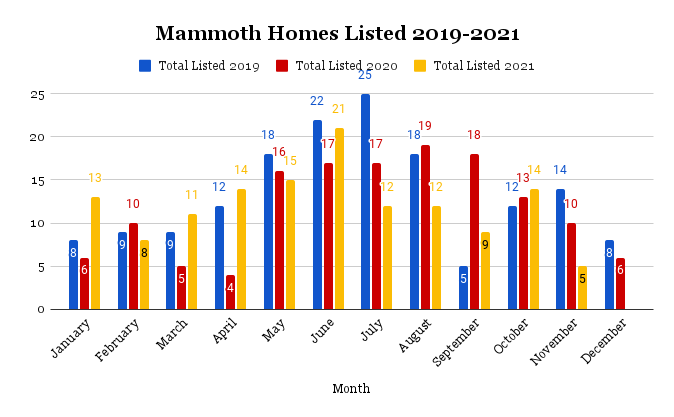 As of December 19th, there are only 11 homes for sale in Mammoth, which is about half the number of homes for sale at one time compared to last month.
For the second month in a row, the median sale price for a single family home in Mammoth Lakes was below $1,000,000. These were the first two months this year that the median sale price for a single family home dipped below $1,000,000.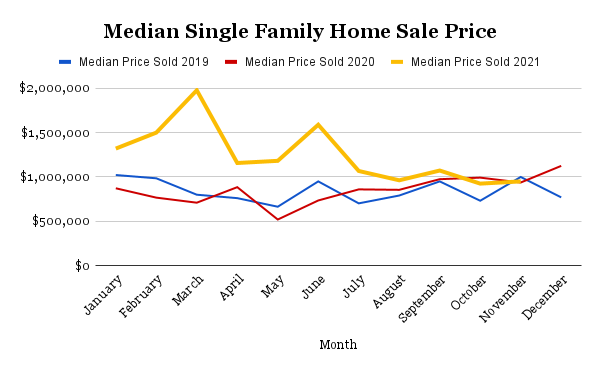 We wouldn't sound any alarms yet about the prices decreasing just yet. With only seven homes selling in November, the sale price of each home strongly affected the median sales price, and four of the seven homes sold for under $1,000,000. All four of those homes were smaller (2100 sq ft or less) and needed a little TLC.
Some good news for homebuyers, is that six out of the seven homes that sold in November accepted offers for under asking price. The house that sold above list price only sold for $1,000 over. The rest had significant discounts at a median discount of $81,000 and a sale-price/list-price ratio of 93.02%. So, you can submit an offer 7% under the asking price and possibly have a deal. The biggest reduction we saw was at 77 Panorama Dr., originally listed at $2,675,000 and sold for $2,458,500. That is a $216,500 discount! With that being said, that is still a stellar sale price with only an 8% discount. We are definitely not seeing this with Mammoth condos.
Additionally, the year to date (YTD) median sales price is still well above 2020's median sales price. In 2020 the median sales price was $875,000 and the current YTD median sales price is $1,180,000. We think it's safe to say, 2021's final median sale price will easily exceed 2020's.
The total number of homes sold in Mammoth this year is getting really close to beating 2020's record year.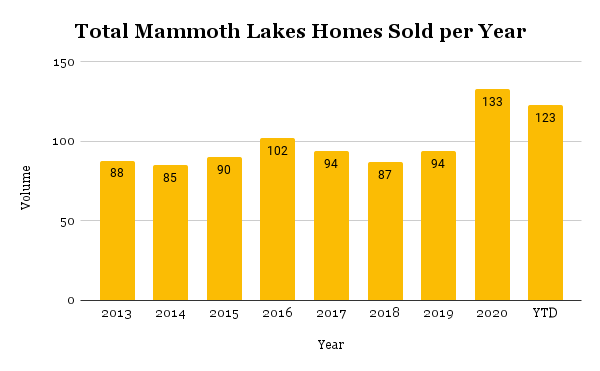 So far in December, five homes have already sold and five homes are currently pending. It's very likely the total number of homes sold in Mammoth in 2021 will at least tie 2020 if not even exceed it!
Mammoth Lakes Real Estate Condo Trends and Stats
What can we say about Mammoth condos? It's a bloodbath out there! Well maybe not that bad, but you get the picture. Every condo that gets listed at a competitive price and in decent condition gets multiple offers over asking price. Many people simply cannot compete with some of these offers. Prices for Mammoth condos have never been this high and people are offering even higher. It is a crazy hot market for Mammoth Lakes condos.
November 2021 beat the last two years in terms of the number of condos sold. Every time a new Mammoth condo hits the market, thousands of people see it and want it.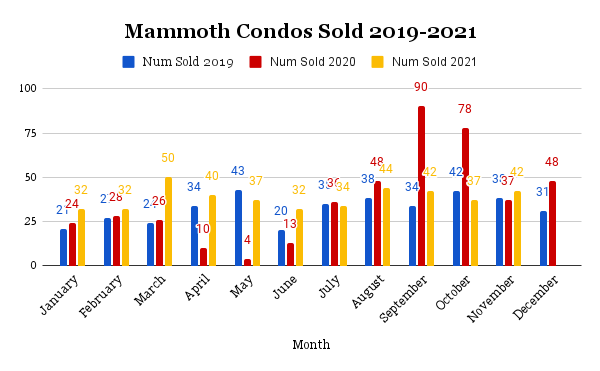 It's quite remarkable 42 condos sold in November when only 23 were listed. The reason for this inconsistency is new development. The Villas at Obsidian closed seven units. One CreekHouse also sold in November.
Throughout last month we fluctuated between 10 and 15 active listings, and once we even dipped as low as five active condos. Many of these condos didn't last long on the market. Before you knew it they accepted an offer or were negotiating with a few buyers seeing who would go even higher.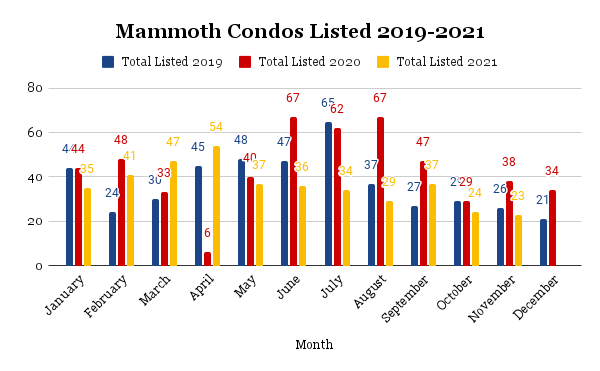 With all these competitive offers the median sale price of a Mammoth condo was $713,000 in November. That is astonishing because November 2020 had a median sale price of $419,000. That is a 40% increase in only one year!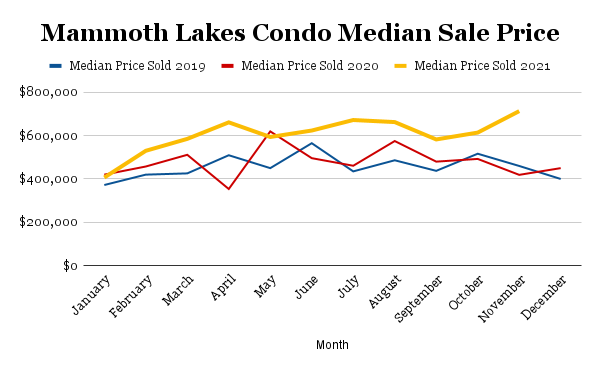 As of December 15th, the YTD median sale price of a Mammoth condo is $605,000. Compare that to last year of $475,000. Even with these amazingly high prices, appraisals have been coming in at the accepted price (even if it's over listed price). Some appraisals have been coming in lower, but this usually doesn't come as a surprise since most agents educate their clients of the risk.
Is it a good time to buy Mammoth Lakes real estate?
This is an extremely difficult time to be a buyer, especially for Mammoth condos. We have put in countless offers for some of our clients with no luck. You can put in an incredible offer, but still be outbid. If you are ready to put in your highest and best offer upfront and by highest we mean way over list price, you might have a good chance of landing a Mammoth condo. Our advice is to be ready to offer more than what you expect.
For Mammoth homes buyers have a better chance of getting a slight discount (average is about 7%). The price of a Mammoth home is still higher than ever, but there have been some great family homes selling below $1,000,000 (still a lot of money). There has only been one single-family home (28 Pinecrest Ave.) to sell below $500,000 in the past 18 months.
To truly answer this question, is impossible because it depends on many factors. If you have been thinking about buying anywhere, please contact us. We are always happy to help!
Is now a good time to sell Mammoth Lakes real estate?
As we've been saying, it's a great time to sell a Mammoth property. We are predicting 2022 will also be a perfect time to sell. However, this market isn't going to last forever.
It's possible demand will start to diminish next year and in 2023. So if you've been holding onto a property in the Eastern Sierra, you might consider selling sooner rather than later, especially if you are no longer using it.
If you have a property in Mammoth Lakes or anywhere in the Eastern Sierra, we would love to help you. Please feel free to contact us anytime for a free property valuation and marketing plan!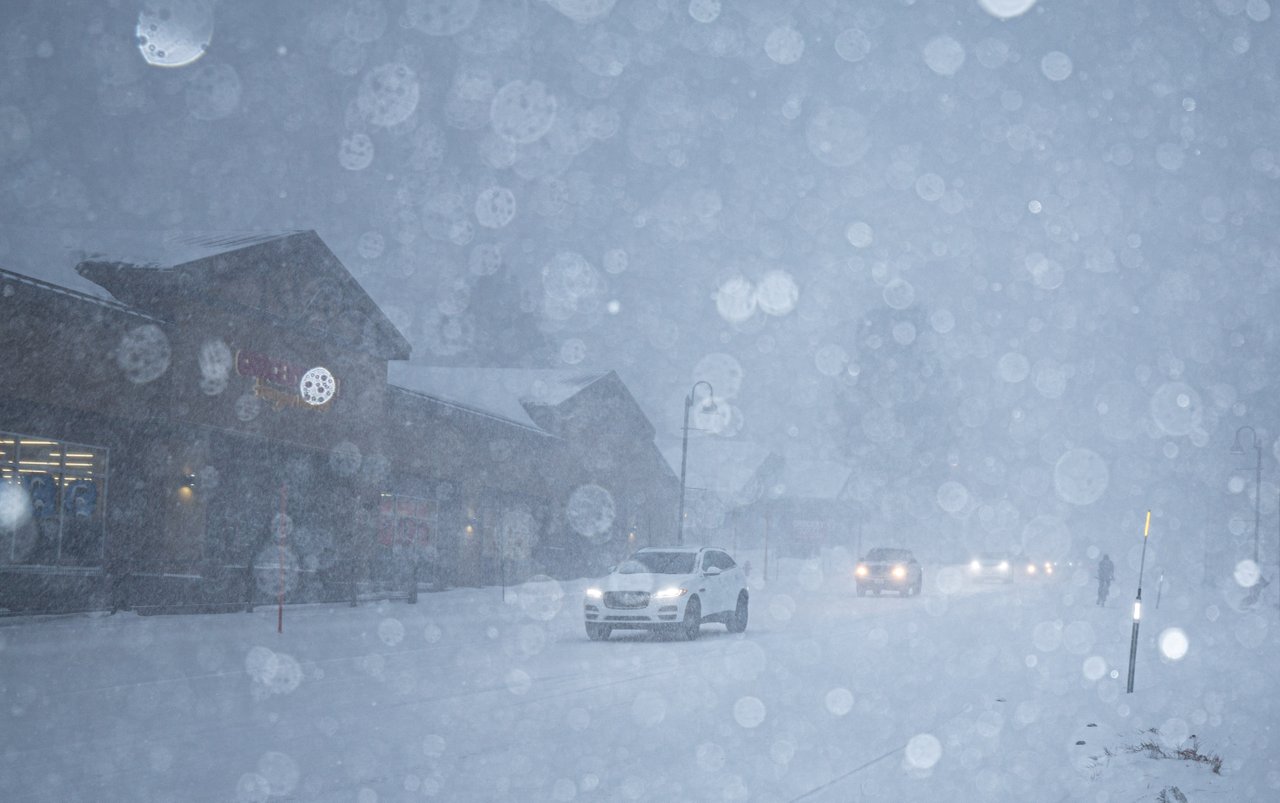 Disclaimer: Based on information from the Mammoth Lakes Board of REALTORS and other various sources. All data including all measurements and calculations of area, is obtained from various sources and has not been, and will not be, verified by broker or MLS. All information should be independently reviewed and verified for accuracy. Properties may or may not be listed by the office/agent presenting the information.