The Most Comprehensive 2021 Real Estate Market Recap for Mammoth Lakes and the Surrounding Communities!
The Mammoth Lakes real estate market surprised everyone throughout 2021. The Eastern Sierra always has something to show us. We'll take you with us discovering the trends and statistics of not only the Mammoth real estate market, but also the real estate markets of Crowley Lake, Swall Meadows/Paradise, June Lake, Lee Vining/Mono City, and Bridgeport!
With Covid (unfortunately) well established in 2021, many of the trends we saw in the later half of 2020, carried into 2021. Many office workers continue to work from home, allowing for more flexibility in their schedules and the location they choose to work from. This also pushed for these remote workers to want bigger, more efficient living spaces. Outdoor recreation is more popular than ever. Mortgage interest rates remain at record lows. All of these trends combined, meant that owning a property in the Eastern Sierra makes a lot of sense for many Southern California locals. What better time than now?
2020 was a roller coaster of a year. The world was open, then closed, then open again and closed again, Mammoth was even shut down during Christmas! 2021 was a much more steady (and steep) upwards climb for us here in the Eastern Sierra. For the most part, businesses were able to stay open. Visitation was allowed and encouraged once again. We had a much less severe fire season. And had a record-breaking amount of snowfall in December. The market kept on going up and up throughout 2021. If 2020 was a rollercoaster, 2021 was a rocket ship.
Reflection of the 2021 Real Estate Market - Eastern Sierra Real Estate Trends and Stats

Throughout 2021, the buying demand in the Eastern Sierra remained at an all time high. Many buyers were ready and able to purchase a property in the Eastern Sierra and were actively watching the market. Most listings sold quickly and at extremely favorable terms to the seller. All year long, the active inventory of properties for sale was much lower than pre-pandemic years.
Multiple offers and sight unseen offers become almost the new normal. It was definitely a tough year for buyers to compete, but it was still possible to land a deal as long as buyers were working with a good agent. With the demand to buy outstripping the supply, prices increased across the Eastern Sierra. Many communities saw over a 20% increase in value.
Mammoth Lakes Real Estate Trends and Stats

Mammoth Lakes is the largest and most popular community in the Eastern Sierra, and as such, has the most sales and highest median sales price. 2020 and 2021 were both huge years in terms of volume of home sales and median sale price. Just how huge was 2021 you might ask? According to our MLS, Mammoth Lakes alone saw $1,057,057,440 worth of real estate sold. That's a lot of money coming through little ol' Mammoth Lakes!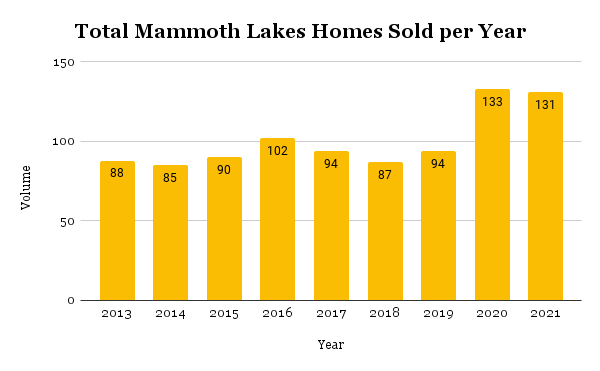 As for Mammoth homes, a total of 131 homes sold in 2021, compared to 133 in 2020 and 94 in 2019. However, it never felt like that many homes were on the market. People couldn't buy Mammoth property fast enough. Throughout 2021, the number of active Mammoth home listings ranged from 5 to 30 homes at any given time.
Historically Mammoth homes sit on the market longer than condos since they're more expensive and most cannot be rented out nightly. This doesn't seem to be a deterrent anymore. The average days on market from the time a home hit the market until close of escrow was only 93 days in 2021, compared to 128 days in 2020. From 2013 to 2020 the average days on market was around 174 days. This is a giant jump! This factor really shows the increase in the demand for Mammoth homes.
With homes selling so quickly and with a limited selection of active homes to choose from, sellers were able to ask high prices throughout 2021. The median home sales price in 2021 was $1,150,000 compared to $875,000 in 2020. That is a 31.43% increase in just one year!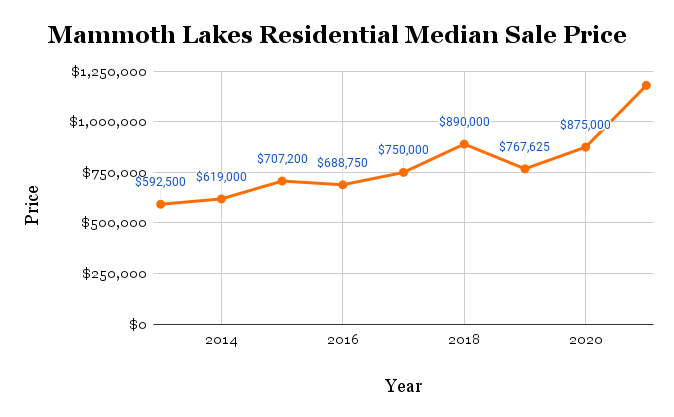 If you thought Mammoth homes were selling quickly and in large numbers, just wait until you see Mammoth condos.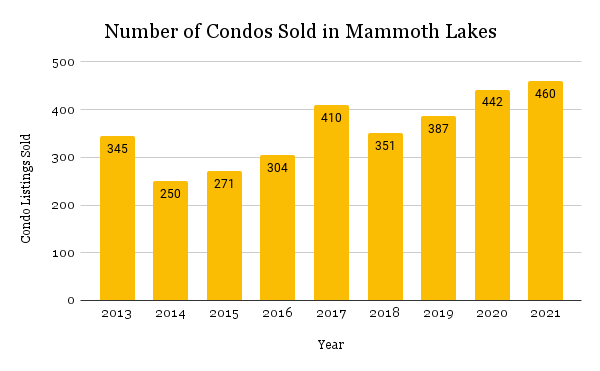 A record breaking 460 Mammoth condos sold in 2021 which is more than any other year since 2013 (which is as far as the Mammoth Lakes MLS goes). While there weren't any large spikes in condo sales like in 2020, condo sales remained steady all year long, and most months in 2021 outcompeted 2019. Not only did more Mammoth condos sell in 2021 than ever before, more condos sold than were even listed in 2021, meaning some sold off market or before the property was listed.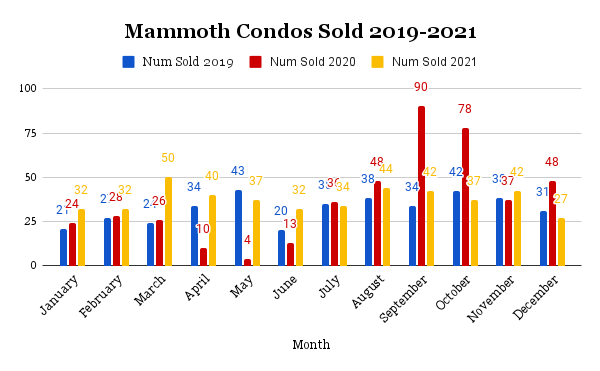 The 2021 median sale price for a Mammoth condo is $612,000. That's a 28.84% increase from the 2020 median price of $475,000. One of the most shocking statistics we've seen recently was the December 2021 median condo price which was $810,000!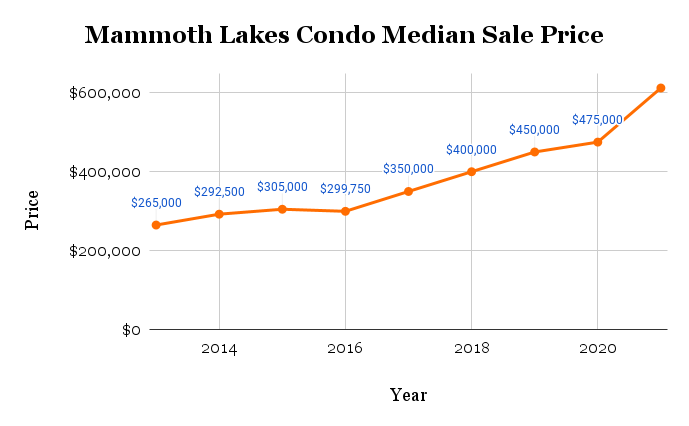 Many people love the condos in Mammoth for various reasons. Most people love that they can nightly rent the condo when they're not using them and help offset some of the expenses. Not to mention, the HOA often takes care of snow removal, trash, and exterior maintenance. And depending on the complex, many condos have amenities like hot tubs, pools and saunas. For these reasons, condos were selling fast all year long. The average days on market for a condo in 2021 was 87 days.
Not only are condos and homes selling fast, but even vacant lots. One of the most interesting trends we've seen across the Eastern Sierra is the increase in vacant land sales. In Mammoth Lakes, 50 vacant lots sold in 2021 which is double the number of vacant lots that sold in 2019 and 18 more vacant lots than in 2020.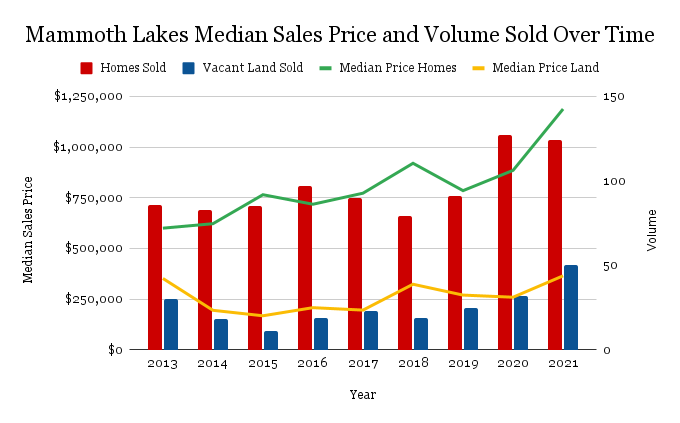 There are a couple of explanations as to why dirt is so hot. Mammoth Lakes and the other communities in the Eastern Sierra are surrounded by public land i.e. US Forest Service. There is only a limited amount of space to build on. Many people have realized this and are now investing in it. Even the local developers are scrambling to purchase as many vacant lots as they can get their hands on. Another reason is that people want their own custom home in the mountains. To some, a condo isn't as desirable as a brand new house. And when you have the means, why not? There are downsides to building though. It can usually take years to finish because of our short building season and our understaffed building department.
Overall, the Mammoth Lakes real estate market in 2021 was shocking. When we thought prices couldn't go higher, they did. When we said, "Good luck" to a super high priced property, it sold. Are there no surprises now? We bet there are still many to come.

Crowley Lake Real Estate Trends and Stats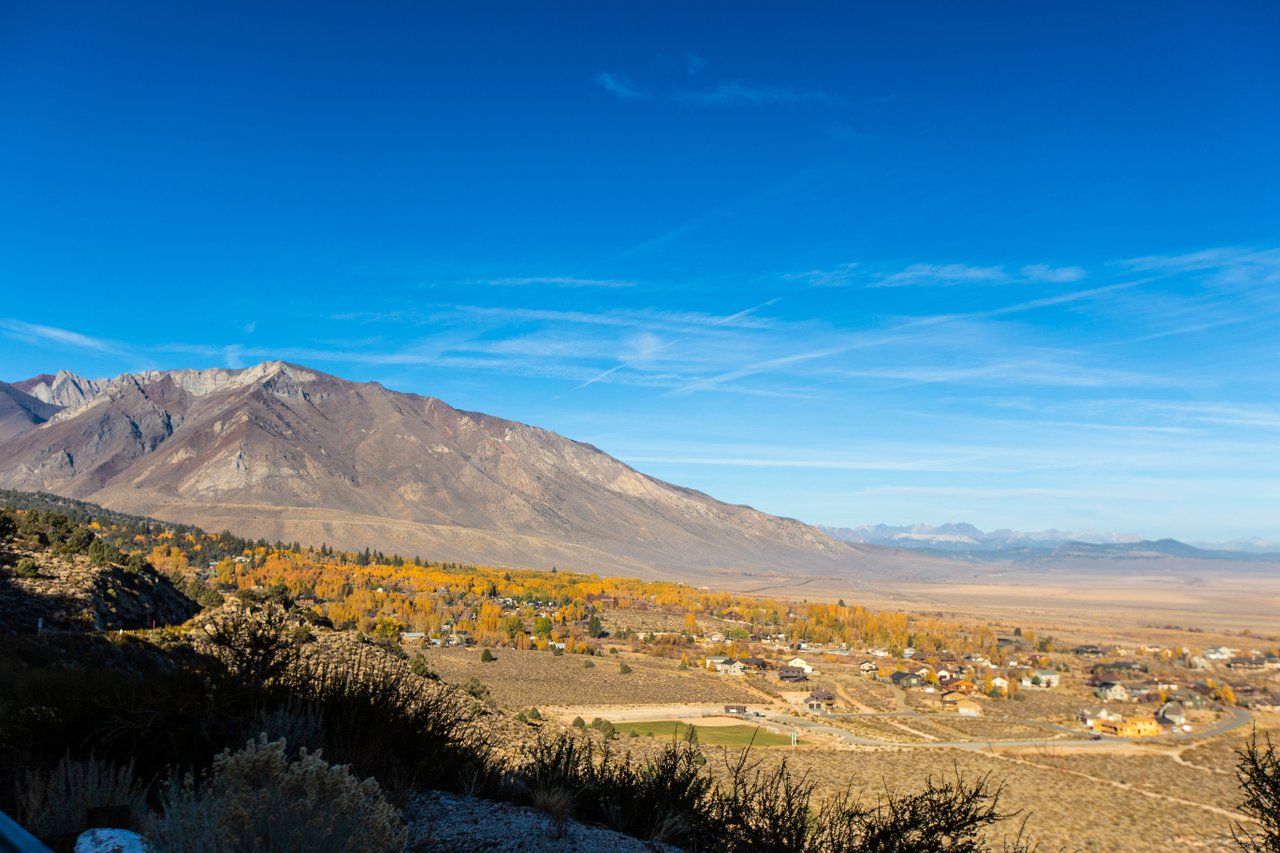 Crowley Lake is a small community about 14 miles south of Mammoth Lakes which features a general store, skate park, community center and a few lodging options. This area also consists of Aspen Springs. This is the small community that you pass when heading to Mammoth Lakes, just past Tom's Place. When the road opens up and you see a big meadow to your left when heading northbound. It looks like a place from a calendar. We know you've seen it before!
While the Crowley Lake Area didn't see as many home sales in 2021 as in 2020, the median sales price for a home in the Crowley Lake area did increase 27.03%. The median price increased from $665,000 in 2020 to $844,750 in 2021.
An interesting trend we noticed when comparing the Crowley Lake homes in 2020 and 2021 was that the least expensive home that sold in 2021 was $715,000. So, the least expensive home to sell in 2021 was more expensive than the overall median home price in 2020. That is quite remarkable! As of January 2022, prices continue to rise in the Crowley Lake Area.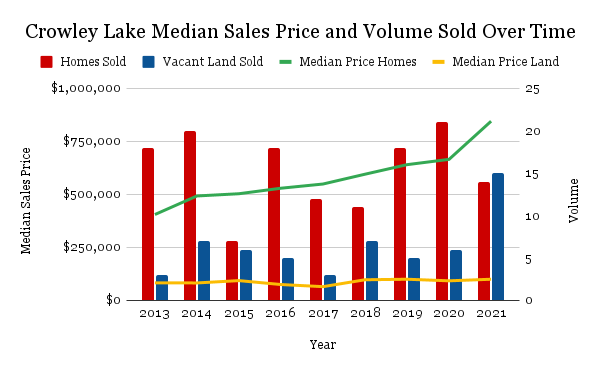 Where we did see a huge increase in volume was in the vacant land sales in Crowley Lake. 15 vacant lots sold in 2021, which is more than double any other year. The median price for land in Crowley Lake is staying consistent at a median price of $100,000, which has been that number since 2018. As the demand increases in Mammoth so does it in the neighboring communities. Crowley Lake has historically been a great place for families and second homeowners alike. A dollar goes much further in Crowley Lake than Mammoth. If you're looking for a nice home at a reasonable price, Crowley Lake might be a good option for you.
Swall Meadows and Paradise Real Estate Trends and Stats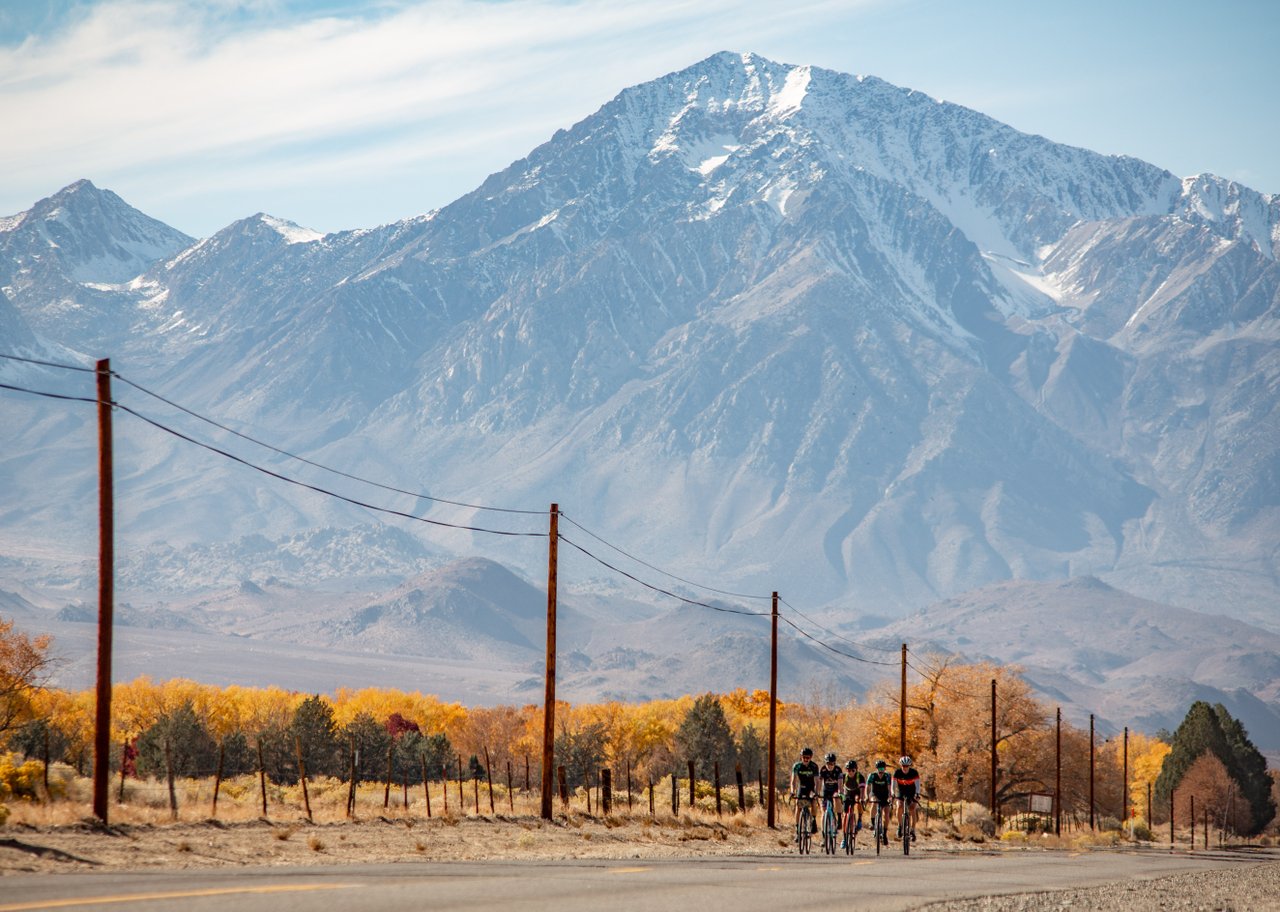 Swall Meadows and Paradise are two small neighborhoods about 4.6 miles apart from each other. Swall Meadows and Paradise are about 25 miles south of Mammoth Lakes and roughly 29 miles north of Bishop. The population is about 400 people and there are no shops, only residential homes. This area offers sweeping views of the Wheeler Crest, Mt. Tom, the Owens River Gorge, and much more. The two winding roads to get there are a few miles off of Highway 395. Paradise and Swall Meadows offer people a remote feeling without being terribly far from Mammoth Lakes or Bishop.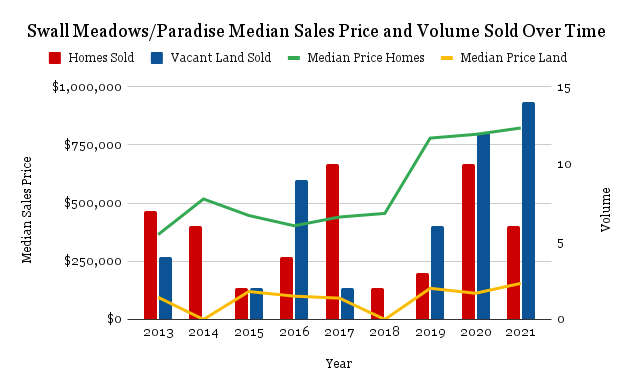 Similar to Crowley Lake, these communities didn't see a huge spike in the number of home sales, but did see a huge spike in the number of vacant lot sales. Dirt is on a huge upward trend right now. There was a 37.78% increase in the price of vacant land from 2020 ($112,500) to 2021 ($155,000). As of January 27th, 2022 there are only two vacant lots for sale in Swall Meadows and Paradise.
As for homes in Swall Meadows and Paradise, prices went up too. In this case a reasonable amount at only 3.45%. In 2020 the median price for a home was $795,000 and in 2021 was $822,450. It seems like most people would rather be closer to Mammoth Lakes or Bishop. Simply moderate demand in this relatively remote area is keeping prices steady.
June Lake Real Estate Trends and Stats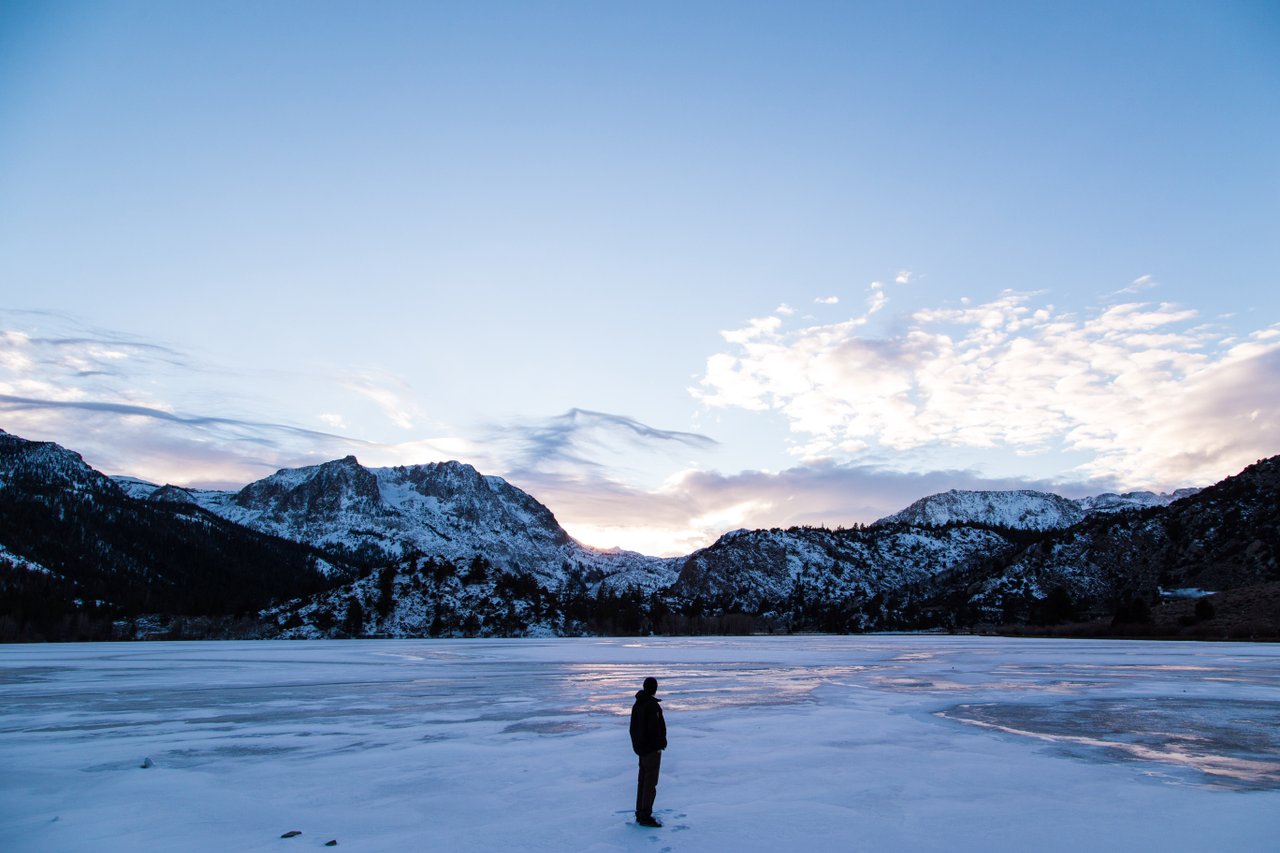 June Lake is a small community about 20 miles north of Mammoth Lakes and is home to June Mountain. People love June Lake because of its small mountain town charm and incredible mountain views. In the past couple of years, many new businesses have sprung up quite quickly! The food is some of the best in the Eastern Sierra. Some of our favorites are Epic Cafe, Hermitage Juice Bar, Ohana's, and the Balanced Rock Saloon!
For June Lake, 2021 was it's biggest year in recent history in terms of volume and median sale price. A total of 19 homes sold which is seven more homes than in 2020 and the median sales price for a June Lake home was $700,000. That is a 24.72% increase from 2020's median sale price of $561,250. 2021 even beat 2018's median sales price, which also happened to be the year with the lowest number of homes sales in our MLS, only nine June Lake homes. Many homeowners at that time likely wanted to hold onto their homes since we'd just had a great winter, 2016-2017. Buying demand typically increases after a big winter which is likely what caused the spike in median sales price in 2018. Only a few sellers took advantage of the surge. Now is another opportunity to sell at top dollar.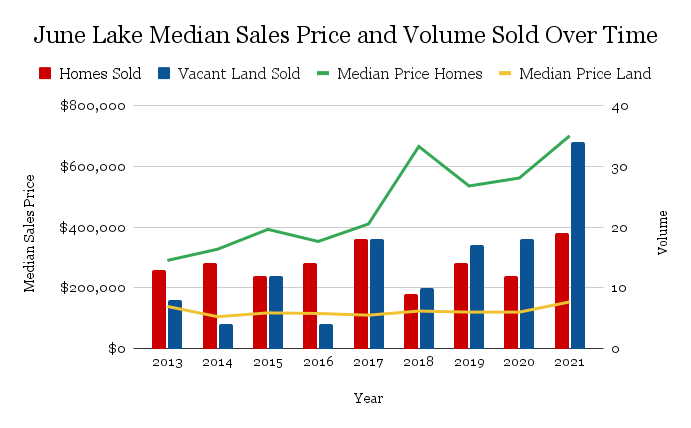 What really shocked us was the amount of vacant land sales in June Lake in 2021. A total of 34 lots sold in June Lake, almost doubling the previous year! The median price for June Lake land also shot up 27.92% ($153,500 in 2021 vs. $120,000 in 2020 and 2019). It's amazing to see properties that used to sit for so long, now selling quickly and at astronomical prices.
Lee Vining and Mono City Real Estate Trends and Stats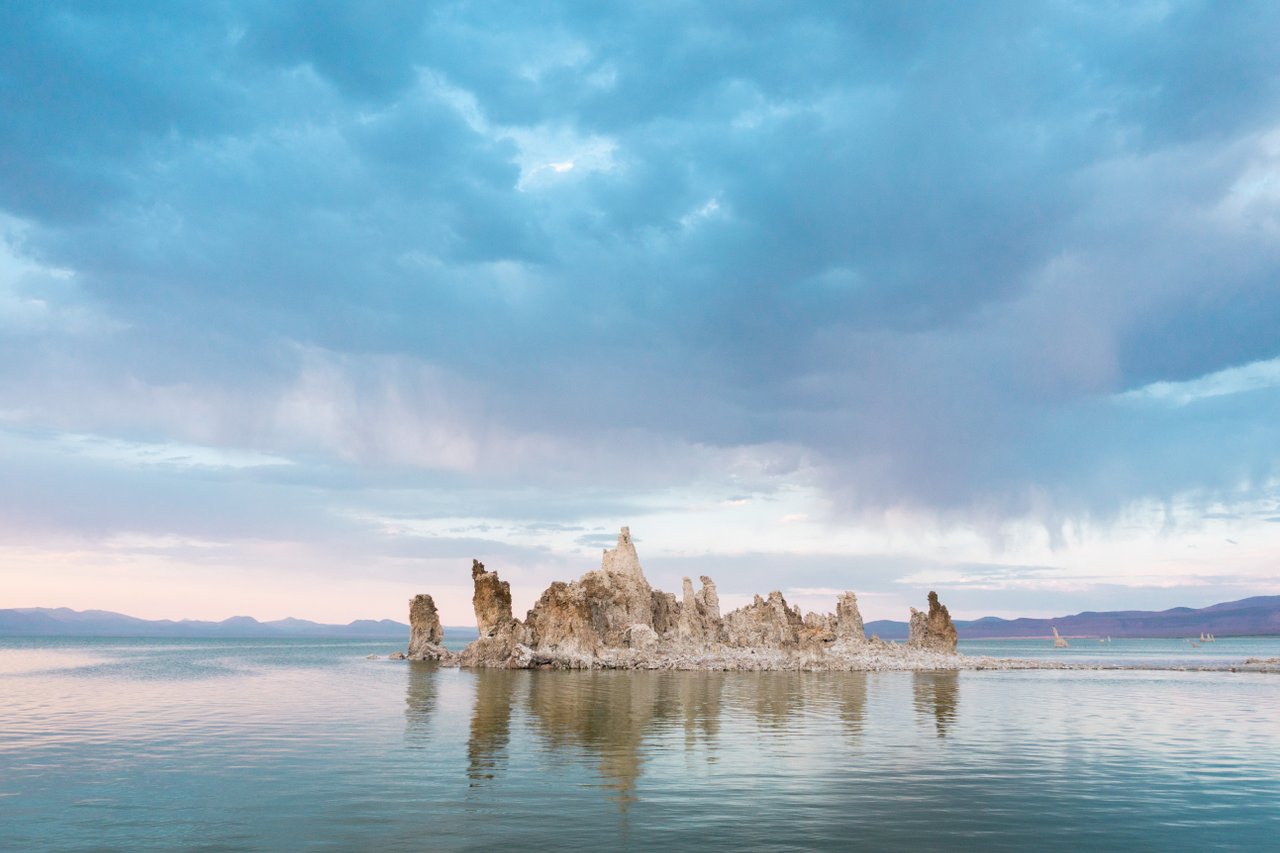 Lee Vining and Mono City are small communities along Highway US-395. Lee Vining is often called the 'Gateway to Yosemite' and is home to Mono Lake. With only about 200 people combined, the Lee Vining and Mono City Real Estate market is quite slow. Most people live in these communities year round and are not moving very often.
While Lee Vining and Mono City didn't see any huge spikes in sales volume or median price. There were still a number of surprises in the Lee Vining and Mono City real estate market. One of the biggest shocks in 2021 was just how fast homes in these areas were selling. In 2020 the average days on market was 162 and in 2021 this decreased to only 52 days. Historically homes have sat on the market a lot longer in Lee Vining and Mono City since there is a smaller buyer pool in these areas than compared to Mammoth Lakes.
From looking at the graph, it looks like the median price didn't increase much in Lee Vining and Mono City, but that's not entirely true. While yes, the overall median sales price for a home only increased from $427,500 to $433,000 from 2020 to 2021. What's really interesting is the median sale price per square foot. In 2020 the median sale price per square foot was $158.06 and in 2021 it increased to $437.50. This means that smaller homes are selling for a lot more than they have previously.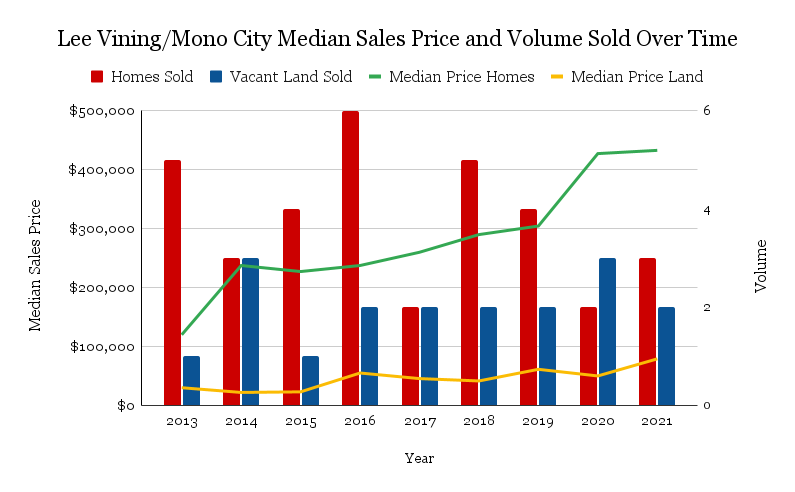 Land isn't moving fast in the Mono Lake area, mostly because there wasn't a lot on the market. The other reason is the price. A couple lots were listed near $100,000 in Mono City. This area just isn't there yet, especially due to the fact that you have to install a septic system in Mono City. These barriers to entry usually keep buyers away from land. However, there was still a considerable increase in price. Two high priced lots sold, making the median price of vacant land in the Mono Lake Area $79,000 in 2021, up from $50,000 in 2020 and $61,250 in 2019.
Bridgeport Real Estate Trends and Stats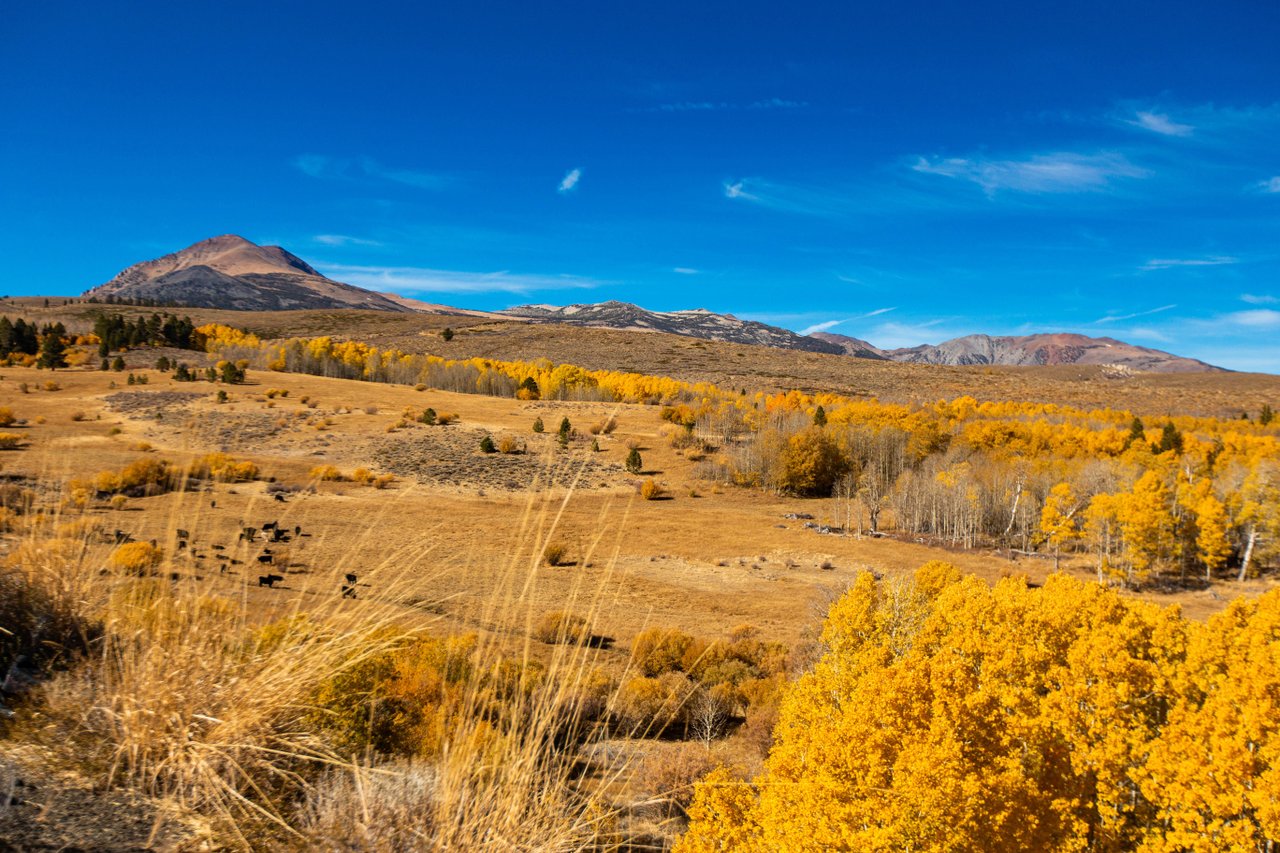 Bridgeport is a small town about 50 miles north of Mammoth Lakes. The town is known for its fishing, historic sites, snow activities, hiking, and other outdoor activities. With a population of only about 600 people, the real estate market is quite steady. If you're looking for a lower price point for a second home or full-time residence, Bridgeport may be a good choice.
Bridgeport is the only community that saw a decline in the median sales price for both homes and vacant lots. The median sales price for a home in Bridgeport decreased from $360,000 in 2020 to $350,000 in 2021. While this is only a slight decline it is still surprising given the increases in other communities in the Eastern Sierra.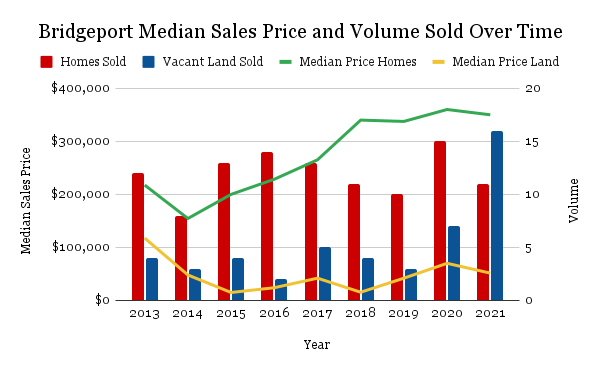 The Bridgeport real estate market has often averaged lower median sales price since it's a small community and also one of the farthest communities from Mammoth Lakes. Some people find it a little bit too far of a drive from Southern California. More visitors and second home owners in Bridgeport come from the Reno, Nevada area which is a much shorter drive.
Like many other communities, however, Bridgeport did see an increase in the sales volume for vacant lots. 16 vacant lots sold in 2021 which is over double the number of vacant lots that sold in 2020 (7 vacant lots sold in 2020).
Other Eastern Sierra Communities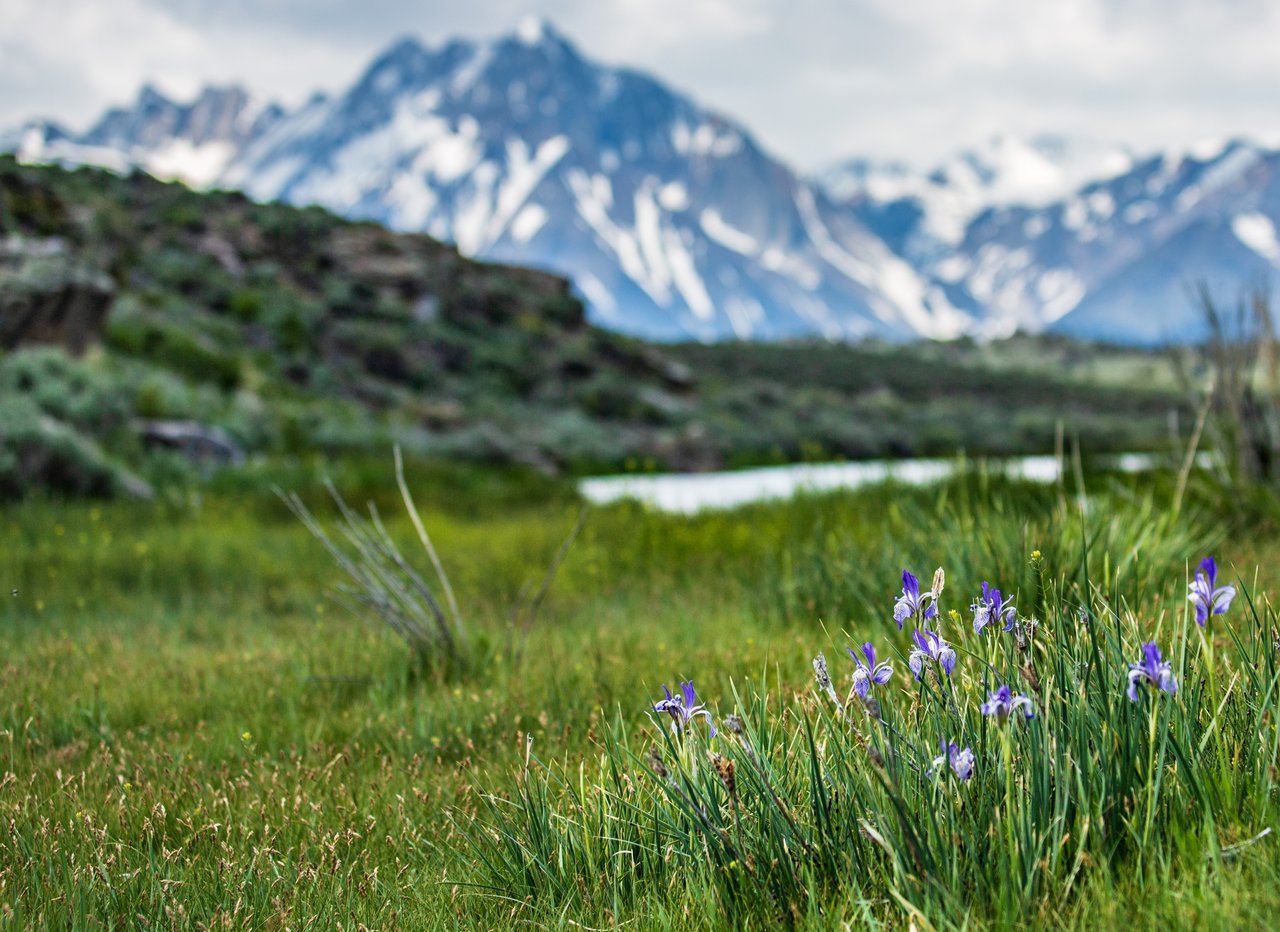 If you are interested in a certain area in the Eastern Sierra that we did not discuss and would like data, graphs, or information, please reach out to us. We are happy to create a custom graph for you and answer any questions you may have.
Conclusion
2021 was a huge year for most of the communities in the Eastern Sierra. Mammoth Lakes, Crowley Lake and June Lake all saw an increase of over 24% in the median sales price for single family homes. Mammoth's median home price increased 31.43% from 2020 to 2021! The national average for appreciation from 2020 to 2021 was approximately 17%, which is the biggest increase on record.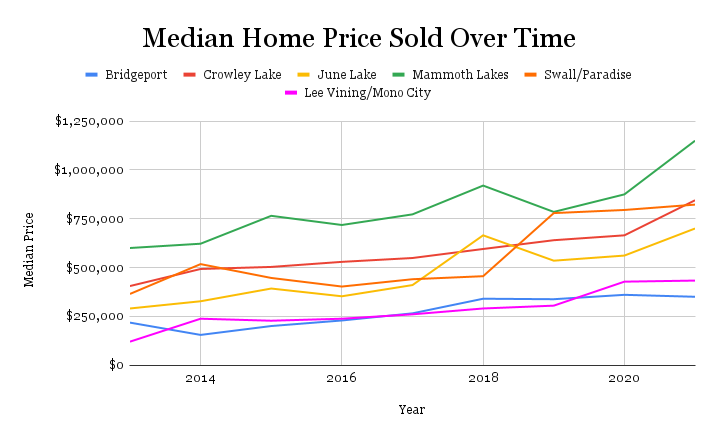 One of the biggest surprises in 2021 was the amount of vacant land sales and how quickly vacant lots sold. It seems like so many people want to have their own piece of the Eastern Sierra regardless of whether it's a house or a piece of land. Many people have always had dreams of building a home in the Eastern Sierra and are finally deciding to go for it! Another reason people are drawn towards vacant land is that many lots in Mammoth Lakes and the surrounding communities cost less than a home or a condo in that community. It could have been that many people were simply priced out of the residential market and believe they can eventually build a home. We always recommend speaking with a licensed contractor before making any assumptions. Feel free to contact us to put you in contact with a great contractor.
Overall the 2021 real estate market was unlike any other year we've seen. Prices were and still are skyhigh. We are about a month into 2022 and senior real estate agents are still being blown away by some of these prices. Throughout the year, the active inventory of properties was substantially lower than in pre-pandemic years. And this wasn't due to people not selling their properties, it was because properties were simply selling much quicker than in previous years. The market has been difficult for most, but many have been able to afford high prices in areas they want to live/visit.
Predictions for 2022
2021 was the best year for home sales in the last decade according to the California Associations of REALTORS. 2021 was such a strong year that we think it's likely that that market will continue into 2022. The buying demand is still very high. As long as people are able to work from home, many office workers from Southern California have more incentive to buy a second home in Mammoth Lakes and the surrounding communities. According to Zillow some millennials and Gen Zers are even opting to buy a second home before their primary residences since condos in Mammoth are cheaper than a single family home in many California cities. This is a trend we are definitely seeing in Mammoth Lakes.
On the other hand, some trends that might deter people from buying real estate in 2022. It's likely that mortgage interest rates will be closer to 4% (or higher) by the end of 2022. While 4% is still a very low rate compared to the historical average which is approximately 7%. However, 4% is higher than what we've averaged the last two years and will definitely make a difference in people's payments and what they can qualify for.
Another trend to watch will be the economy and inflation. We are currently experiencing dips in the stock market, high inflation, and an economy still recovering. Typically when there is high inflation, people put their money in real estate. There are a lot of factors involved, so it'll be interesting to see what happens throughout 2022!
Lastly, no one can predict what will happen with Covid. While everyone is very ready for Covid to be done and gone, it's still very present at the moment. The Eastern Sierra is a seasonal destination and heavily influenced by tourism. Any new travel bans or restrictions could have a serious effect on the local economy as well as impact people's decisions to buy here. This is unlikely to happen again, but you never know.
Did you ever dream that you would live through a global pandemic? Well, we just lived through a history book era of a plethora of ups and downs. We will continue to do our best to provide you with useful information to help you with your real estate decision in Mammoth Lakes or anywhere else in the world. WE ARE HERE FOR YOU. Please don't ever hesitate to reach out to us. We are always happy to help!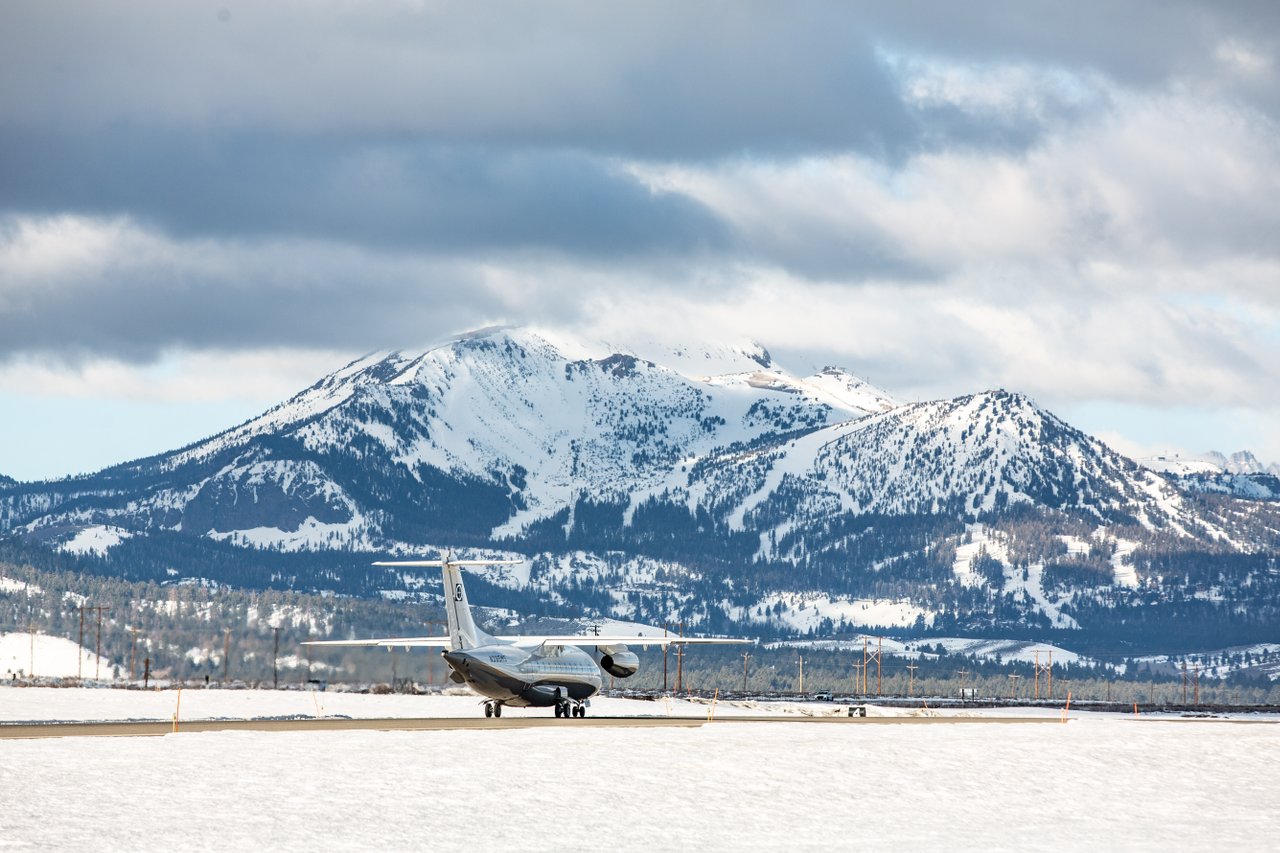 Disclaimer: Based on information from the Mammoth Lakes Board of REALTORS and other various sources. All data including all measurements and calculations of area, is obtained from various sources and has not been, and will not be, verified by broker or MLS. All information should be independently reviewed and verified for accuracy. Properties may or may not be listed by the office/agent presenting the information.