Mammoth Lakes and Eastern Sierra Local News
Mammoth Lakes was consistently busy in January. Mammoth Mountain was averaging around 14,000 skier visits on the weekends. It seems like December snowfall got everyone excited for the ski season. The Apres Ski Parties at Mammoth Mountain Canyon Lodge on Saturday have been a favorite this season.
Unfortunately we have not received a lot of snow since our historic December. This past Tuesday and Wednesday we got a decent dusting! Despite the lack of snow, the groomed runs at Mammoth Mountain have been shredable, especially in the late morning and afternoons.
We have some great news regarding affordable housing! As part of the California Housing Accelerator program, Mammoth Lakes is receiving $38,656,617 for Phase 1 of the Parcel Affordable Housing Project. This money will help ensure the construction of 81 affordable housing units gets underway this summer. This will be a great economic boost as we desperately need more long term housing and people to work at the local businesses.
Mammoth Lakes Real Estate Market Recap
After the inventory in Mammoth Lakes hit rock bottom in December, it's been steadily increasing throughout January. We saw the condo inventory climb up to 19 active condos at one point.
For both condos and homes in Mammoth Lakes we saw a decent number of new listings for January, even for pre-pandemic levels. There are still so many active buyers that even with an average number of new listings, the overall active inventory remains low.
We also saw mortgage interest rates increase significantly in January. The mortgage interest rates for a 30-year conventional loan was 3.45% in January after averaging only 3.10% in December according to Wells Fargo. As of February 17th, mortgage rates for a 30-year fixed is 4%. With this new jump in mortgage interest rates it's too soon to know how it will affect the Mammoth Lakes real estate market, but we will continue to keep an eye on it.
Mammoth Lakes Real Estate Home Trends and Stats
Mammoth homes had a strong start to the year. Plenty of people still want their spot in the mountains and to some, vacation rentals aren't important. Due to Measure Z, a rental less than 30 days is prohibited in most residential neighborhoods in Mammoth Lakes. Pre-pandemic this was a major reason why Mammoth homes took longer to sell vs. a Mammoth condo. Now a Mammoth home is more likely to sell quicker. We can still see this trend from last month's data.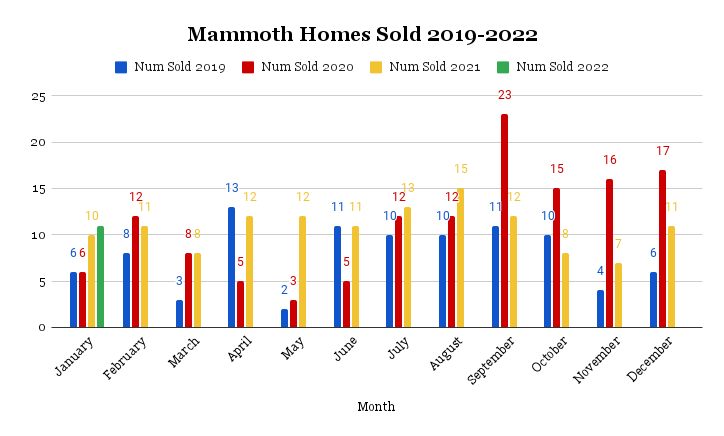 Right out of the gate 11 Mammoth homes sold in January 2022, well above 2019 and 2020. It's impressive to see that many homes sell after the holidays. Even though there are a lot of buyers, listings weren't on par with sales.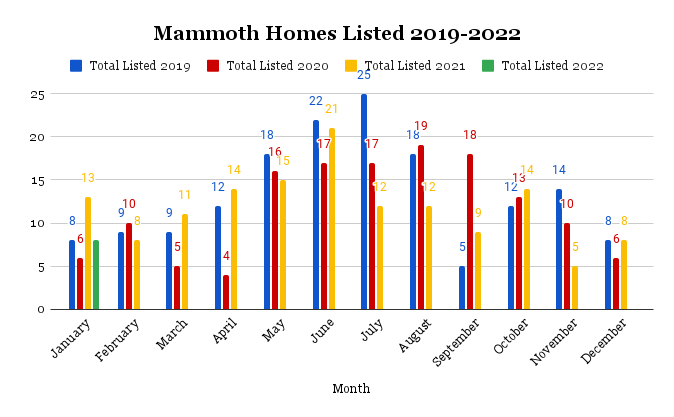 Mammoth Lakes saw eight homes listed in January 2022. This is just about average. As of February 16th there are only 13 Mammoth homes on the market. The median asking price for a Mammoth home right now is approximately $2,900,000. The properties priced higher than that have been sitting for a few months. It makes sense that buyers would be particular at that price point. The median sales price has never been that high.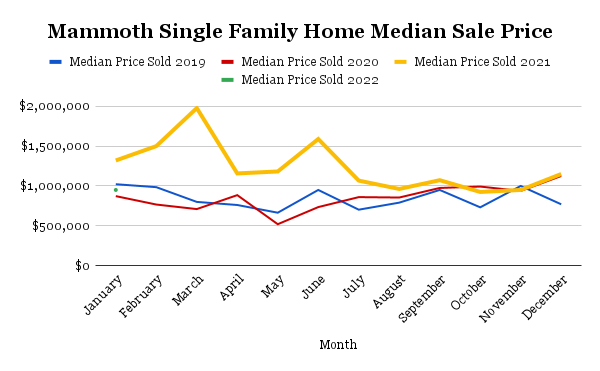 The median sales price for a Mammoth home was $950,000 in January 2022. Quite surprising given the market! If you can believe it, the median sales price was actually higher in January 2019. Still plenty of homes sold at an eye-brow-raising price. One of which sold for a bit over two million dollars when it sold for $1,200,000 less than a year ago. It's amazing to see this demand for Mammoth homes. It does make some sense due to the low active supply.
Mammoth Lakes Real Estate Condo Trends and Stats
The Mammoth Lakes real estate market condo sector remained strong in our first month of 2022. It's normal to see a slow down in the market during the holiday season. We were relieved to see the active number of Mammoth condos go from three condos for sale to approximately 20 listings for sale. Mammoth condo sales, listings, and price remained at this "new normal" fueled by demand.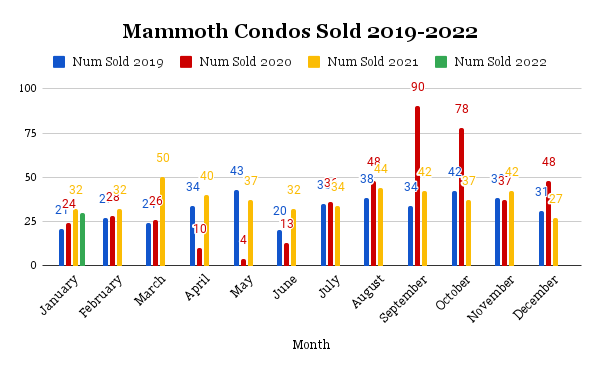 Throughout the month of January 2022, we saw 30 Mammoth condos sell. This is just on par with last year and above previous January levels. The condos with a unique characteristic sell extremely fast and well above asking price. The Mammoth condos that used to sit on the market for a few months have been selling quickly as well. People want a property that they can rent short-term and use when they want. This trend is likely the biggest factor that fuels the Mammoth Lakes' real estate market.
Mammoth REALTORS got busy in January listing 43 Mammoth condos.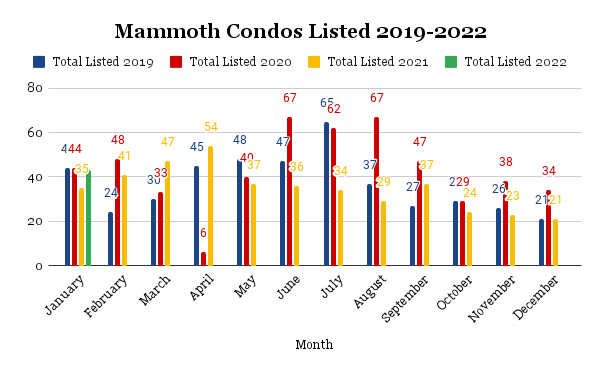 43 new Mammoth condo listings is a typical number to see in the beginning of the year. In this case, we received a massive amount of snow and the number of active listings was extremely low. What better time to list your condo at top dollar! Quite a few of those listings have carried over onto this month. As of February 15th, there are 17 Mammoth condos for sale. Is this a sign the market is cooling? There is a convincing argument on both sides. Before we tackle that question, let's get into the prices…
The median price of a Mammoth condo in January 2022 was $783,125.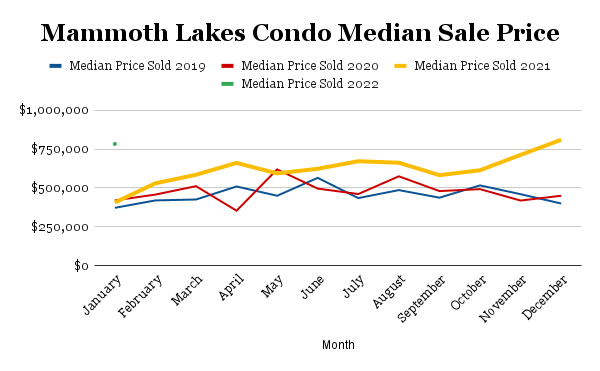 See that little green dot on the left of the graph? It's just below the December 2021 mark of $810,000. These are record breaking numbers! We are not used to seeing the median price of a Mammoth condo this high. Exactly one year ago (January 2021) the median price of a Mammoth Lake condo was $406,575. That is a 92.62% increase! Of the 30 condos which sold in January 2022, only six of them received a discount. The rest either sold at asking price or well above asking price. Extreme buyer demand keeps bringing prices super high. Are people putting their money into real estate due to inflation or because their stock portfolio is doing well? Or do they just want to enjoy the sweet outdoors? Well if you're reading this, why would you want to buy a Mammoth condo?
Our thoughts of the market cooling are a bit tied. On one hand there is this huge demand and on the other there are some market factors that are pushing against it. For example, interest rates are quickly rising and more inventory is hitting the market. However, we don't believe this is enough to slow down this speeding train. We are predicting more of a slow down in 2023 for the secondary market. Stay tuned to find out!
Is now a good time to buy Mammoth Lakes Real Estate?
We've already seen both prices and interest rates creep up just since the beginning of the year. The longer you wait to buy, the higher the interest rates and prices will climb. If you can qualify for a mortgage right now, and feel comfortable making the payments, now is still a good time to buy. We know a lot of buyers who have been watching the market since 2019 waiting for the crash, and now they're wishing they bought in 2019. No one can predict the real estate market with certainty, but we don't see any signs of a dramatic crash anytime soon. The inventory of properties for sale is still too low which is keeping the Mammoth Lakes real estate market competitive.
Is now a good time to sell real estate in Mammoth Lakes?
We know we've been saying this for a while now, but yes, it's still an amazing time to sell. If you have a property you're not using, we recommend selling sooner rather than later. We know the market is strong right now and that the inventory is still extremely low, which means you'll get top dollar for your property. We can't predict exactly how long this market will last, so it's better to list sooner rather than later. Feel free to contact us for a free market valuation on any property–home, condo, vacant land, in any area of the Eastern Sierra.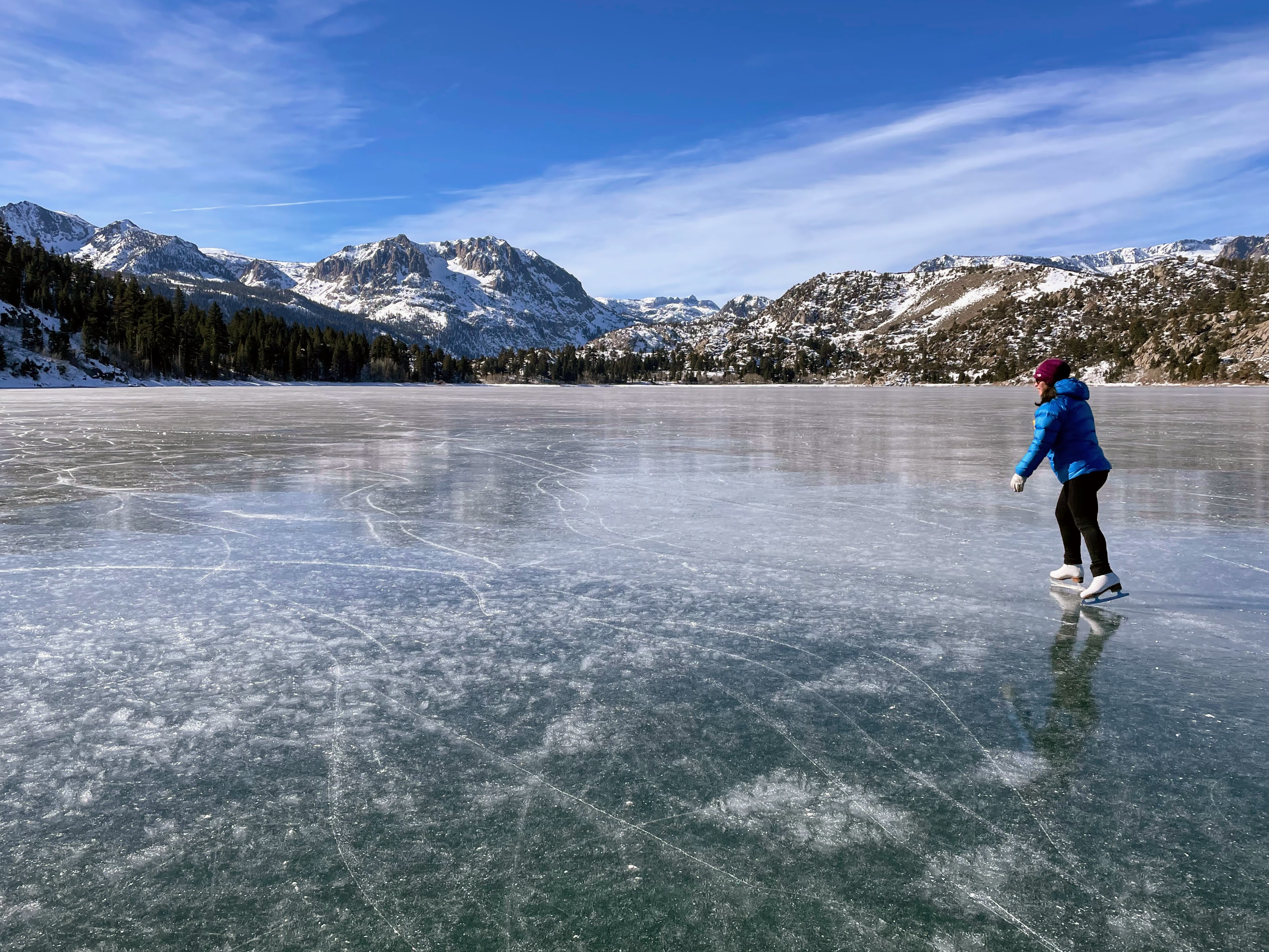 Disclaimer: Based on information from the Mammoth Lakes Board of REALTORS and other various sources. All data including all measurements and calculations of area, is obtained from various sources and has not been, and will not be, verified by broker or MLS. All information should be independently reviewed and verified for accuracy. Properties may or may not be listed by the office/agent presenting the information.