Mammoth Lakes and Eastern Sierra Local News
Winter has quickly turned to spring here in Mammoth Lakes. We've been having warm sunny weather with a spring snowstorm sprinkled in the mix. Weekends were consistently busy throughout March. Canyon and Eagle Lodge close for the season on April 17th. Be sure to get in a few more days before they close. There are plenty of Mammoth Mountain festivities going on. Check out the calendar here!
Our Birthday Party Fundraiser is fast approaching on April 16th. If you're in town, be sure to stop by and enter our raffle to win some amazing prizes including a three night stay at one of Vacasa's properties, wine, gift cards to local shops and more!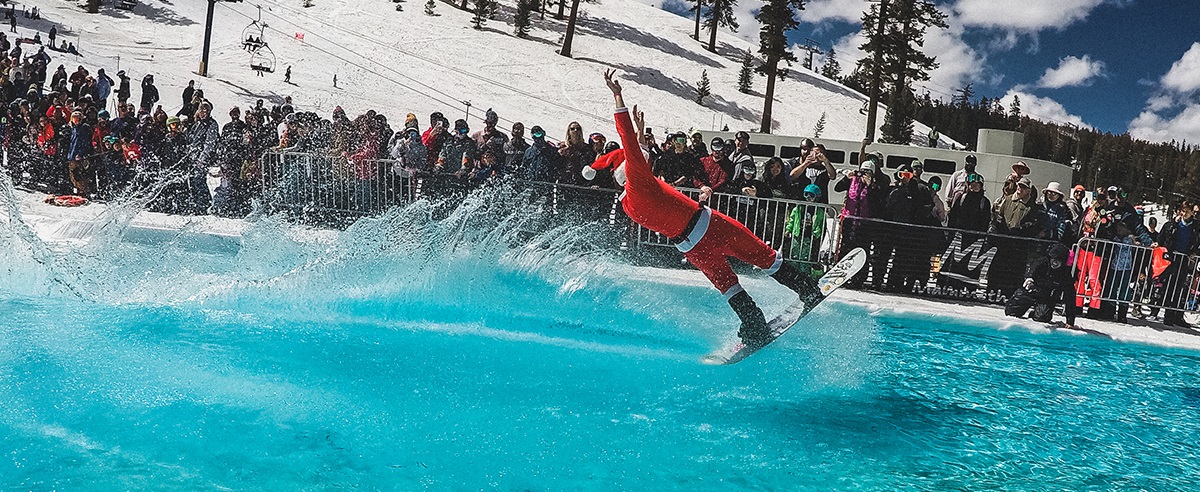 Mammoth Lakes Real Estate Market Recap
The inventory of homes and condos for sale in Mammoth Lakes has steadily been creeping higher since our lowest points back in December and January. As of April 12th, we are up to 35 condos for sale in Mammoth Lakes and 16 homes. We are still far below the historic average of properties for sale, but it's good to see the inventory climbing.
One interesting trend we've noticed is that we are starting to see more price reductions than we have in the past. This is not to say that properties are not still selling quickly, because they are. Updated condos that are turnkey are still selling within a few days and receiving multiple offers. Condos that are not fully updated, and where the prices are reaching are where we are seeing price reductions happening.
Mortgage interest rates continue to climb, we've even seen some quotes in the 6% range for second homes/investment properties. The people who were in the market due to low interest rates are probably out now. But this is California! There are still many potential buyers waiting for their perfect property to hit the market and ready to put in a strong offer.
As for prices…well they're still high. For Mammoth homes the trend is following last year. A steep increase in prices hovering in the mid $1,000,000s. For Mammoth condos the median sale price is steadily hovering in the high $700,000s.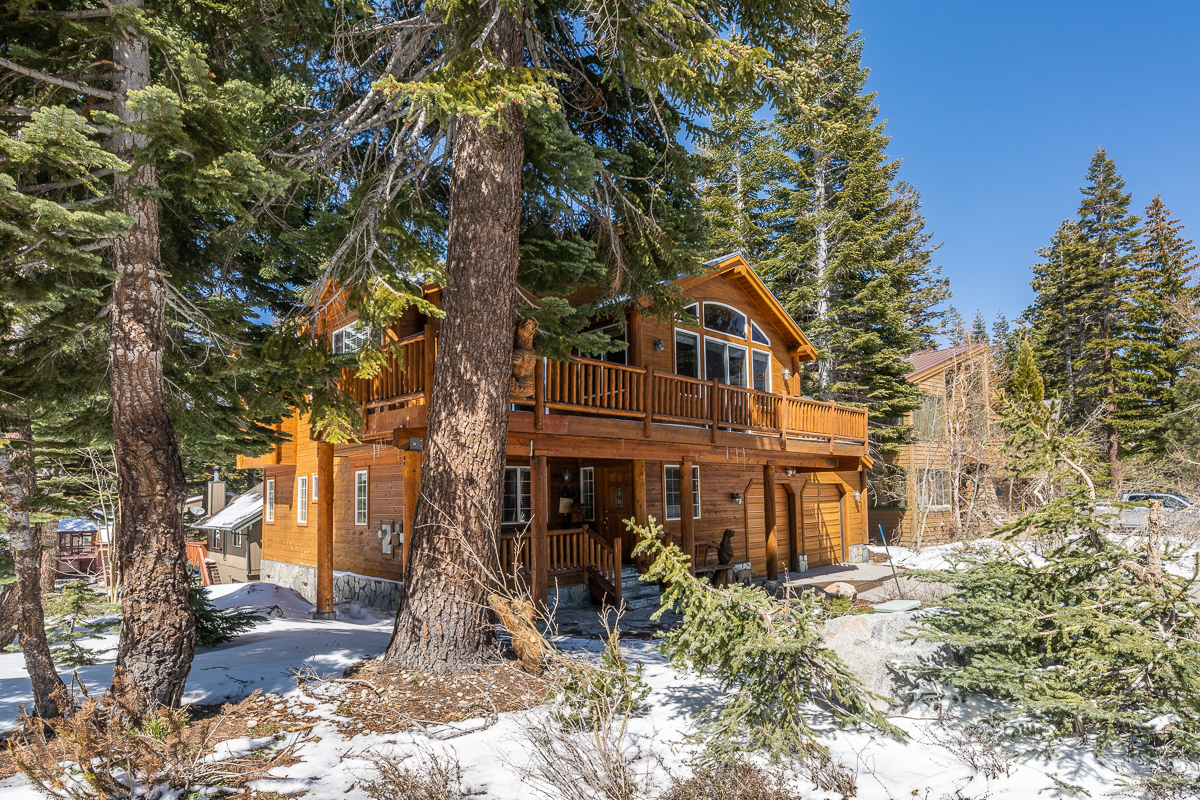 Mammoth Lakes Real Estate Home Trends and Stats
Mammoth homes saw above normal activity in March. A total of ten homes sold, more sales this past March than the previous three years during the same month. Of the Mammoth homes that sold, 60% of them sold at a discounted price, 30% sold over listed price, and 10% sold at asking price. The fixers, the mid-range family homes, and even the luxury homes received a discount. Your chances for a discounted Mammoth home would have been pretty good in March. It's possible if you're the only one bidding (not a multiple counter situation aka bidding war), you could negotiate the price. However, the discounts weren't huge. They ranged from $25,000-$100,000.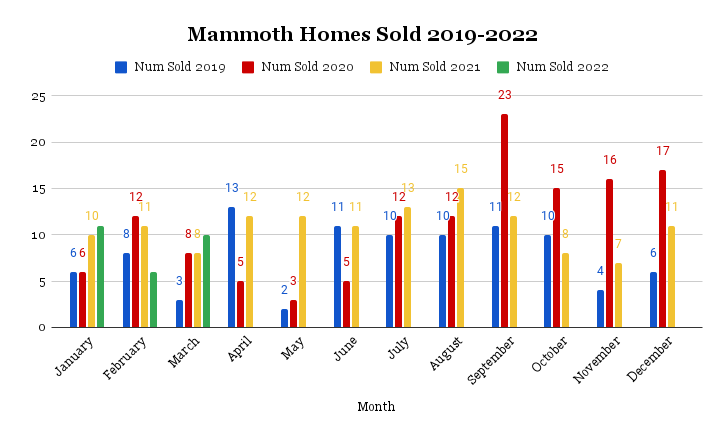 The number of Mammoth homes sold for all of quarter one of 2022 was right on track for the past two years, but compared to pre-pandemic levels it's higher by about ten home sales. As for the number of Mammoth homes listed, it was slightly higher than Q1 2019, but only by four homes.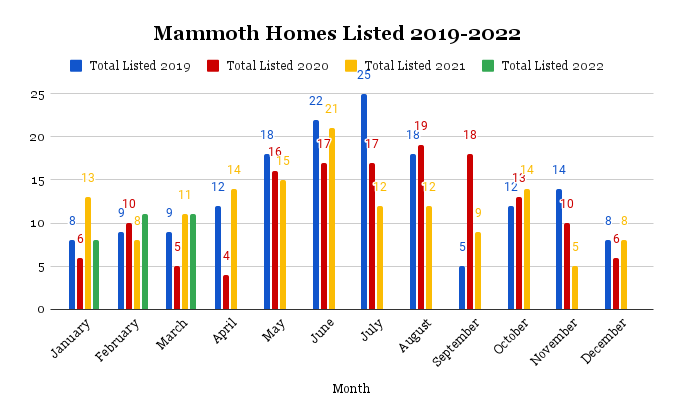 Mammoth homes haven't seen a huge influx of listings. It's been steady and similar to 2019. We saw one huge jump in Mammoth homes listed in January 2021 most likely due to the median sale price reaching historic levels.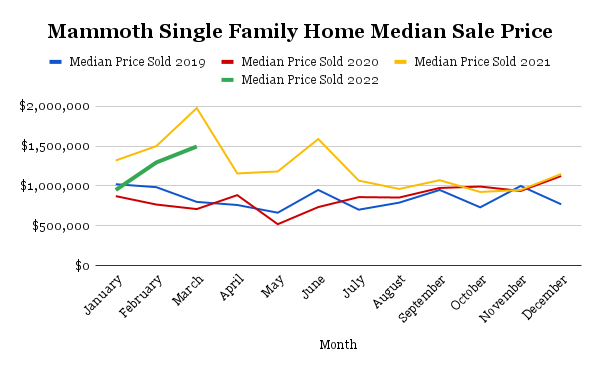 Quarter one has started with some impressive median sale prices. Not as high as 2021 but on the upward trend. So far this April, only two Mammoth homes have sold. The median price is currently high (really high at $2,956,250), but we'll see if that sales price will continue throughout this month. Historically, we should see a dip in median price due to our shoulder season.
Mammoth Lakes Real Estate Condo Trends and Stats
Condo sales increased by more than double from February to March. In March 44 Mammoth condos sold which is above average for this time of year. It helps that our inventory of active condos has been hovering around 30 to 35 condos at a time. This gives buyers a bit more to choose from.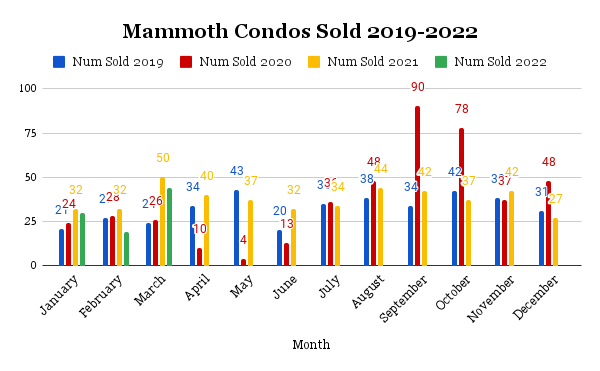 The number of new condo listings also increased from February to March. With 47 condo listings in March alone, this helped to increase the active condo inventory from around 15 up to 30.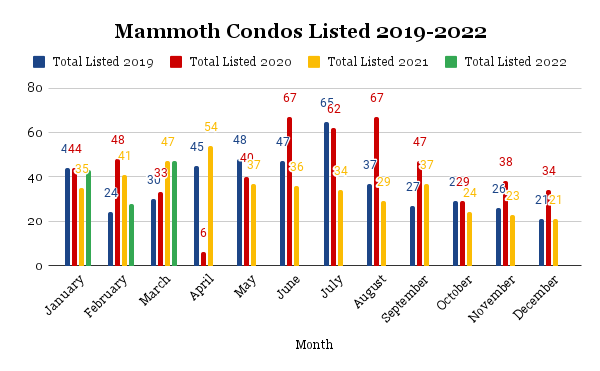 With so many new condo listings you'd think some of the competition would have decreased for buyers, but we are still seeing multiple offers for highly desirable condos. This includes condos near the Village, Mammoth Mountain's Canyon, Eagle Lodge, and even Town locations that are fully renovated. The sale price to list price ratio was 102.57% in March. Of the 44 condos that sold only 10 received a discount on price, the rest of the condos sold for at asking or above asking price.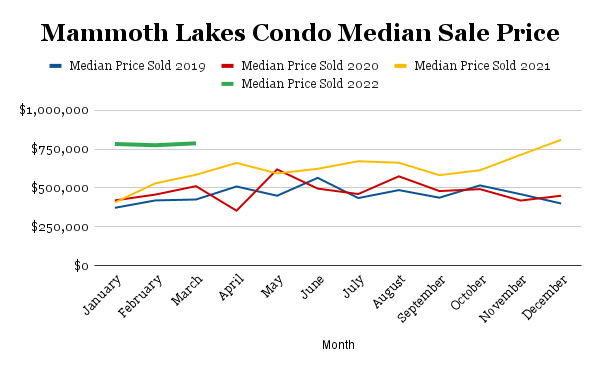 The median sales price for condos has been hovering around $780,000 for 2022 so far. In March the median sales price for a condo was $787,500.
Is it a good time to buy Mammoth Lakes Real Estate?
Now that interest rates have increased from their historic lows, and prices remain high there are a lot of questions about the future of the housing market. A lot of people have been speculating that with rising interest rates we will start seeing prices fall. The last time interest rates increased as rapidly as they have this year was in 1994. During that time, home prices actually didn't decrease, they continued to increase at about 3% that year. You can read more about the 1994 housing market here.
The Federal Reserve is planning at least two more rate hikes in May and June. We've been saying this for a while now, but if you can currently qualify for a mortgage and feel comfortable with the payments, you might want to go ahead and buy now. As rates continue to increase, the amount you qualify for decreases, and your monthly payments increase.
With the supply of properties for sale still extremely limited across the Eastern Sierra, we think it's unlikely the prices will suddenly drop dramatically just because of the interest rates. We do think the dramatic increases in price we saw the last two years will slow.
Is it a good time to sell Mammoth Lakes Real Estate?
Prices remain at all time highs in Mammoth Lakes and the surrounding communities. The buying demand also remains high. If you have a house, condo, or even a vacant lot that you've been considering selling, now is still a great time to sell. We recommend selling sooner rather than later since these prices likely won't last forever.
It's possible with the interest rate increases, and buyers aren't able to qualify for as big of mortgages and their payments increase, we might start to see a decrease in the demand for the higher end properties in Mammoth.
Contact us for a free market evaluation and property marketing plan!
Disclaimer: Based on information from the Mammoth Lakes Board of REALTORS and other various sources. All data including all measurements and calculations of area, is obtained from various sources and has not been, and will not be, verified by broker or MLS. All information should be independently reviewed and verified for accuracy. Properties may or may not be listed by the office/agent presenting the information.