Mammoth Lakes and Eastern Sierra Local News
We just hosted our first annual Birthday Party Fundraiser last month! It was a big success and we are so grateful to be able to raise money for an amazing nonprofit here in Mammoth, Mammoth Lakes Housing Inc. We helped to raise over $2,000 towards their Access Apartments Project which will create 11 one-bedroom apartments for workforce housing. You can read more about the project and the nonprofit here.
Mammoth Mountain's Canyon Lodge and Eagle Lodge both officially closed for the season on April 17th. Main Lodge will stay open until Memorial Day weekend (end of May). At least, that was the original plan. We just got word that Mammoth Mountain is extending the season! Only six times has Mammoth Mountain closed prior to Memorial Day since 1969 (1969, 1970, 1976, 1977, 1987 and 2020 due to COVID). Our longest season (1994/95) went all the way to August 13, 1995. We're happy that we will have more time to play in the snow!
Fishing opener was the last weekend in April and many people came to celebrate in Bridgeport all the way down to Bishop. Many of our favorite summer restaurants are starting to open back up including Jolly Kone and Burger Barn in Bridgeport. Also, Epic Café in June Lake!
With the ski season winding down, the town has definitely slowed down a bit. The weather has been cold, then warm, snowy, then hot - definitely an Eastern Sierra spring. There hasn't been a lot of visitation since Mammoth Mountain's Canyon and Eagle Lodges closed. We are officially in the calm before the summer boom.
Mammoth Lakes Real Estate Market Recap
Typically, from the time Mammoth Mountain's Canyon and Eagle Lodge close, until about the 4th of July is considered our shoulder season in Mammoth Lakes/Eastern Sierra. Since we are no longer in the heart of the ski season, the visitation in town starts to decline. This is also the time of year we start to see a small lull in the real estate market.
Currently, we are seeing price reductions and more days on the market especially for homes throughout the Eastern Sierra and Mammoth Lakes. The turnkey condos are still selling quickly, but it's not as surprising as earlier in the year. Vacant land is running low. As of May 18th, there are only 13 active vacant lot listings in Mammoth Lakes and only two in June Lake.
Even though we are seeing interest rate quotes as high as 6.125%, prices are still high. The median sales price for homes in Mammoth Lakes, June Lake, Bishop, and the other communities are record-breaking. This includes Mammoth homes and condos. As the inventory creeps up and the competition gets stiffer for sellers, we should see the median sales price start to decrease. However, it is possible for prices to keep increasing, just at a slower rate.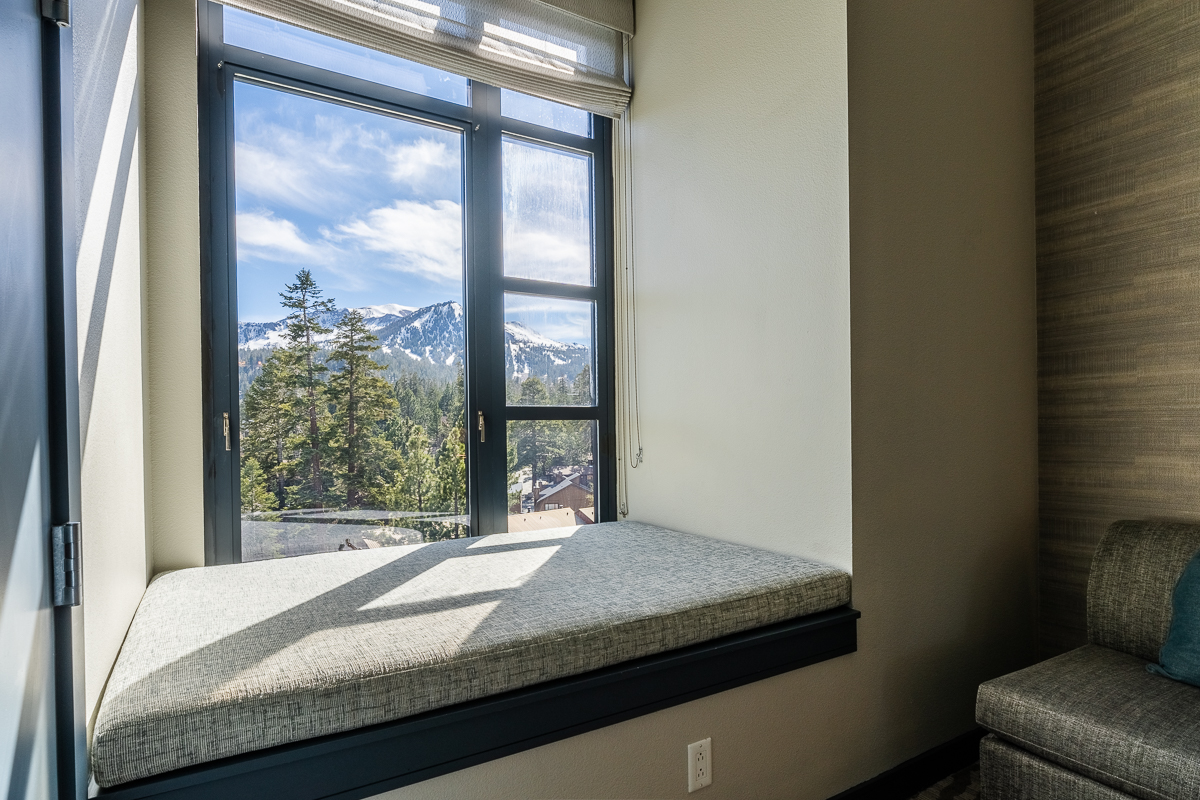 Mammoth Lakes Real Estate Home Trends and Stats
Mammoth Lakes homes saw a huge median sales price for April. A whopping $2,650,000 median sales price for single-family homes. The likely reason this number was so high is because only five single-family homes sold. Six Mammoth homes sold in total counting the mobile home at 100 Ski Trails #71. Only six Mammoth homes selling in the month of April seems about 50% below normal compared to 2019 and 2021. An explanation could be because of our low snow year. With Mammoth Mountain's Eagle and Canyon Lodge closing mid-April, it's possible that buyer's took their attention elsewhere. Also, 2022 seems to be the year things are starting to get back to the "old normal" before covid. Would-be buyers are starting to travel again and are spending cash on experiences.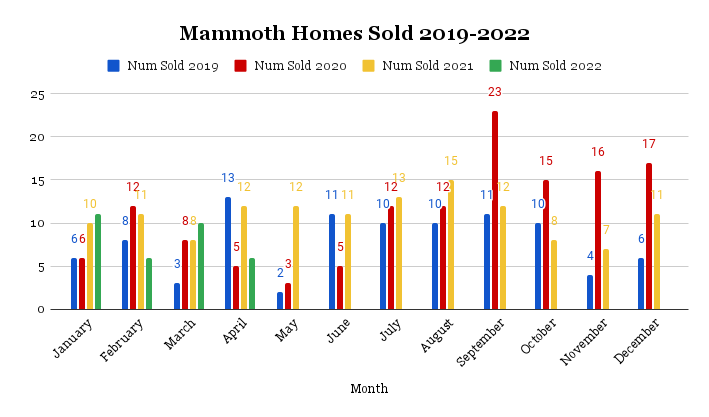 As of May 18th, only 16 Mammoth homes are active on the market and 7 are in escrow. 12 Mammoth homes were listed in April which is similar to the last three years. It's nice to see inventory keeping steady. We are expecting more Mammoth listings in the months to come!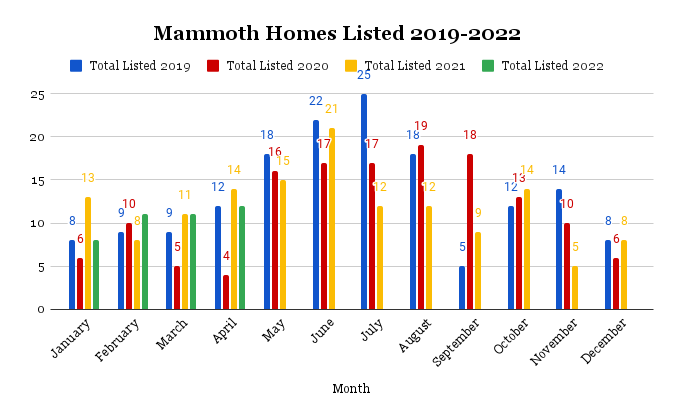 Almost half of Mammoth homes on the market have received a price reduction. Despite price reductions, prices are still increasing overall according to the data. It seems like the price reductions were really just bringing the prices more in line with the recent comparable sales.
The least expensive home to sell in April was a house on 80 Mammoth Knolls Drive selling at $1,550,000. The most expensive of these homes was a house at 225 Fir Street selling at $3,837,500.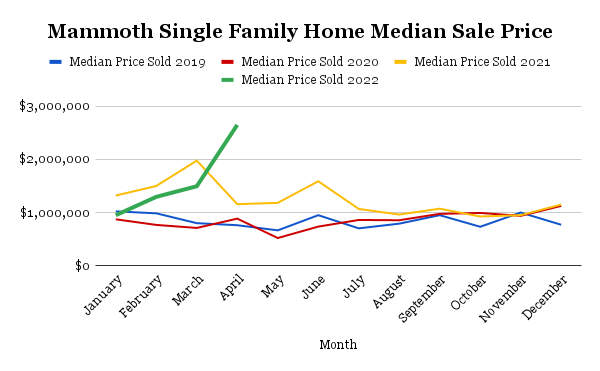 It's possible that April 2022 was a fluke in regards to the median sales price. It just worked out that the only homes that sold were larger and in highly desirable neighborhoods like the Bluffs and Starwood. Maybe the perfect home hit the market and price didn't matter for these buyers. Some experts are saying that prices will continue to increase throughout the summer months. With interest rates rising, a shaky stock market, and international conflicts, maybe people will want to forget about it all and buy a Mammoth home. Who knows?
Mammoth Lakes Real Estate Condos Trends and Stats
Mammoth condos continue to sell as usual. In April, we saw 34 condos sell vs. 40 Mammoth condos last year. The move-in ready units are getting the most attention and selling fast with multiple offers. Quite a few larger condos (two-bedrooms or more) sold in April, leaving many studio - one-bedroom/lofts on the market. One bedrooms and studios are often a harder sell in Mammoth Lakes since most people are looking for a condo that is big enough to fit the whole family. This is a trend we have seen in Mammoth Lakes after covid.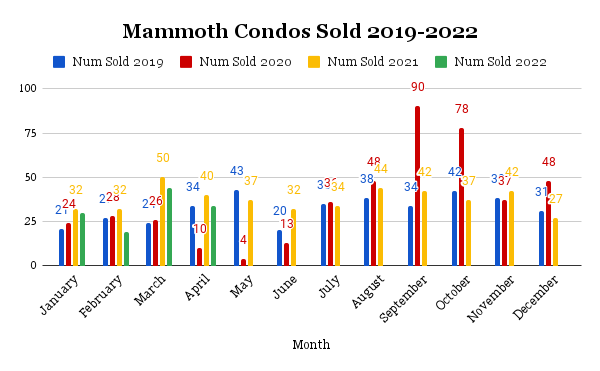 As of May 18, 2022 there are 44 Mammoth condos on the market. Quite an improvement! With the number of active condos steadily growing, it might seem like condos are hanging on the market longer, and some are! In particular many of the smaller condos. Currently there are 24 studio, one bedroom and one + loft condos on the market. It's too soon to say if the market really is slowing. It seems more likely that buyers are waiting to purchase bigger condos, rather than settle for a one bedroom.
The median sales price of a Mammoth condo is still slowly increasing. You would think the contrary because of interest rates. Of the 34 Mammoth condos that sold in April, 11 received a discount, 18 sold for over asking price, and 5 sold for the listed price.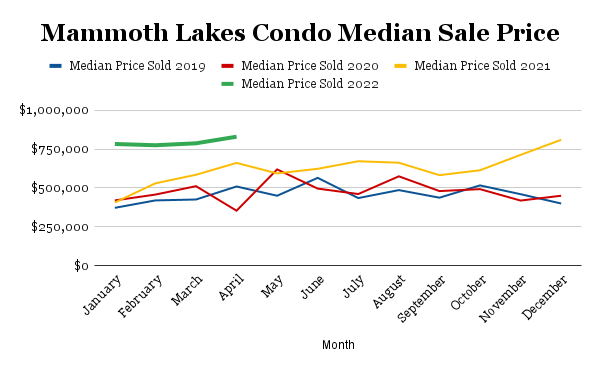 $830,000 was the median sale price of a Mammoth condo in April. That is a 5.4% increase from the previous month ($787,500) and a 25.52% increase from April 2021 ($661,250).
Is now a good time to buy Mammoth Lakes real estate?
No one knows if the market will go down or up. Now that interest rates are up we noticed that a lot of buyers are out of the Mammoth real estate market. When it becomes more expensive to pay for your second home than your primary, it may not be the best decision for you.
It really comes down to a few questions you have to ask yourself. 1) Can I afford the monthly payment even with no rental income? 2) Do I see my family and I spending time here in the near future and for years to come? 3) Does this beat renting? If the answer is "yes" to these questions then buying could be a good idea no matter the interest rate.
If you'd like to talk more about this, please always feel free to reach out. We would be happy to speak with you!
Is now a good time to sell Mammoth Lakes real estate?
Even though a lot of buyers are priced out and are no longer looking for Mammoth real estate, there are still plenty on the sidelines. We should be getting more inventory in June and July and more people will be in town after the Fourth of July. With more inventory comes more competition for sellers, however, an asking price based on comps and a little bit of staging goes a long way. Most properties could definitely be sold at top-dollar in this market. It's not too late and it's still a seller's market.
If you have any questions about selling your property or would like a valuation, please do not hesitate to reach out. We are always happy to help!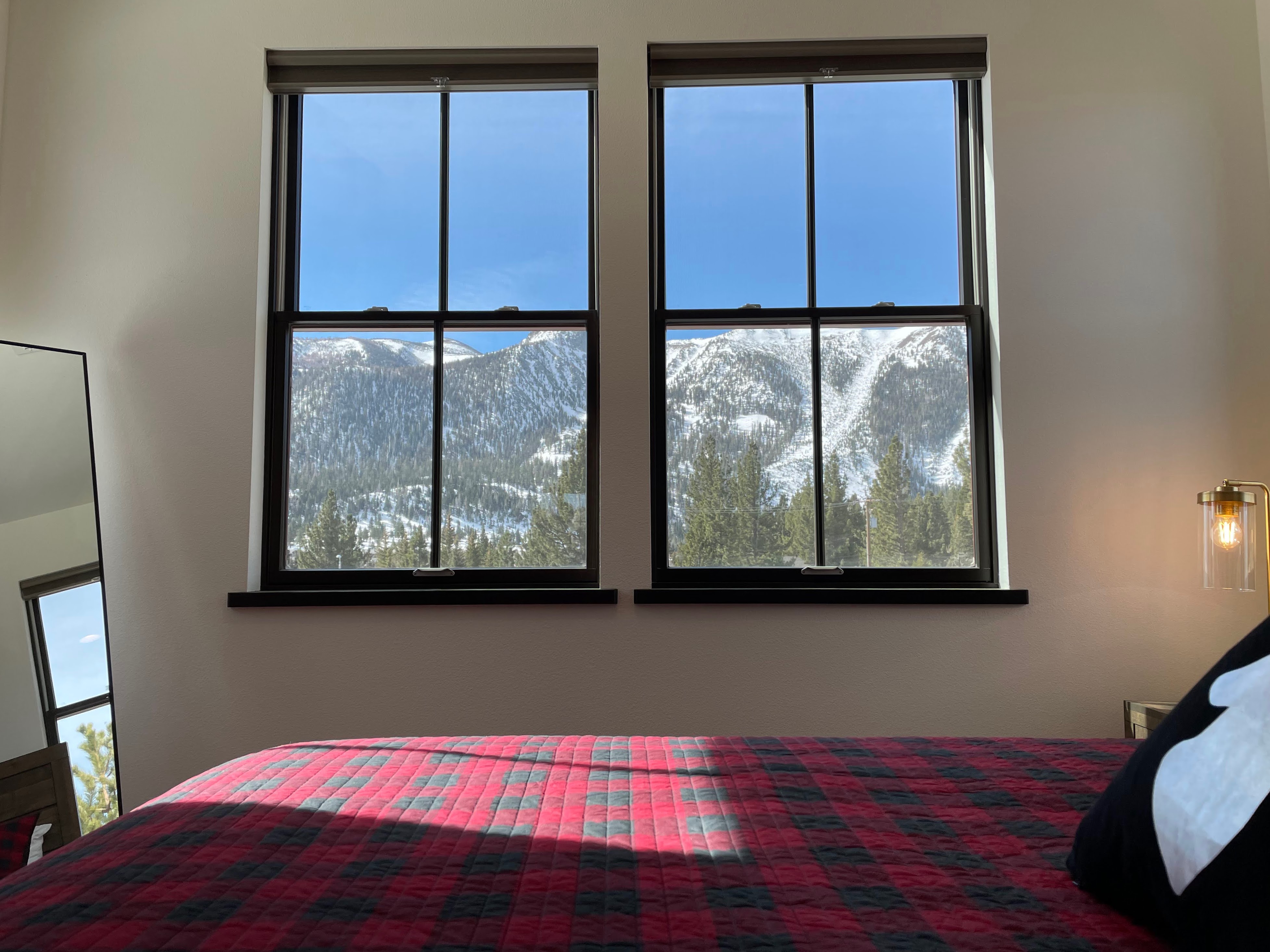 Disclaimer: Based on information from the Mammoth Lakes Board of REALTORS and other various sources. All data including all measurements and calculations of area, is obtained from various sources and has not been, and will not be, verified by broker or MLS. All information should be independently reviewed and verified for accuracy. Properties may or may not be listed by the office/agent presenting the information.