Mammoth Lakes and Eastern Sierra Local News
Mammoth Mountain officially closed for the season on June 5th. It was a great ski season starting in October thanks to some early snow and lasting all the way till June. Now we've got warm weather ahead and are gearing up for all summer activities. Mammoth Mountain's Bike Park is now open with access to the lower mountain. The Sierra Star Golf Course is also now open as well as the road to access the Lakes Basin. It's a good time to start hiking and fishing! The Tioga Pass road also opened on Memorial Day weekend. If you're planning to visit Yosemite National Park this summer, remember to go online in advance and make a reservation!
Memorial Day weekend always feels like the unofficial start to summer. The weekend was the first busy weekend in Mammoth Lakes after some slower time in the beginning of May. Since Memorial Day, it's been staying steadily busy in town. We've also seen the usual influx of backpackers, many who are hiking the PCT and using Mammoth as a place to refuel.
Summer festivals and activities start this month with the Mammoth Yoga Festival starting on June 16th, followed by the Mammoth Motocross. Starting in July, festivals in the Village at Mammoth are back!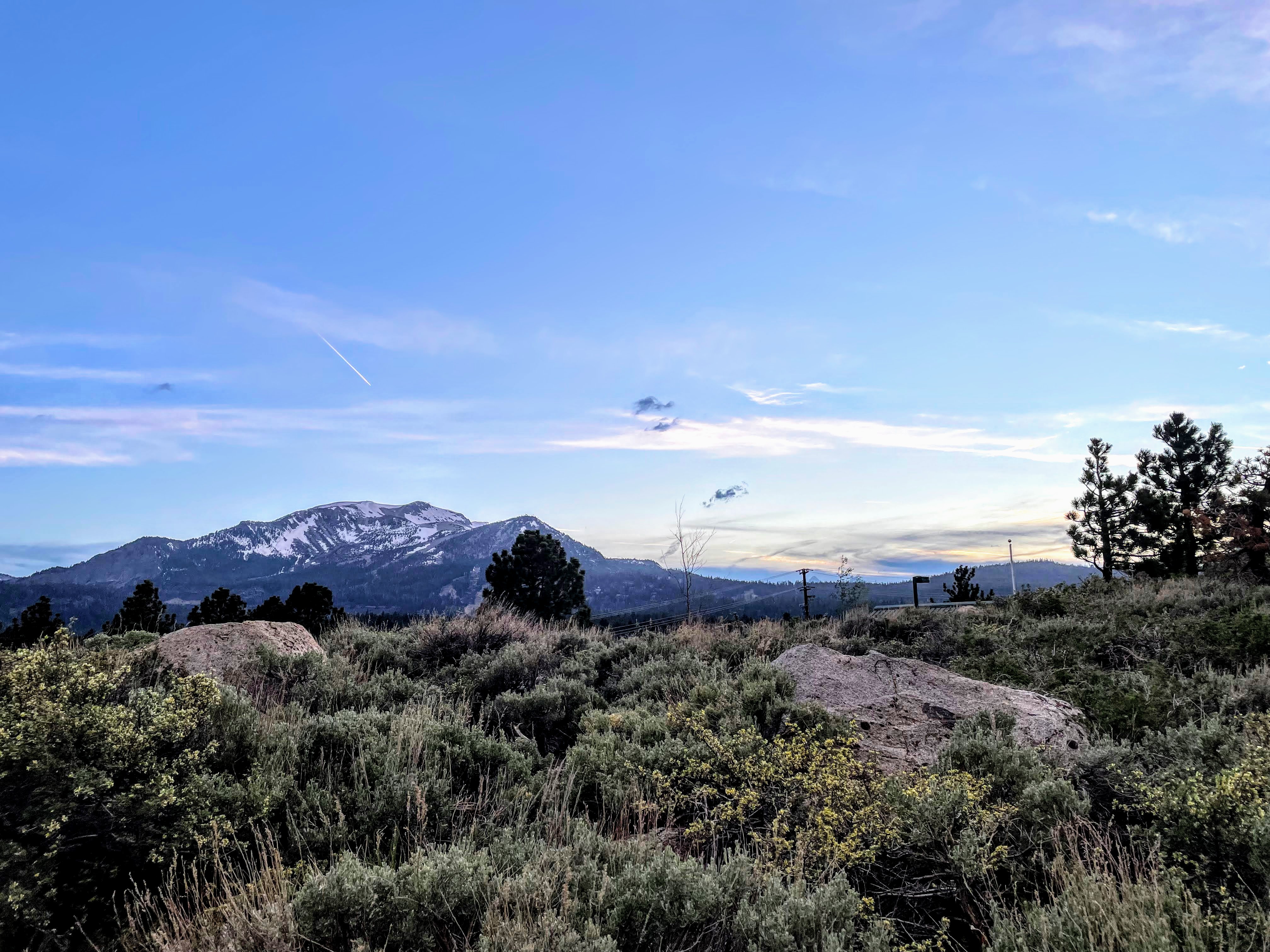 Mammoth Lakes Real Estate Market Recap
We have seen the number of listings steadily increase this last month. The number of condo listings increased to 60 condos which is the most we've seen at any point this year and last year! We are also continuing to see price changes for both condos and homes throughout Mono County. So what does all this mean for the Mammoth Lakes real estate market?
While we still won't make any claims about a huge real estate market crash, we do think signs are pointing to the market changing. It seems like the market might be shifting to a slightly less competitive market for buyers, with the increase in active properties for sale and higher mortgage interest rates. With that said, it's still a hot real estate market and most properties continue to sell quicker than before than pandemic and at higher prices
Mammoth Lakes Real Estate Home Trends and Stats
With only seven Mammoth homes selling in May, and six selling in April, it might appear that the market for Mammoth homes is finally slowing down. However, more Mammoth homes are selling compared to 2019, which was the last "normal" year, before the pandemic. So far, there are slightly fewer home sales in Mammoth compared to last year, but it's still too early in the year to make any claims about how the end of the year will shake out, especially considering we have the busiest summer months ahead of us.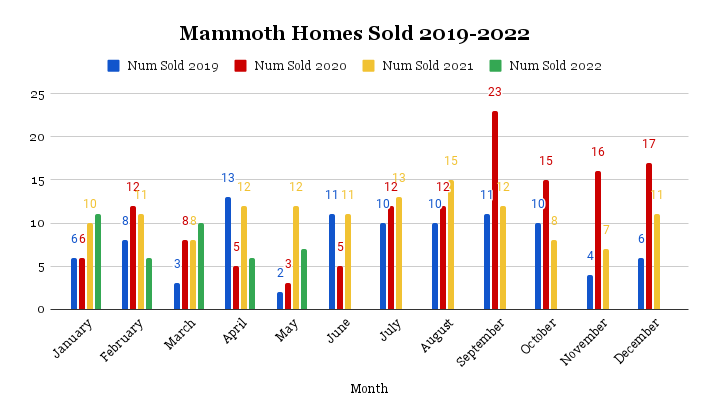 Even though fewer homes have been selling so far this year, the homes that have sold, are selling FAST. The average days on the market in May was only 49 days. The historic average for days on the market before the pandemic for Mammoth homes is 174.
The number of new home listings hitting the market has been steady this year, with 12 new listings in May. With the steady supply of home listings this year, there are now 25 active home listings in Mammoth Lakes as of June 13th. Of the 25 home listings, five are below $1,000,000 and nine listings are priced above $2,000,000.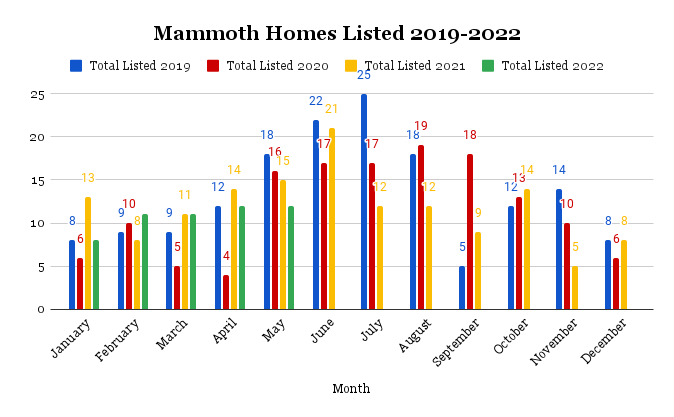 The median sales price for a Mammoth home in May was $1,230,000 which is down from April's median sales price of $2,362,500. This is the first time we've seen a drop in median home prices in Mammoth this year. Sale prices falling from April to May is a trend we typically see. The ski season (December-April) is at its peak and people are in town buying homes. Then spring hits and people are at graduations and weddings. It's our "shoulder season" and visitation drops and so do median sale prices for Mammoth homes. You can see this trend in the graph below (2021 being the exception).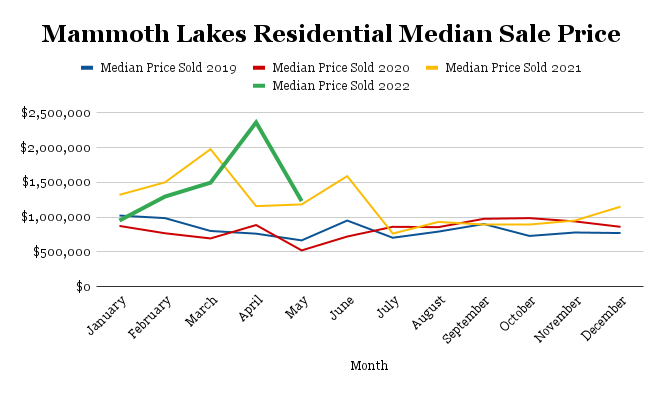 The most expensive home that sold in May was a Gray Bear home which is located on the Sierra Star Golf Course and allows nightly rentals. This home sold for $2,991,000. Four of the seven homes that sold, sold for above asking price. Only two homes received a discount in price, with the remaining home selling for asking price.
Mammoth Lakes Real Estate Condos Trends and Stats
Mammoth condos are still hot. According to the data, the market is not as hot as last year, but still hot historically. The number of Mammoth condos selling in May remained steady at 34 condos. While fewer condos have sold so far this year, than last year at this point (2021 Jan.- May = 191 Mammoth condos sold vs. 2022 Jan.- May = 161 Mammoth condos sold), more condos have sold this year than in 2019 during the same months (2019 Jan.- May = 149 Mammoth condos sold vs. 2022 Jan.- May = 161 Mammoth condos sold).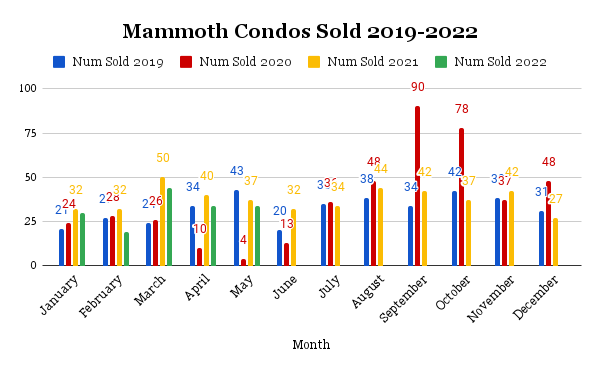 The number of active condos for sale increased a lot in May. There were 56 new condo listings in Mammoth Lakes in May. That is more than any other month so far this year and more than any month last year. With so many new condos hitting the market, we finally saw the number of active condos hit 60 for a few days, and has since been hovering around 58. We find it great news that we have more inventory, however, this is still a limited supply and we are still at historic lows.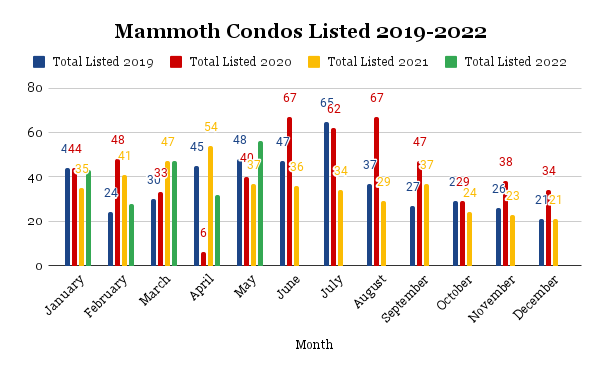 With so many condos on the market, you might be wondering if condos are starting to sit on the market longer, and the answer is yes! The average days on market for a Mammoth condo in May was 127 which is a huge jump from the 60 average days on market in April. This jump is mostly due to a few new development listings at CreekHouse and the Villas at Obsidian which finally closed when the construction finished in May.
Even though some condos are starting to sit on the market longer, condos are still selling for high prices. In May, 18 of the 34 condos that sold, sold for above asking price. The median sales price for a Mammoth condo in May was $827,500. The year to date median sales price for 2022 is $800,625. That is a 30.82% increase from the median condo price in 2021 of $612,000.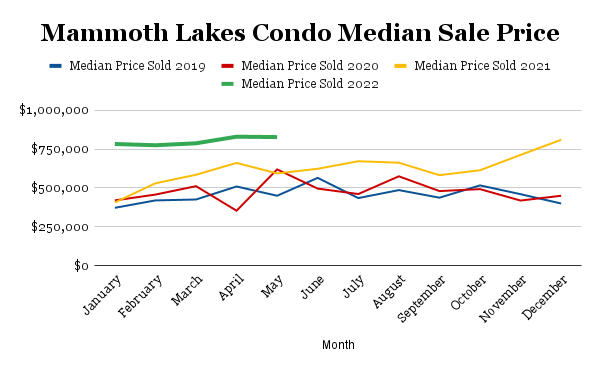 Is now a good time to buy Mammoth Lakes real estate?
Many people continue to wonder when the housing market is going to crash. Some cite the increase in interest rates as the reason the market should soon come crashing down. In Mammoth Lakes and throughout Mono County, we have yet to see any signs that prices are declining. And some of these people have been claiming that the market is going to crash since 2019, and are really sorry they didn't buy in 2019 when they first started looking.
The bottom line is no one can predict with 100% certainty, when or if prices will start declining. The best time to buy is when it's the best time for you to buy. That means, if you want to buy in Mammoth Lakes, or anywhere for that matter and you can qualify for a mortgage, you can comfortably afford the monthly payments, and plan to keep the property for many years, then go for it! The real estate market will always have ups and downs but as long as you plan on holding a property for the foreseeable future, and can afford the monthly payments, you'll be in a good place to weather any ups and downs.
If you need a lender contact or would just like to talk about real estate, please feel free to contact us!
Is now a good time to sell Mammoth Lakes real estate?
Despite high prices and high interest rates, the buying demand remains strong in Mammoth Lakes and the surrounding communities. Some buyers are hoping to buy sooner as opposed to later to avoid even higher mortgage interest rates if they wait too long. We're still seeing all types of properties sell quicker than they were before the pandemic. This includes homes, condos, and even vacant land. So if you've been holding onto a property that you no longer use in Mammoth Lakes, June Lake, Bishop, Crowley Lake, Lee Vining, or any other surrounding community, give us a call today for your free market valuation and property marketing plan.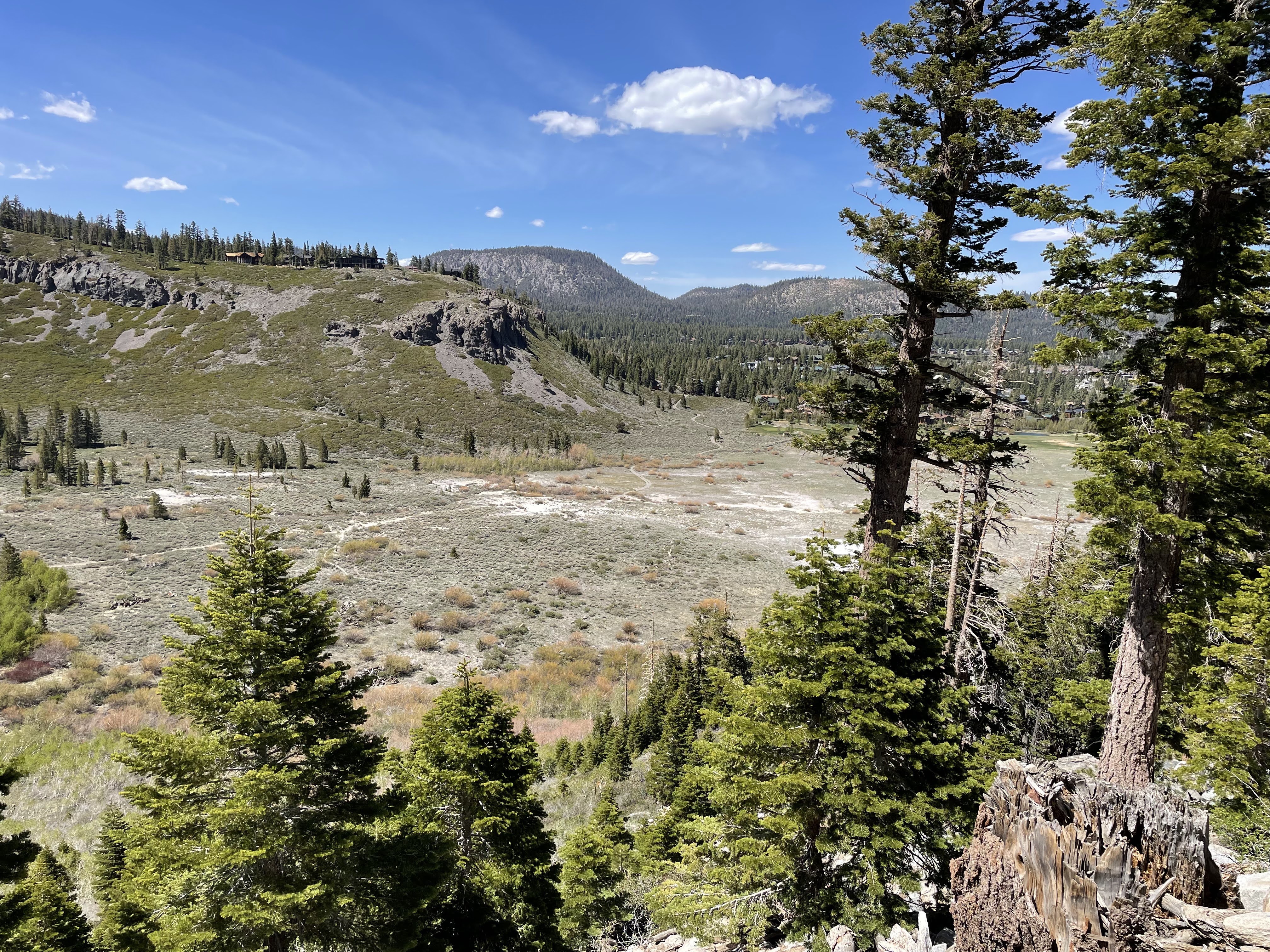 Disclaimer: Based on information from the Mammoth Lakes Board of REALTORS and other various sources. All data including all measurements and calculations of area, is obtained from various sources and has not been, and will not be, verified by broker or MLS. All information should be independently reviewed and verified for accuracy. Properties may or may not be listed by the office/agent presenting the information.