Mammoth Lakes and Eastern Sierra Local News
Mammoth Lakes is in full on summer mode. Town was buzzing on 4th of July weekend, with many visitors enjoying the long weekend with all of the festivities, including the parade.
Summer is always a fun time to be in Mammoth, there is a wide variety of activities happening in town, and endless recreation options. Be sure to get outside and enjoy the warm weather, regardless of if you prefer to hike, bike, fish, kayak, you name it! After you're done recreating, be sure to check out some of the events happening in town.
Shakespeare in the Woods kicked off on June 29th and is running until July 17th at the Mammoth Wood Site. Bring a blanket and a snack and enjoy the theater! You also won't want to miss the Party on June Mountain on July 30th or the Mammoth JazzFest in the Village on July 15th. You can check out the full event schedule here.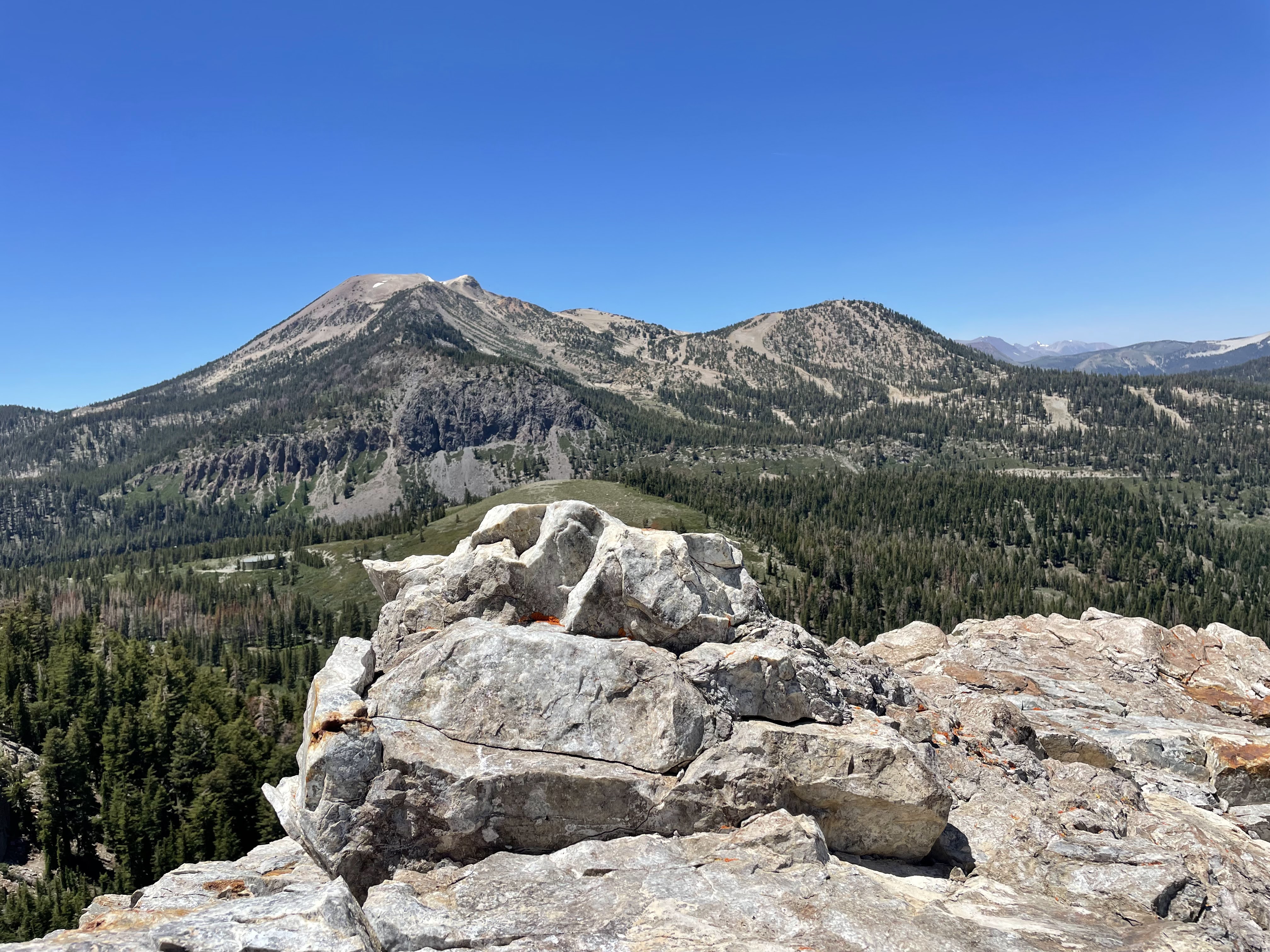 Mammoth Lakes Real Estate Market Recap
We continue to see the number of active listings on the market grow. The number of condo listings increased into the 70s which is more than we've seen at any point this year or last year. We also continue to see price reductions for both homes and condos in Mammoth Lakes and the surrounding communities.
We have yet to see any signs of huge decreases in prices. The overall median sales price for both homes and condos in Mammoth Lakes remains above the median sales price in 2021. So even though we're seeing some price reductions, and some listings sit on the market longer than they were last year, it's important to keep in mind that the market was EXTREMELY competitive for the second half of 2020 and all of 2021. Even with the market starting to cool, we still have a way to go before we would make any claims about the market being "normal" or about it shifting to a buyers market. It seems like sellers still have the mindset of the market we were experiencing six months ago. A big chunk of buyers had to leave the market due to interest rates doubling. It will likely take some time for sellers to realize we are shifting into a different market.
Mammoth Lakes Real Estate Home Trends and Stats
Mammoth home sales remained consistent from May to June with seven Mammoth homes selling in June. While fewer homes sold this past June compared to June 2021, we are still pretty much on pace with 2019 sales overall, which was our last semi-normal year before Covid.
Although fewer homes are selling this year, compared to last year, Mammoth homes continue to sell faster than in pre-pandemic markets. The average days on market (DOM) in June was 67 days, which is slightly up from May which was 49 days. The historic average for homes in Mammoth is about 174 DOM so we are still well below the average.
The number of new home listings in Mammoth continues to stay steady with 15 new home listings in June. With a steady flow of new home listings we are now up to 30 home listings on the market.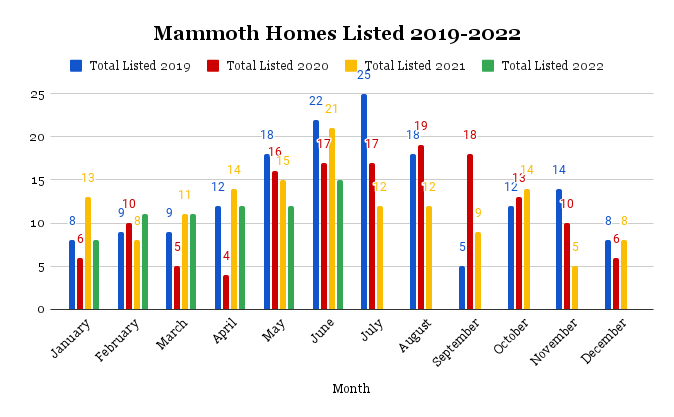 Of the 30 Mammoth homes for sale only six are currently listed for below $1,000,000 including one mobile home. 10 of the homes currently for sale are listed above $2,000,000. 13 Mammoth homes for sale have received a price reduction.
The median sale price for a Mammoth home increased slightly from May to June to $1,310,000. This is 11.02% higher than last year's overall median sale price which was $1,180,000.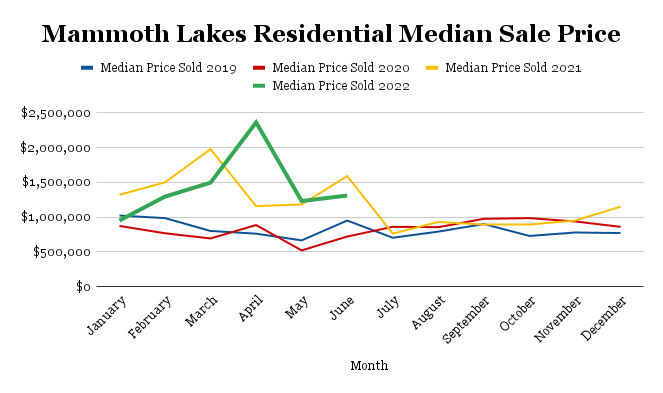 The most expensive house to sell in June was a house in the Juniper Ridge subdivision which is located next to chair 15 at Eagle Lodge. It was listed for $3,999,999 and sold for $4,100,000 which is $100,000 over asking price! This home does allow for nightly rentals due to the zoning of the location. There are not many homes in Mammoth Lakes that allow for nightly rentals, plus this home is also ski/-in/ski-out, which is likely why it sold for such a high price.
Even though the market seems to be cooling off compared to last year, it's definitely still a hot market. Of the seven homes that sold in June, three homes sold for over asking price and the other four sold below asking price. We continue to see properties that are priced well, and that are highly desirable sell quickly and for top dollar.
Mammoth Lakes Real Estate Condos Trends and Stats
Mammoth condo sales declined slightly from May to June with only 27 condos selling in June 2022. Condo sales are currently trending below last year and more in line with 2019 sales. With that being said, even though condo sales are trending lower so far this year, than last year, 2019 was still a pretty big year for Mammoth Lakes condo sales.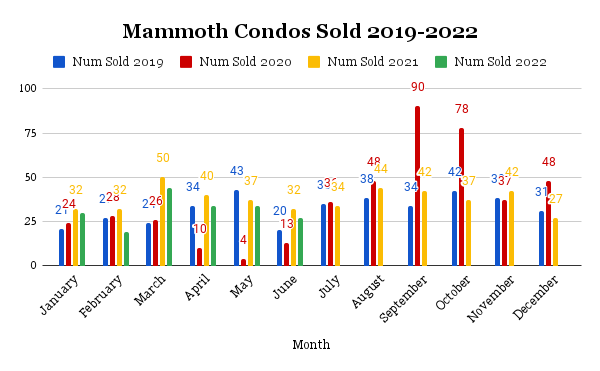 The number of active condos on the market continues to increase. As of July 14th there are 71 condos for sale in Mammoth Lakes. That is more condos than we had on the market at any point last year! This is great news if you're a buyer. There are more condos for you to choose from and you have more negotiation power. Also exciting news, of those 71 Mammoth condos for sale, 35 condos have received a price reduction.
In June there were 30 new Mammoth condo listings which is below the last 3 years at this time. We are still on track to see a similar number of condos listed this year compared to 2019, but slightly lower than last year.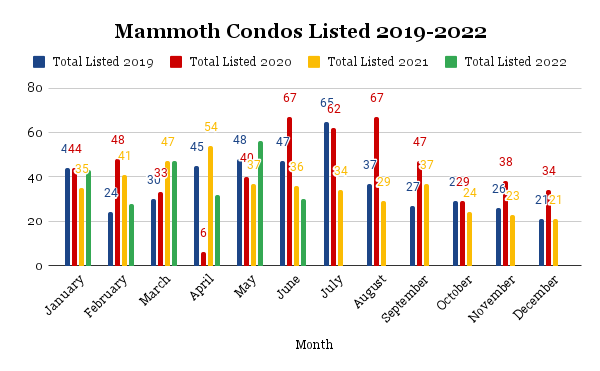 The median sales price for Mammoth condos in June was $760,000. This is the first notable monthly median price decline (from May's median sale price of $827,500). That being said, the year to date median sales price is $800,000 which is a 30.71% increase from last year's overall median sales price which was $612,000.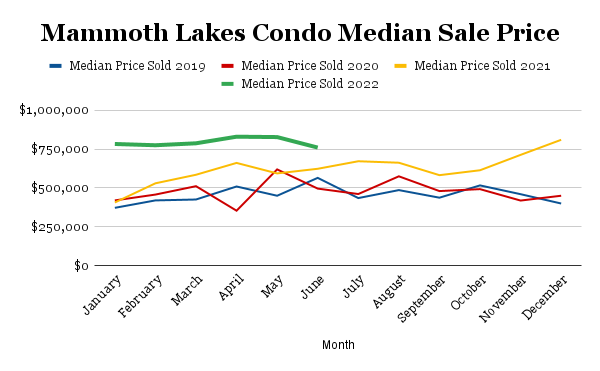 It's good to see the Mammoth real estate prices starting to tick downward. This is most likely due to interest rates. As we see more price reductions and inventory, prices should start to become more reasonable. More supply to meet demand will create an equilibrium and therefore prices might come down.
As people begin to use airline travel again we might see a decline in demand in Mammoth. Covid still exists but most people are seeming to behave like 2019. Demand for exploring "your backyard" is declining as the world is open again (for the most part). We are curious to see what's going to happen with Mammoth real estate prices as we face global and local uncertainties.
Is now a good time to buy Mammoth Lakes real estate?
If you've been waiting for a slightly less competitive market to buy in, now might be your time. There are more active properties on the market than we've had in the last two years, which means as a buyer, you have a lot more to choose from than previously. Additionally, the longer a property stays on the market, the higher the chance you have of negotiating the terms you want.
While interest rates are higher now than last year, they're still below the 50 year average. Since we're still not seeing signs of prices dropping significantly, waiting to see what happens could possibly mean risking higher prices with higher rates later on. Remember that you can always refinance your mortgage if/when the interest rates fall.
Please feel free to contact us for a free no-obligation realty consultation!
Is now a good time to sell Mammoth Lakes real estate?
Now is still a great time to sell. While some properties are taking longer to sell than last year, properties are still selling quicker than in pre-pandemic times and at much higher prices. If you list at a competitive price, your property will easily sell, and there's even a chance of receiving multiple offers. Pricing strategy is very important now that the market is starting to slow, which is why we recommend working with knowledgeable real estate agents who will show you the market data and price your property to sell. If you've been on the fence about selling a property anywhere in the Eastern Sierra, contact us today to get a free market valuation and property marketing plan.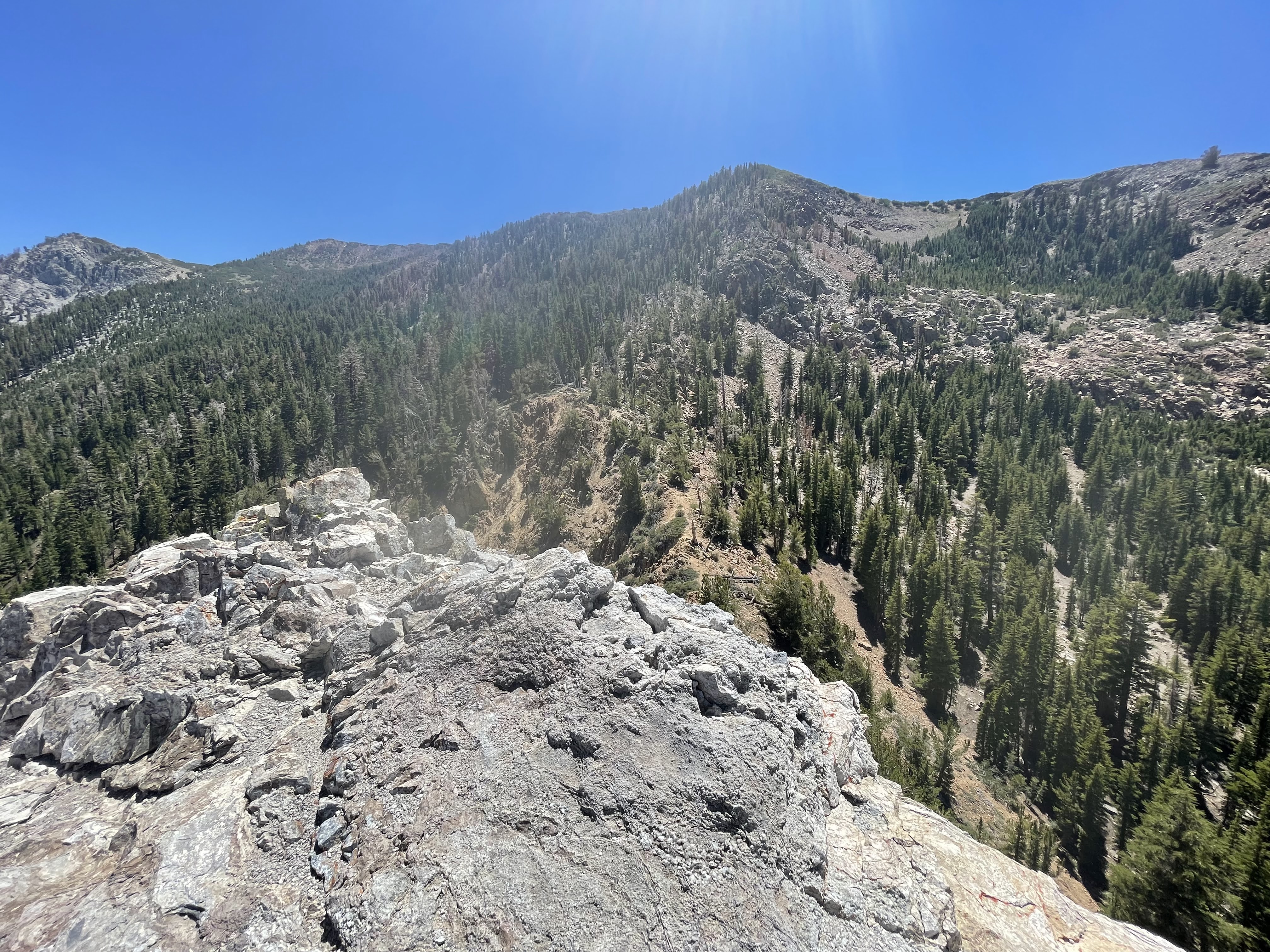 Disclaimer: Based on information from the Mammoth Lakes Board of REALTORS and other various sources. All data including all measurements and calculations of area, is obtained from various sources and has not been, and will not be, verified by broker or MLS. All information should be independently reviewed and verified for accuracy. Properties may or may not be listed by the office/agent presenting the information.