Mammoth Lakes and Eastern Sierra Local News
Summer is slowly starting to wind down here in Mammoth Lakes. Labor Day weekend is typically the last big hoorah of summer and town was definitely busy this past weekend! We had very warm weather and it felt like the perfect last weekend for summer. Weather is finally starting to cool down and it looks like there is even snow in the forecast!
We even hosted our first real estate meetup! Stay tuned for our next real estate meet up in October. Subscribe to our monthly newsletter, to keep up with events, trends, and local news!
The Mammoth Grand Fondo was this past weekend. It was great seeing over 500 cyclist riding 100+ miles through various elevations. There is only one more summer event coming up and it's the Mammoth Trail Fest September 22nd-25th. Hope to see you there!
See all the Mammoth Lakes events here.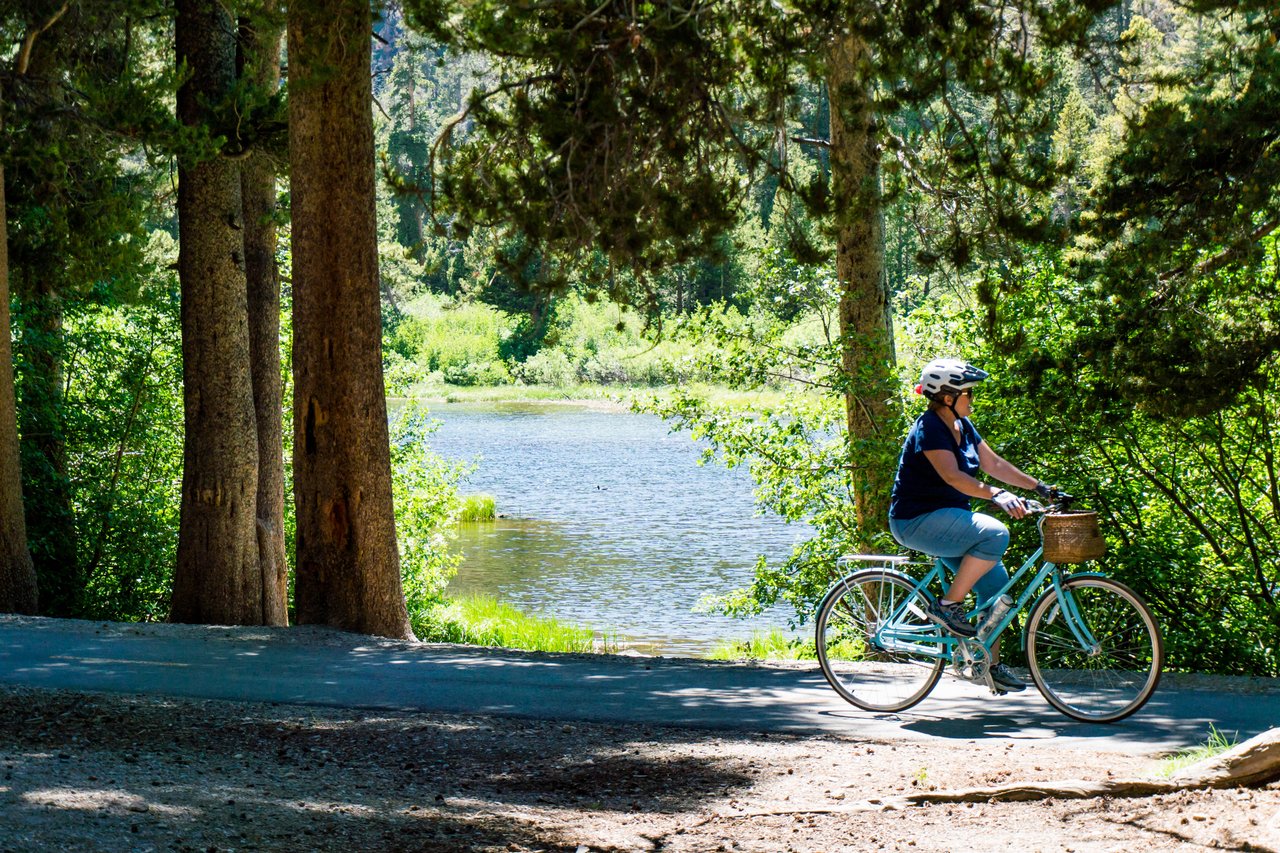 Mammoth Lakes Real Estate Market Trends Overview
Mammoth Lakes real estate trends continue to show signs that our market is slowing down. July and August are typically the busiest months for sales and new listings. However this year, new listings and sales for both homes and condos in Mammoth Lakes are trending lower than the last few years.
Although our sales volume is trending more in line with 2018 and 2019, median sales price for both condos and homes remains above 2021. In some ways it seems like the market is slowly starting to favor buyers. We are seeing more buyers receive discounts on price and even be able to negotiate credits. The only caveat we see is that our active inventory is still below average and already starting to decline from our peak in July. Without a large selection of properties for sale, sellers may still be able to demand top dollar for their listings.
Another interesting trend we see in Mammoth that sets it apart from many other markets is that a lot of our sellers don't NEED to sell. Many sellers choose to sell when they realize they are no longer using their property as much as they once were, but they don't NEED the money from the sale. Some sellers prefer to cancel and hold onto their property, than take a lower price, which is something we've already seen start to happen as buyers try to negotiate price.
Mammoth Lakes Home Trends and Stats
Mammoth Lakes homes aren't selling at the same rate as they were last year or even in 2019. Six Mammoth Lakes homes sold in August. Compare that to August 2019 when 10 homes sold and August 2021 when 15 homes sold. Out of the six Mammoth homes that sold, 4 received a discount, 1 sold at the list price, and 1 slightly above the asking price.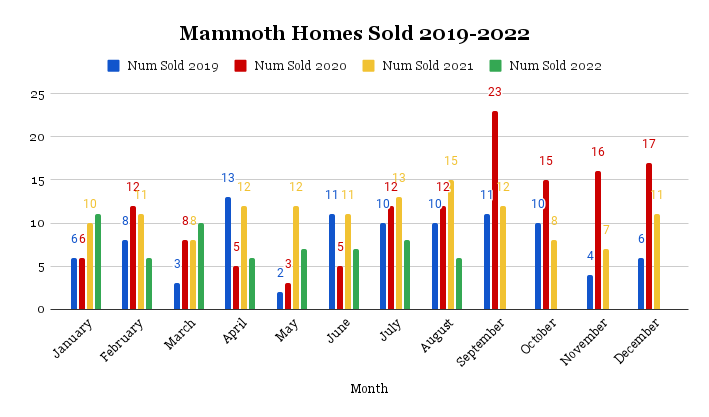 The number of Mammoth homes listed also declined in August. Six homes were listed for sale in August. That is quite a reduction from last year when 12 homes were listed in August. And it's even more surprising when looking at 2019 when 18 Mammoth homes were listed, that's three times more!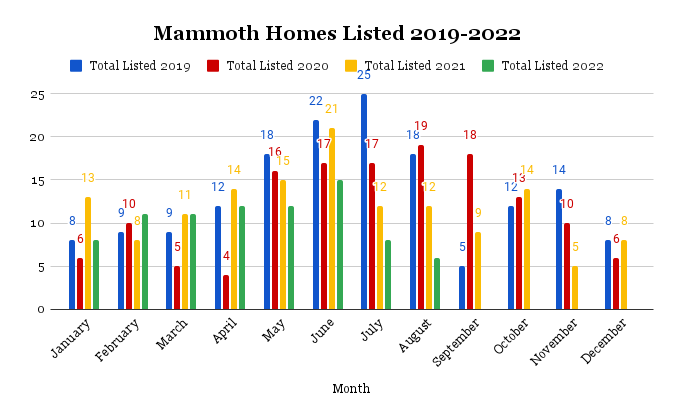 In Mammoth Lakes, not a lot of homes are selling and listings are down. A lot of people have great interest rates on their homes right now. That is probably a big reason why a lot of homes aren't being listed.
So what's happening with prices? This July we saw a huge decrease in the median home sale price in Mammoth Lakes. In August, the median sale price jumped back up to $1,312,500.
As soon as we thought prices were dropping, they quickly rebounded. In August, the homes that sold were nice. The least expensive sale was a cute a-frame located at 49 Innsbruck Place which sold for $810,000. It is a small (936 square feet), but everyone loves a-frames, right? Also, the house sits on this quiet cul-de-sac close to Mammoth Mountain's Eagle Lodge and Camp High Sierra. The most expensive house was a newer home zoned for nightly rentals at 403 E. Bear Lake Drive and sold for $3,300,000.
As the ski season approaches, we historically see a slight uptick in demand before the ski season. Everyone wants to be in their Mammoth home before Thanksgiving. This might put more upward pressure on prices. Also, as we talked about above, Mammoth isn't getting a lot of listings. Low supply also puts upward pressure on prices. Demand is still there, not as it was six months ago, but people are getting stoked about winter…
Mammoth Lakes Condos Trends and Stats
Mammoth Lakes condo sales remained below average for the month of August. Typically August is a fairly big month for sales since the summertime is usually when we have the largest inventory of active condos. This year in August, only 23 Mammoth condos sold. This is below the last three years of condo sales in August and less than half of the condo sales in August 2020.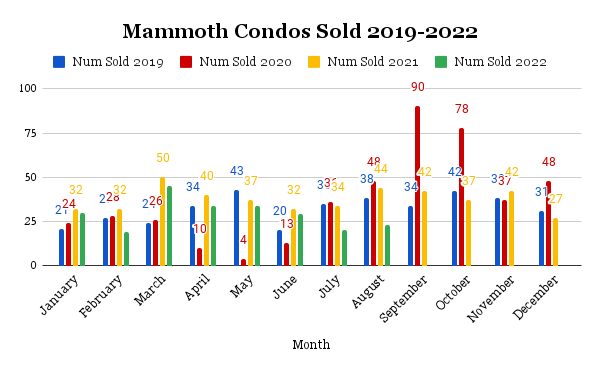 We believe the below average closings in July and August are likely due to the higher mortgage interest rates. Closings are typically a bit of a lagging trend since the number of closings we saw in July and August are a reflection of condos that got into escrow in the months prior. Rates didn't go into the 4%+ range until about March, so sales prior to that and even in April were higher even with bidding wars still occurring.
The number of new condo listings in Mammoth Lakes was also below average for August. There were only 25 Mammoth condo listings in August. The number of active condos on the market has also been steadily declining since our peak in July of around 75. We are down to only 56 active condos as of September 12th.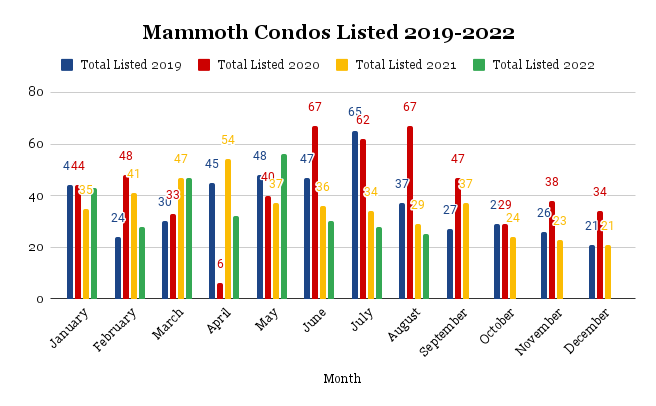 It's likely that people who may have wanted to sell their condo in order to upgrade to a larger condo in Mammoth or purchase a vacation home in another town, have decided to hold off also due to the increase in mortgage interest rates. Many people have refinanced their mortgages when rates were low, so purchasing a new property now, even at the same price point as their current mortgage, would mean increasing their monthly mortgage payments.
In Mammoth Lakes, August was the first month this year where we saw a big dip in median sales price, which was $610,000. Compare that to July which was $859,500. That is a 29.03% decrease.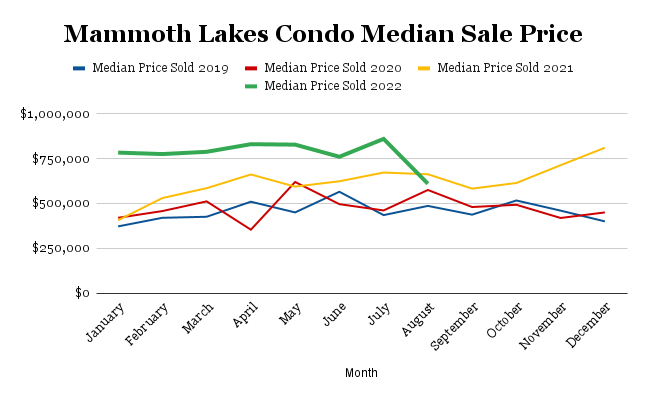 Of the 23 Mammoth condos that sold in August, 15 Mammoth condos sold below asking price. Four Mammoth condos sold above asking price and the other four sold at the listed price.
The Mammoth Lakes real estate market is definitely starting to see a shift and it's becoming more apparent every month. The situation is odd because inventory is now decreasing, and while demand has also decreased since our peak, there is still a lot of uncertainty. So we can't say that prices will continue to drop, but it is possible. Price is extremely dependent on supply because if there is not a lot to choose from, but if you want a spot, you're going to pay a premium because there isn't anything else to purchase. We saw this last year, but it was amplified due to people wanting to escape the city due to covid.
We'll continue to monitor the Mammoth Lakes real estate market and trends. It will be interesting to see what will happen in the next few months!
Is now a good time to buy Mammoth Lakes real estate?
We are starting to see more and more properties sit on the market longer than before and also starting to see price reductions more often. Right now it's becoming more possible to receive a discount on price and even negotiate a credit. While the market is less competitive than it was a few months ago, properties do still sell fast if they are priced correctly or receive a big price reduction.
The Federal Reserve does have rate hikes planned in the future which could affect mortgage interest rates. Now might be a good time to buy, while there are fewer buyers in the market and before mortgage interest rates increase even more.
Is it a good time to sell Mammoth Lakes real estate?
Now that more people are traveling and aren't afraid to party in the city, demand in Mammoth Lakes has decreased a little, however, relatively speaking there is still a lot of it. When there is a good deal (a property priced below recent comps) on the Mammoth Lakes MLS the property will sell quickly and receive a few offers. This is why we are now saying pricing is more important than ever. It's better to have people flock to your property than hope for a good offer in a few months. The market has spoken and it has adjusted. Simply speaking it's a different market and more balanced. Sellers are still getting a good price and buyers can negotiate.
If you're thinking about selling or know anyone who is, please give us a call for a no obligation property valuation and marketing plan. We'll be happy to speak with you!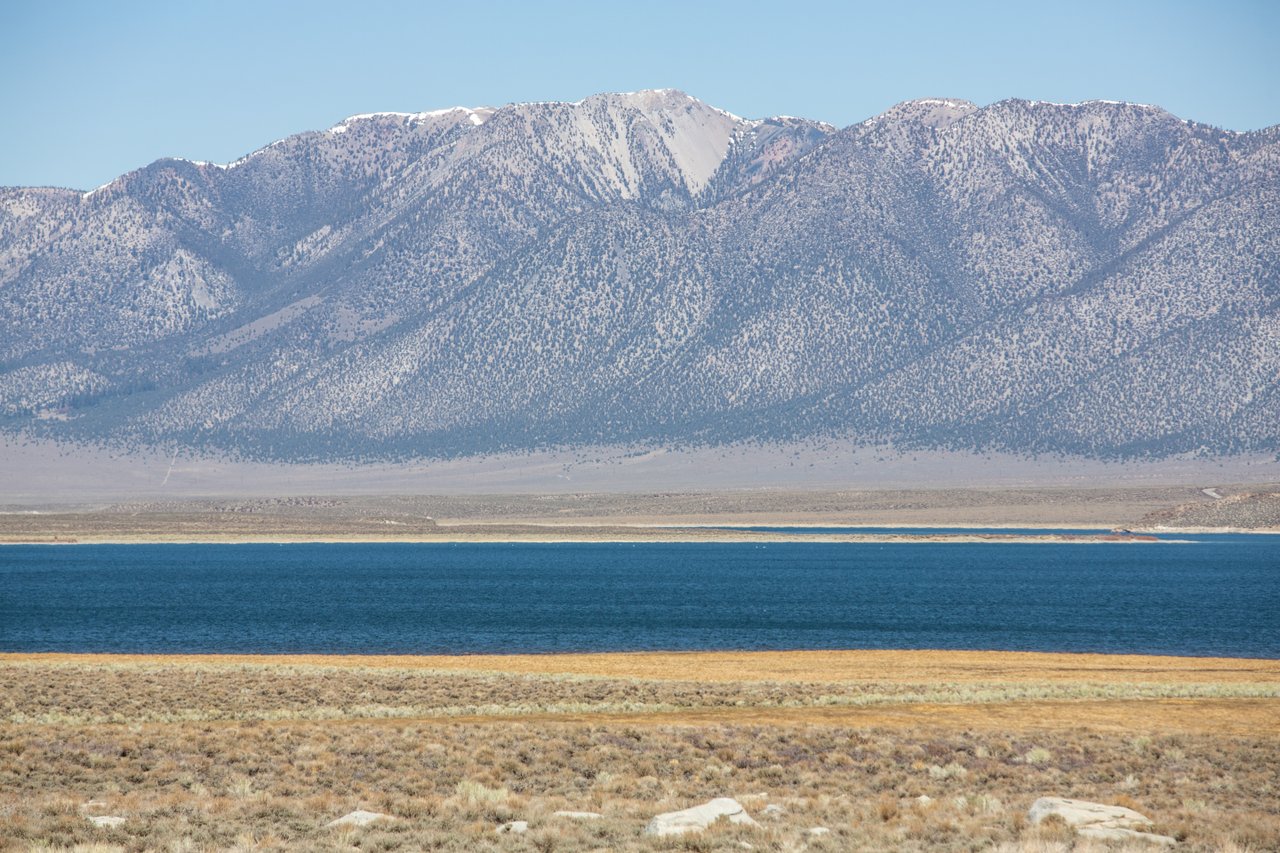 Disclaimer: Based on information from the Mammoth Lakes Board of REALTORS and other various sources. All data including all measurements and calculations of area, is obtained from various sources and has not been, and will not be, verified by broker or MLS. All information should be independently reviewed and verified for accuracy. Properties may or may not be listed by the office/agent presenting the information.