Mammoth Lakes and Eastern Sierra Local News
Fall in Mammoth Lakes has been incredible! We had amazing fall colors and mild weather for most of October. The beginning of November brought our first substantial snowstorm. Some Eastern Sierra long-timers have said to us that this has been the best fall ever!
Mammoth Mountain opened early on November 5th. Tamarack Cross Country Ski Center is scheduled to open November 19th! There was a good turnout for opening day at Mammoth Mountain Main Lodge, with about 2,000 eager skiers and snowboarders excited to kick off the ski season. Opening day was followed by another snowstorm. Mammoth Mountain claimed almost 50 inches of snow. It looks like Mammoth Mountain's Canyon Lodge could open this weekend!
If you're in town for the holidays be sure to let us know. We are giving away holiday gifts to all of our clients as a big THANK YOU for your support and referrals.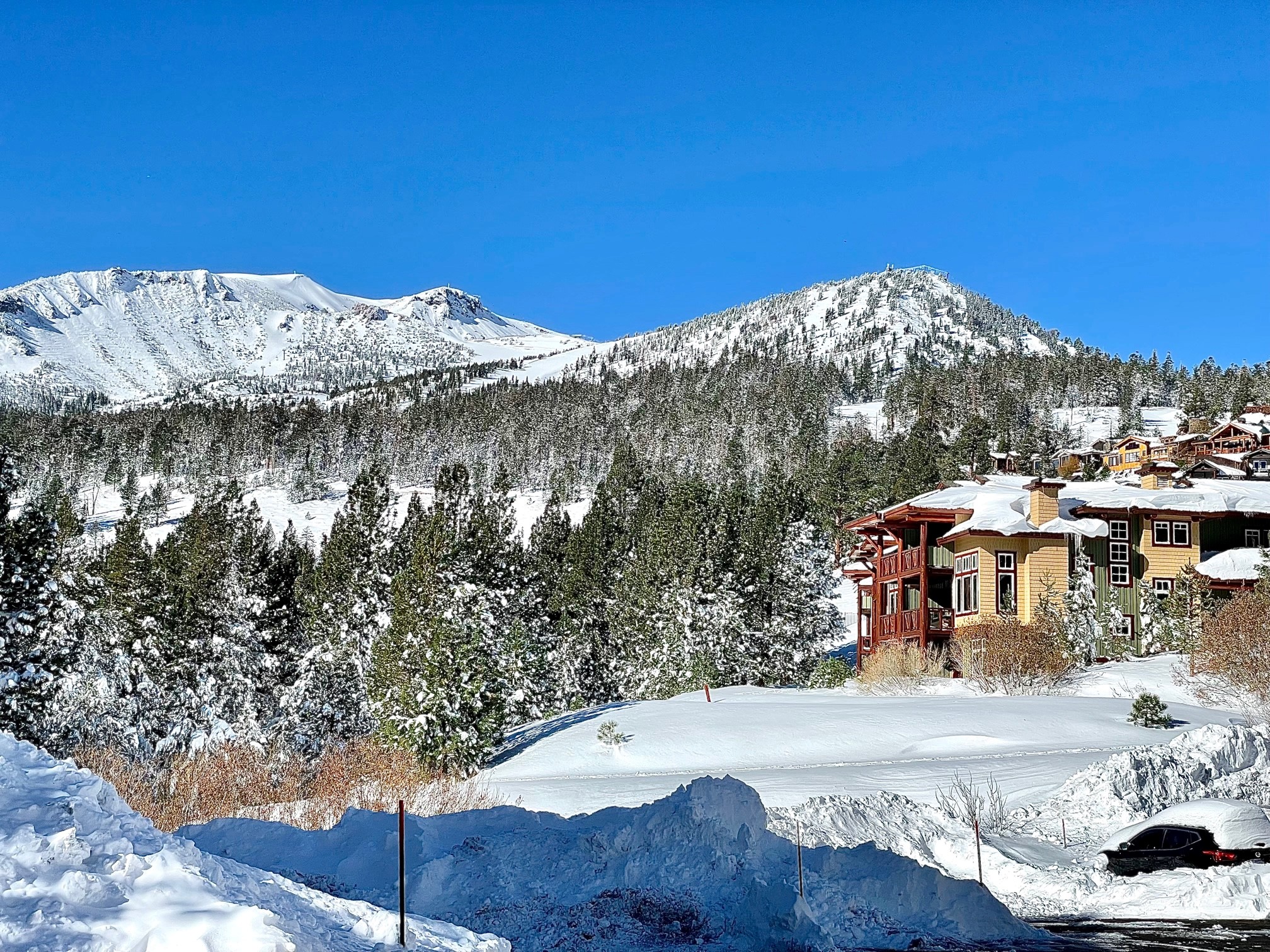 Mammoth Lakes Real Estate Market Trends Overview
Mammoth Lakes real estate has been slow to say the least. The inventory for Mammoth condos and Mammoth homes is still extremely low. With that said properties are still selling if priced well. It seems like the properties that sell quickly are priced competitive to the listings that are active for sale. Looking at recent sales to price Mammoth real estate isn't the best strategy anymore. For example, if you have a condo that you want to sell, look at what's currently on the market. Then price slightly under the properties that are most similar to your Mammoth condo. That way, it'll look like a deal and your Mammoth property will likely sell quickly.
As for prices, well they are still high. The year-to-date (YTD) median sale prices for Mammoth condos and Mammoth homes is still above 2021. The YTD median sale price for a Mammoth Lakes condo is 25% higher than 2021. Mammoth Lakes homes haven't seen that much appreciation in 2022. The YTD median sale price for a Mammoth home is only about 6.11% higher than 2022.
What does this all mean? Well prices are still quite high and inventory is low. Property isn't selling as quickly or in as much volume as the last two years. The Mammoth Lakes real estate market and the greater Eastern Sierra real estate market has definitely slowed down after March 2022. We are in this transitory phase in the market where buyers want a deal and sellers wish they would've sold last year. It's different, but as mentioned above, properties are still selling and we are still surprised occasionally when certain distressed properties get an offer quickly and at a high price. Moving forward there is still a lot of investment in Mammoth Lakes and people still love it – it's a wonderful place to be!
Mammoth Lakes Home Trends and Stats
Mammoth home sales remained low for the month of October. There were only 7 home sales in Mammoth in October. This is the seventh month in a row of below average home sales in Mammoth.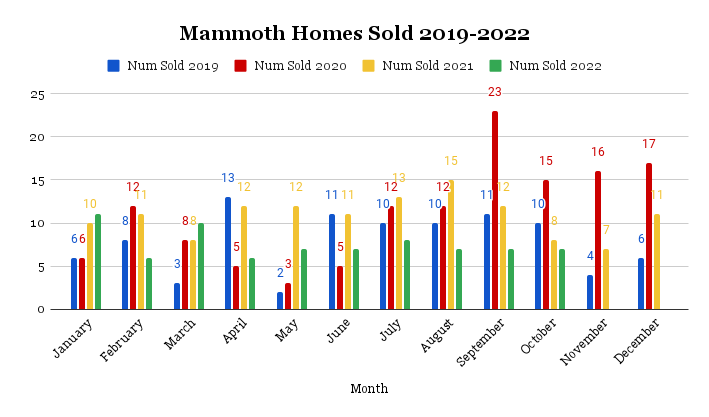 In October only three Mammoth homes were listed for sale. This is an increase from September when only two Mammoth homes were listed. These two months of new listings are lower than any month we've seen, even lower than April and May 2020 when we shut down due to Covid.
We're not exactly why people aren't selling right now. It's possible that so many people refinanced their current mortgages when rates were low. Now they have very low monthly payments so there's not a lot of incentive to sell, especially if they do not want to buy another property. It's also possible at this point in the year, many people would prefer to not list close to the holidays and wait till spring.
It's no surprise the number of homes for sale in Mammoth continues to decline with so few new listings. As of November 8th there are only 10 Mammoth homes for sale. Of these 10, only five are listed below $3,000,000. This means the overall selection for anyone looking to buy a Mammoth home is very small.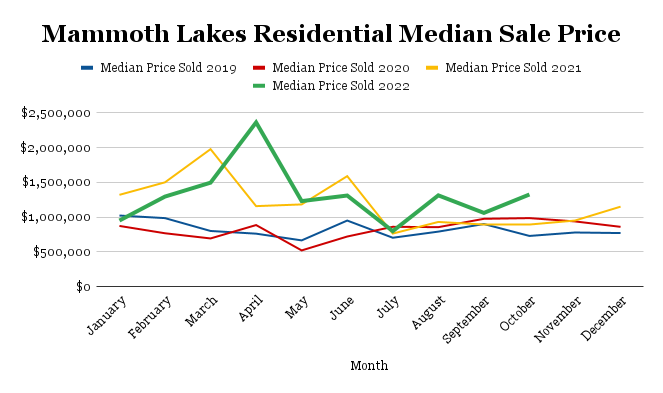 Despite high mortgage interest rates, the low inventory seems to be keeping prices high. In October the median sales price for a home in Mammoth Lakes was $1,325,000 which is an increase from September at $1,060,000. The year to date median sales price for 2022 is currently $1,260,000 which is 6.11% higher than 2021's median sale price of $1,187,500.
The biggest difference we're seeing this year from last year is the overall sales volume has decreased significantly. The last two years were record breaking years for home and condo sales in Mammoth Lakes, and this year looks like it will fall much closer to 2018.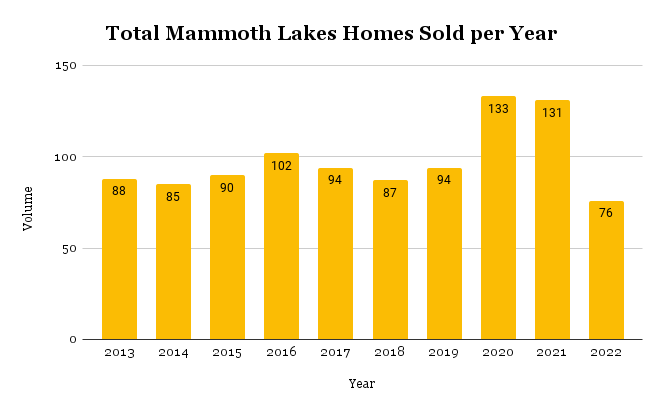 Mammoth Lakes Condos Trends and Stats
Mammoth Lakes condo sales were down in October 2022 (only 28 Mammoth condos sold). In 2019, 42 Mammoth condos sold in the month of October. It is normal to see an uptick in sales in the fall due to buyers securing their spot in Mammoth before the holidays and ski season. Typically, (when there is more inventory) you could find a Mammoth condo in August or September and close in October. This year more buyers seems to be on hold, however, is it due to low inventory, interest rates, or uncertainty?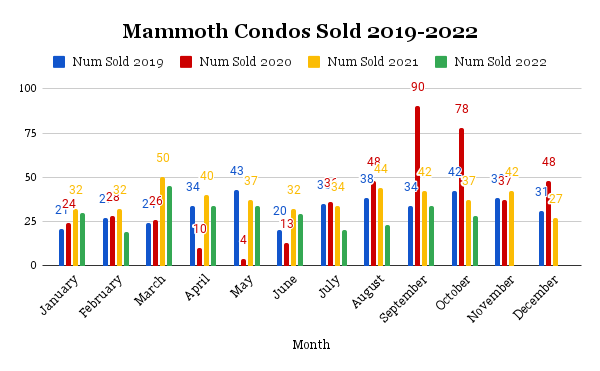 Mammoth Lakes condos that were listed for sale in October were only slightly down from the previous three years. We believe a lot of sellers don't want to deal with listing their Mammoth condo during the holiday season or miss out on premium rental nights. There is an old saying in Mammoth that goes, "If someone doesn't need their Mammoth home by the holidays, they don't need it until next year." This has changed a bit since Mammoth Lakes is now more popular in the summer months, however, there is still a lot of truth to it. Even small Mammoth condos can get around $2,000 in less than one week on a nightly rental program.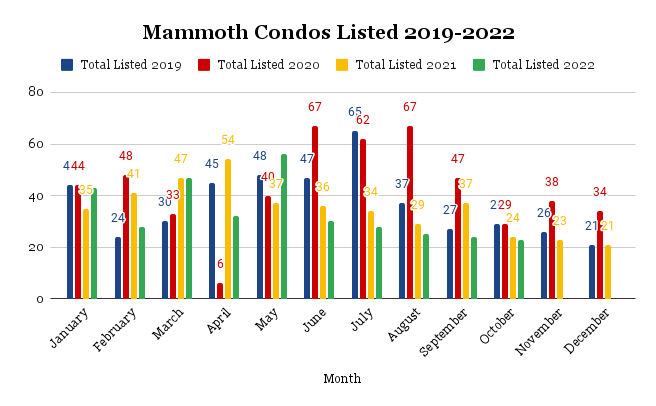 Mammoth Lakes condo median sale price held quite steady in October. The median sale price for a Mammoth condo last month was $686,250, barely down from September's median sale price of $689,000. The year-to-date median sale price is $765,000 which is up 25% from last year ($612,000). This is much more than Mammoth homes and it's mostly due to the short-term rental value that Mammoth condos carry. Nightly rentals have been on a roll in the past two years and some people are making a lot of money. There is a lot more competition now and this might change going forward.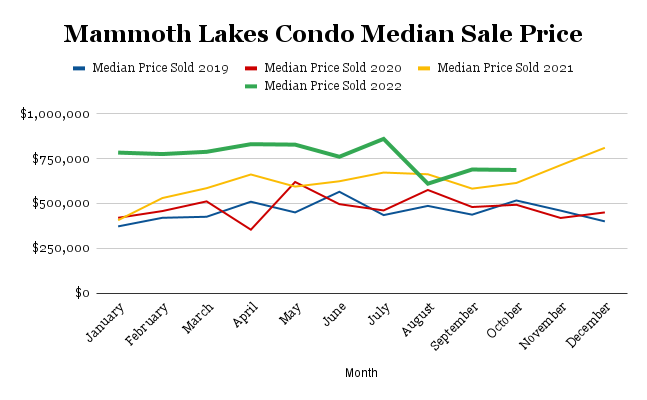 Of the 28 condos that sold in October, 20 sold for under asking price. This is a huge change from just earlier this year and likely an indicator moving forward. Only two Mammoth condos sold at asking price. These two condos were priced well given the previous sales and the good condition they were in. The last six Mammoth condos that sold over asking price were priced extremely well. Either they received a large price reduction that brought a lot of interest or they were listed at a price that looked like a great deal to a buyer. This is a great pricing strategy for a quick sale and likely a more profitable one. It seems like prices are slowly heading in a downward direction.
Similar to Mammoth homes, the volume of condos sold so far this year, is way below the last two years. It seems likely the overall sales volume for Mammoth condos in 2022 will trend close to 2018.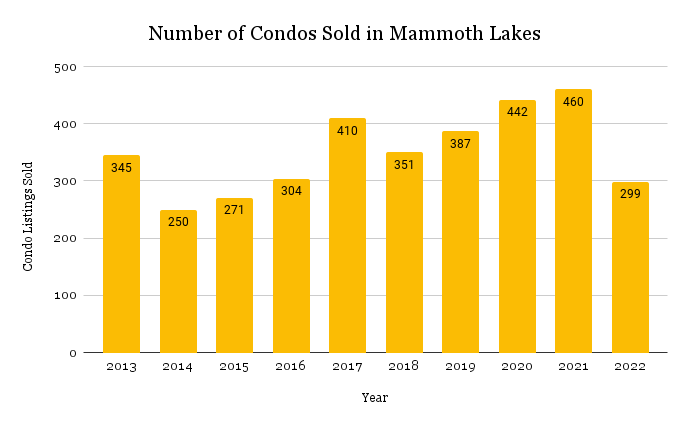 Is now a good time to buy Mammoth Lakes real estate?
While some people have decided to hold off purchasing property due to high mortgage interest rates and uncertainty in the economy. We don't advise attempting to time the market. No one knows for sure what will happen with the real estate market.
If you can afford to buy now and plan on holding the property for many years go for it! When mortgage rates eventually go back down you can always refinance. If you hold off in hopes of prices dropping, but rates go up, the drop in price might not matter that much as you may end up with a similar monthly payment. The most important aspect when deciding if you should purchase or not is if you are comfortable with the monthly payment. We recommend connecting with a local lender to find out how much a mortgage might cost you with today's rates. Contact us if you'd like us to connect you with a local lender.
Is it a good time to sell Mammoth Lakes real estate?
The current Mammoth real estate market is very different from 2020 and 2021. Pricing is more important than ever right now. We are starting to see listings that get priced too high rack up days on market and sell below asking price. Properties that are priced competitively can still sell quickly and occasionally over asking. Now is also a great time to list as many people want to secure a spot in Mammoth for the upcoming ski season. Contact us today to get your free market valuation.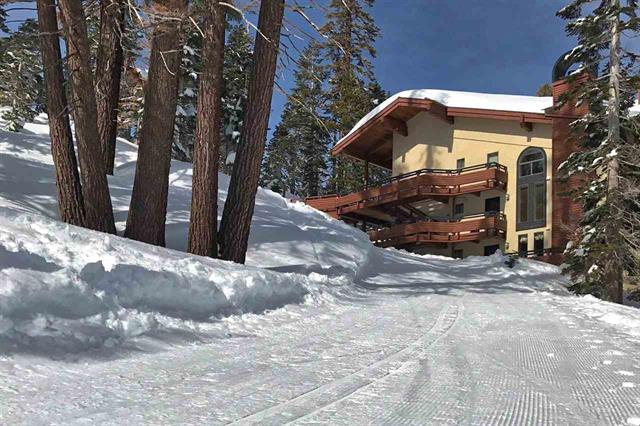 Disclaimer: Based on information from the Mammoth Lakes Board of REALTORS and other various sources. All data including all measurements and calculations of area, is obtained from various sources and has not been, and will not be, verified by broker or MLS. All information should be independently reviewed and verified for accuracy. Properties may or may not be listed by the office/agent presenting the information.