Mammoth Lakes & Eastern Sierra Local News
Mammoth Lakes, California is in full winter mode! Mammoth Mountain has all lodges open and the snow is absolutely wonderful. Mammoth Lakes and the Eastern Sierra have received record snowfall with 138 inches of snow so far! Quite a few people who have been living in Mammoth since the 1960s have said that this is the most snow they've seen this early in the season. Canyon Lodge and Eagle Lodge are fully open and the snow base is perfect – all trails and lifts are all open. It's incredible! We hope you are as excited as we are.
Mammoth Mountain events are in full swing. Mammoth Mountain's Night of Lights is this weekend – December 17th at 5pm-10pm. Get ready for a lot of fun and entertainment at Canyon Lodge for Mammoth Mountain's Night of Lights. Don't miss out on other fun things to do at Mammoth Mountain like the Apres Ski Parties, Rail Jams, and more!
Mammoth Lakes events are plentiful in December and January. The things to do in Mammoth Lakes this month are Pow Wow Social Dance Night at the Mono Arts Council, Open Mic Mondays at Distant Brewing, and Skate with Santa on December 22 at the ice rink by the library! For more details click here.
Mammoth Lakes Real Estate Quick Update
The Mammoth Lakes real estate market is starting to pick up again. This may be due to the macroeconomy starting to improve and more confidence in the market. Both mortgage interest rates and inflation have started to decrease. Inventory is still incredibly low in Mammoth Lakes and the Eastern Sierra creating multiple offer situations in a few cases.
Mammoth Lakes home and Mammoth condo sales are down historically, but again, that might be due to not enough inventory to choose from. Mammoth Lakes has an interesting real estate market. We have elective sellers and elective buyers, meaning most people don't have to sell or buy – they want to. When people have this freedom, they are able to wait for the right property to hit the market. Since most sellers don't need the money from their sale, they are willing to wait for the right buyer to give them the price they want. With little to no motivation to sell, many properties aren't "priced to sell." This is what we've noticed in the past few weeks. Overall, the Mammoth real estate market has changed and slowed down, however, we are still seeing properties get multiple offers when priced competitively.
Mammoth Lakes Home Trends and Stats
In Mammoth Lakes, five homes sold in the month of November. This number of sales doesn't compare to 2020, since most of the sales happened later in the year. However, it does compare a lot with 2019. After such a bull market for two years, a lot of signs are pointing that we are in a more balanced market. Demand has slowed for the most part, but is this due to low inventory?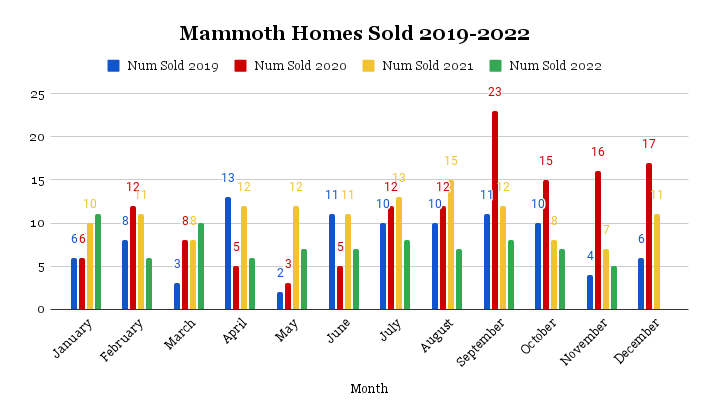 Mammoth Lakes had only two new home listings in November. The Mammoth real estate market has been trending below average on new listings for most of the year now. As of December 14th, 2022 there are only 11 Mammoth home listings on the market. It's been like this for quite a few months already. This might be a reason why there haven't been many home sales – there is nothing to buy! So far this year there have been approximately 90 Mammoth Lakes homes listed for sale. Compare that to 2019 when 160 Mammoth homes were listed or 2020 and 2021 when approximately 140 Mammoth homes were listed.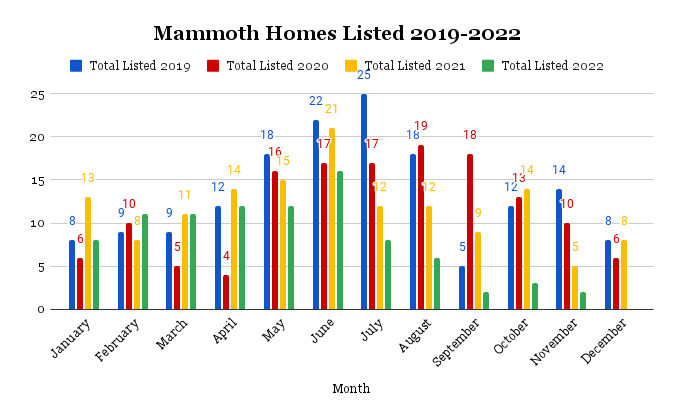 Mammoth Lakes homes median sale price in November was $900,000, which is below last November's median sale price ($950,000). The year to date (YTD) median sale price is still trending above 2021, but only 3.37% higher. The YTD median sale price for a Mammoth home is $1,227,500 and it was $1,187,500 in 2021.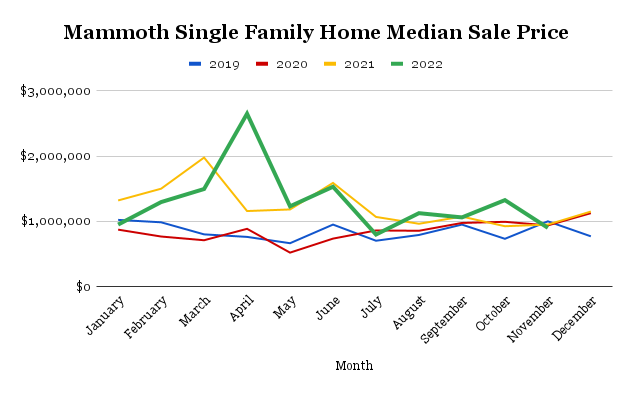 Of the 5 Mammoth homes which sold in November, only 1 sold above asking price – about $20,000 over. The other four sold below the listed price. One of the four sold for approximately $200,000 below the asking price and the others around $100,000 below the asking price. Were the sellers asking for too much? Probably.
Mammoth Lakes Condo Trends and Stats
Mammoth Lakes condo sales were down this November compared to previous Novembers. 17 Mammoth condos sold this past November. This October and November were quite slow for the Mammoth Lakes real estate market. However, with the recent early snow it's likely we'll see a small buying surge as people get excited for the ski season. We've already seen visitation increase with the last storm.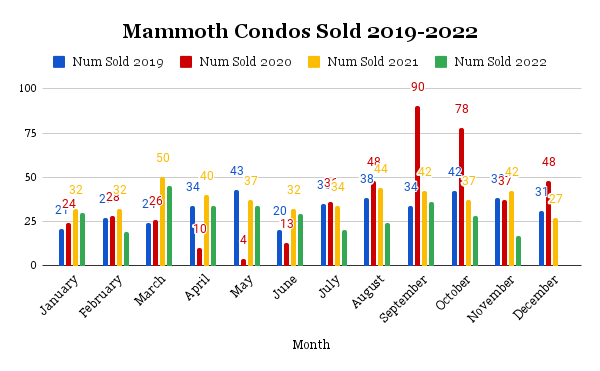 Mammoth Lakes condos for sale are also down compared to the last three years. 16 Mammoth condos were listed in the month of November. As of December 15, 2022 there are only 41 Mammoth condos for sale. The least expensive non-deed-restricted condo being a 400 square foot, one-bedroom plus one-car garage unit at Meridian Court listed at $455,000. The most expensive being a four-bedroom Timbers townhome at $2,099,000, which has been on the market for more than 200 days. There simply isn't a lot of inventory which either leads people to wait for the right one or participate in multiple offers when the right one does hit the market.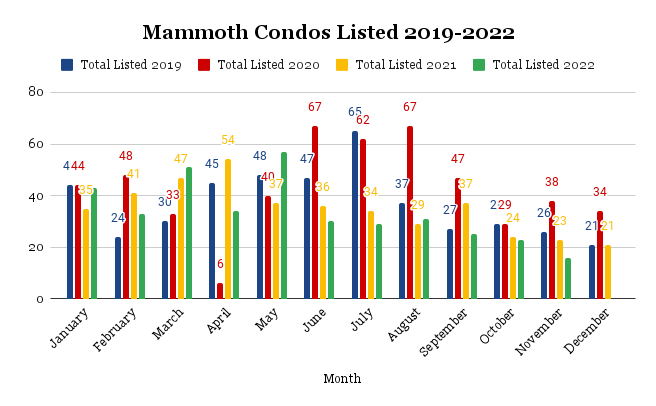 The median sale price for a Mammoth condo in November was $715,000. This is up from the month prior (October 2022 median sale price was $686,250), but down from November 2021 ($720,000). The YTD median sale price for a Mammoth Lakes condo is $755,000 which is 22.96% higher than 2021's median sale price ($614,000). We speculate that Mammoth condos are on the rise because of the investment aspect. Unlike Mammoth homes, you can rent most condos on a nightly basis, turning them into profit centers for some. This has really turned into a greater trend over covid and with more people taking vacations, renting out your Mammoth condo nightly can make some people a decent return.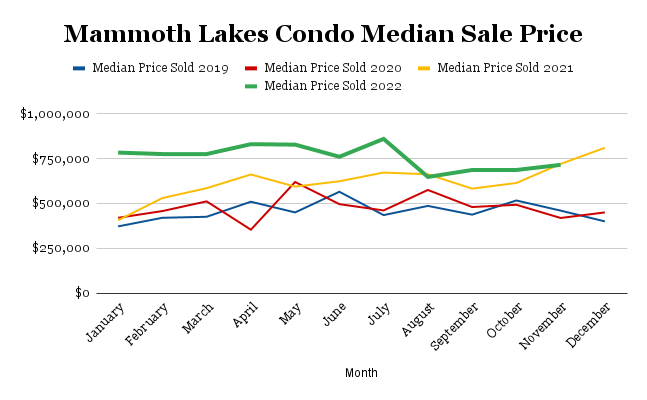 Of the 17 Mammoth condos that sold in November, 10 sold for under asking price; 5 sold above asking; and the other two sold at list price. One of the biggest price discounts was around $200,000 and one of the largest price increases was $25,000. In this market, your pricing strategy matters most. You can list high and negotiate down. Or you can list low and possibily receive multiple offers. One is more disappointing than the other, however, the other one is scarier. Which one would you choose?
Is now a good time to buy Mammoth Lakes real estate?
In Mammoth Lakes deals can be found, but it's a tricky balance. The good news is that it seems like mortgage interest rates are going down. The not-so-great news is that it's really difficult to know when to put in an offer or wait until the property gets enough days on the market to negotiate the price down. The Mammoth Lakes real estate market is complicated and that's why you need a local real estate professional on your side to help you navigate.
Contact us to learn more about how we can help you find your Mammoth home!
Is now a good time to sell Mammoth Lakes real estate?
The Mammoth Lakes real estate market has changed and it continues to fluctuate. Listing strategy is more important than ever. You can list at a high price and wait for an offer. If you believe time is money then you probably want a quick sale. Listing at a competitive price will bring a lot of attention and could bring in multiple offers.
Contact us today to learn more about how we can help you sell your property. We offer a free no-obligation valuation and marketing plan specifically for you and your Mammoth and/or Eastern Sierra property!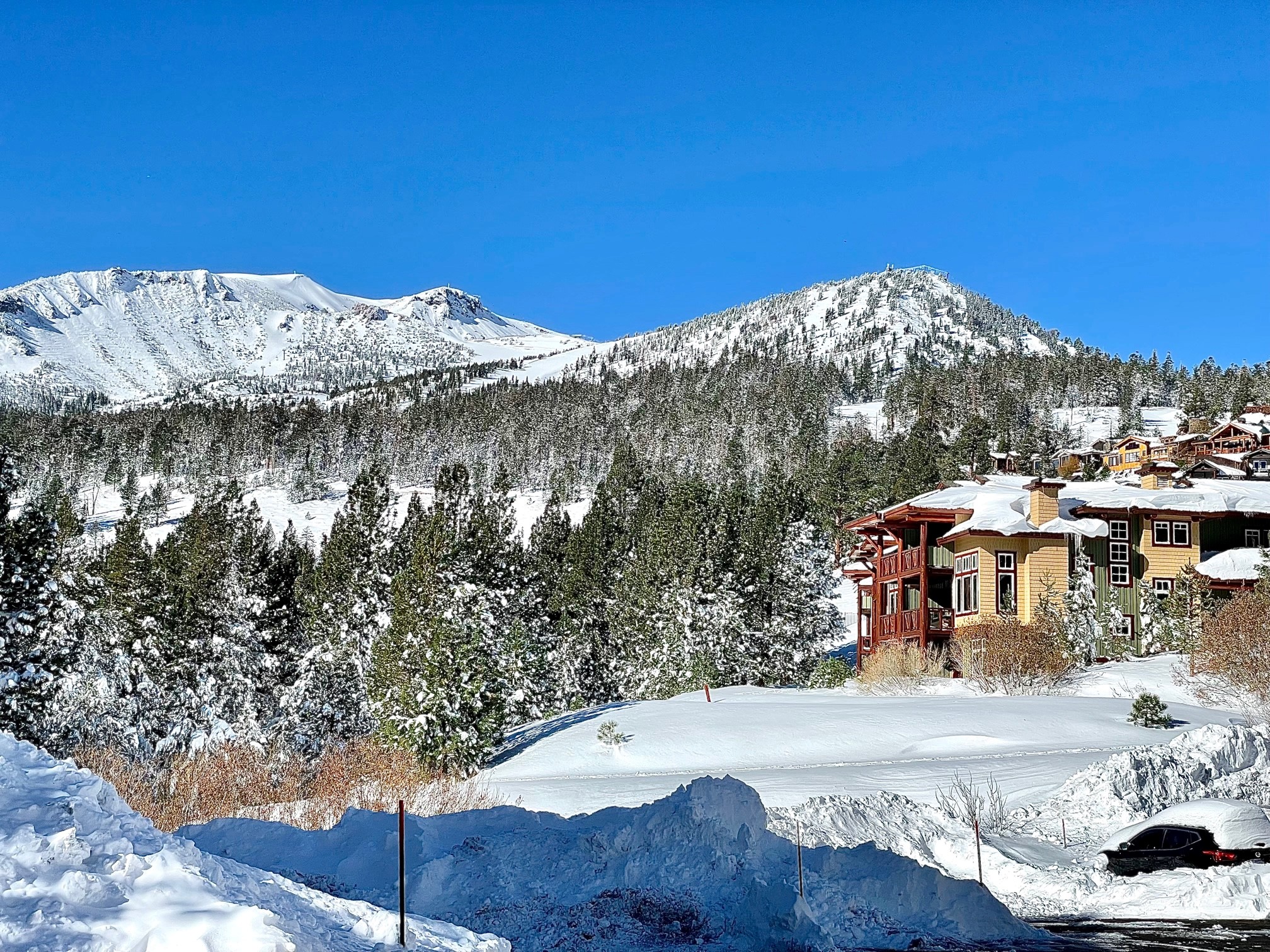 Disclaimer: Based on information from the Mammoth Lakes Board of REALTORS and other various sources. All data including all measurements and calculations of area, is obtained from various sources and has not been, and will not be, verified by broker or MLS. All information should be independently reviewed and verified for accuracy. Properties may or may not be listed by the office/agent presenting the information.