Mammoth Lakes & Eastern Sierra Local News
Mammoth Lakes has had a wonderful new year! Mammoth Mountain reported over 100 inches of snow in December and just received a mega snowstorm with up to 92 inches in 48 hours. The Town of Mammoth Lakes and Mammoth Mountain have been extremely busy doing snow removal to catch up before the next snowstorm arrives this weekend. The skiing/riding has been amazing and we highly recommend everyone getting there. Make sure you always ski/ride with a buddy on powder days and avoid tree wells.
Town has been very busy this holiday season with visitors enjoying the snow. We expect to see another surge in visitors over Martin Luther King Jr weekend.
The weekend Apres Ski Parties at Canyon Lodge continue every Saturday and Sunday. There are also dance parties with Wooly in the Village on Saturdays for kids and families. You can see the full event calendar here for other fun things to do in Mammoth Lakes.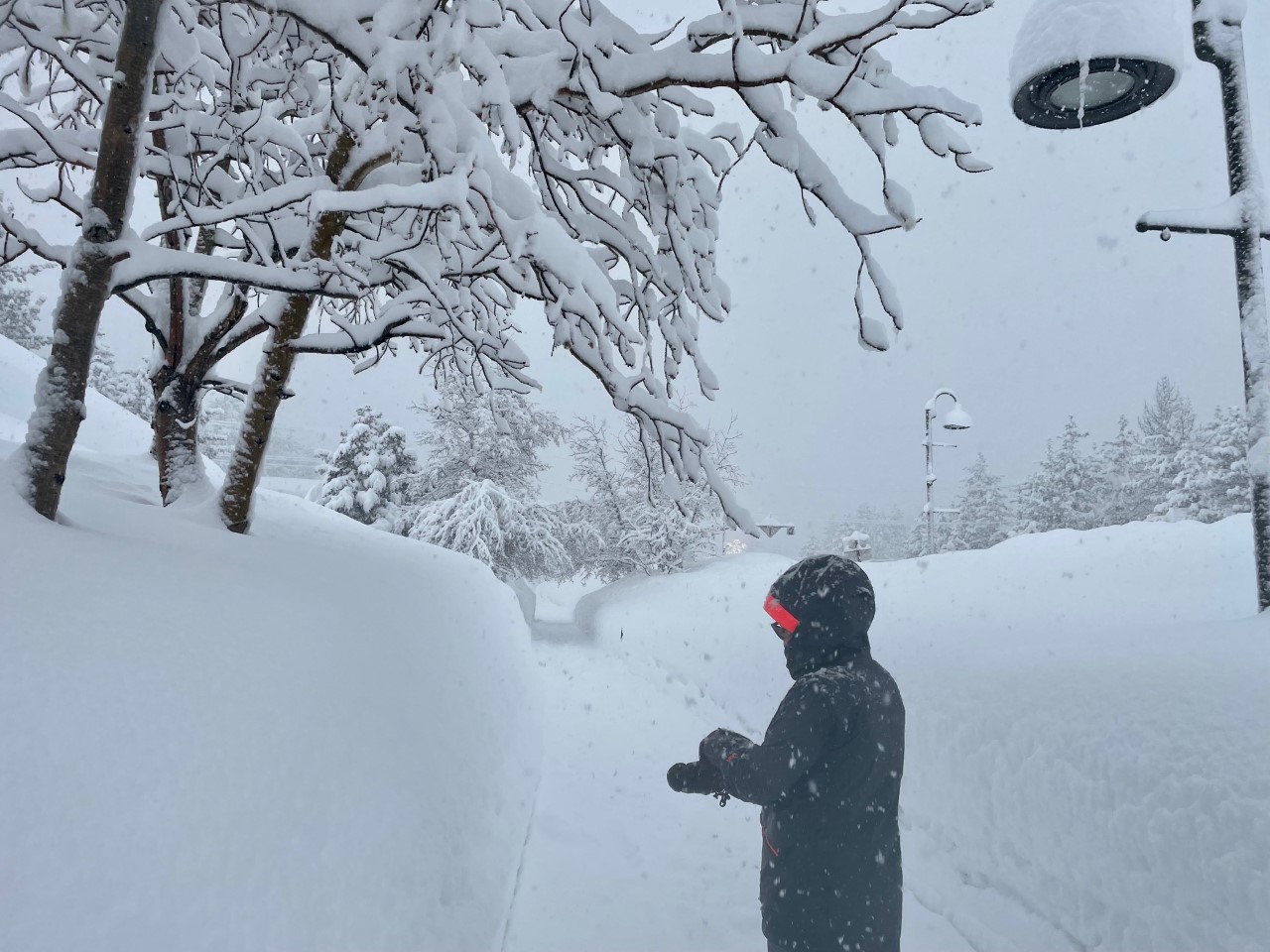 Mammoth Lakes Real Estate 2022 Recap
The 2022 Mammoth Lakes real estate market started off strong coming off the tail end of the super hot market in 2020 and 2021. The market however, started to slow considerably as interest rates crept up from their historic low. Around June is when we really started to notice the slow down. The active condo inventory reached its peak around June and July with over 70 condos on the market at that time. Since then active inventory has been declining. Despite the Mammoth real estate market slowing down from its peak, many listings still sold quicker than in pre-pandemic times. And while multiple offer situations are becoming less and less common, it can still happen, especially for fully remodeled condos.
The two biggest trends we noticed for 2022 were that median price remained high, but sales volume dropped dramatically compared to the last two years. Let's get into the numbers…
Mammoth Lakes Home Trends and Stats
Mammoth Lakes homes in 2022 performed much differently than the previous three years (including 2019). The number of sales and listings were all down, however, one thing remained true. The median sale price has been on the rise since 2019. For Mammoth homes appreciation slowed down a lot in 2022, but that was bound to happen after two years of significant growth. We are curious to see if the median sale price for a home in Mammoth Lakes will fall in 2023, but that will depend on one important factor…
| | | |
| --- | --- | --- |
| Year | Mammoth Home Median Price | Percent Change |
| 2019 | $785,000 | |
| 2020 | $885,000 | 12.74% |
| 2021 | $1,187,500 | 34.18% |
| 2022 | $1,225,000 | 3.16% |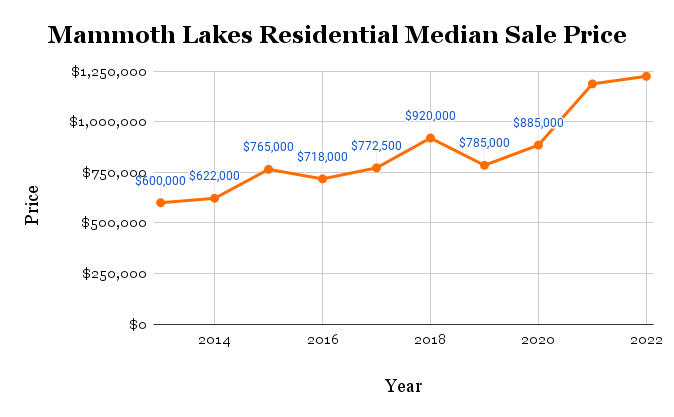 Inventory… The number of Mammoth homes listed in 2022 was a total of 97 homes. That is about 44+ homes lower than the previous three years. This was likely the main factor that slowed the Mammoth Lakes real estate market in the second half of 2022. There wasn't enough desirable inventory for people to purchase. Only 27 homes were listed from July 2022 to December 2022. From January 2022 to June 2022, 70 Mammoth homes were listed. It's possible that all the people who were on the fence about listing their Mammoth home, did already in 2020 and 2021 – taking advantage of the sellers' market.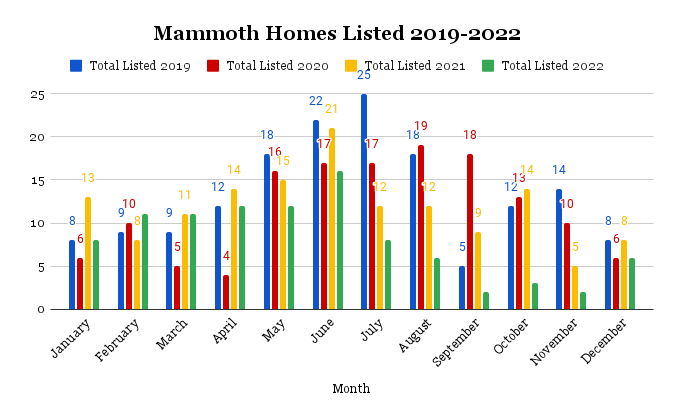 People were still buying in the second half of 2022. We had one of the best summers and falls ever (regarding weather) and people typically try to get a home before the ski season. Admittedly, this past fall did seem extra slow for the Mammoth Lakes real estate market. We believe one of the reasons was that potential buyers were taking international trips now that the covid regulations loosened up. Also, a lot of people were telling us they thought the market was going to drop now that interest rates were in the 6%-7% range (and still are). No one knows what's going to happen, but we like to look at supply and demand. So far there is still a lot of demand in Mammoth Lakes and not a lot of supply.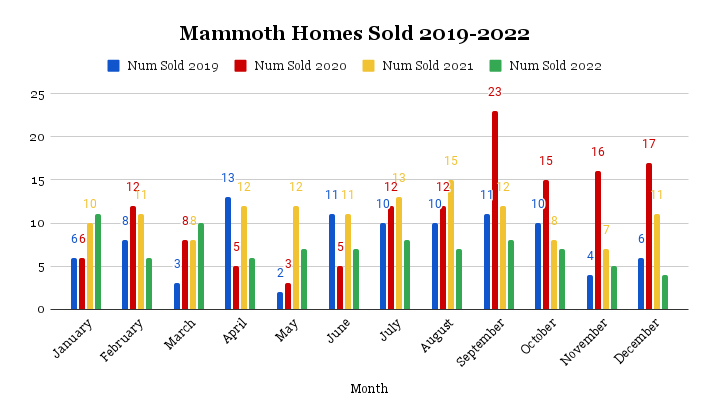 According to the Mammoth Lakes Multiple Listing Service, 86 Mammoth homes sold in 2022. Mentioned above, 97 Mammoth homes were listed. That is a decent ratio of sold to listed homes compared to 2019, the last "normal" year when 94 Mammoth homes sold and 160 homes listed. The Mammoth homes that expired in 2022, didn't sell for a reason. Many times the price was simply too high for the market and the condition of the property. A lot of sellers in the later half of 2022 were still hoping that the property would sell like it might've in the previous year. The state of the market was clearly different and if a seller wasn't flexible, many buyers simply moved on. We would not blame this on a demand issue.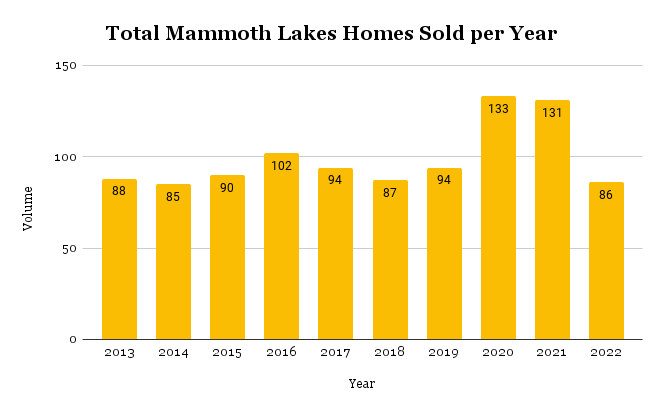 If you get anything out of this blog post it should be this. Mammoth Lakes and the other communities in the Eastern Sierra are an island. These communities are surrounded by National Forest Service Land and there is no "urban sprawl" here. Mammoth is a town of only 4 miles by 4 miles square – that's it. That's all we have. How many properties can you develop on that? Then when it's all developed (which it almost is), how much will the land be worth? Mammoth Mountain is going to continue to maximize profits and it seems like Mammoth is Alterra Mtn Company's cash cow. With the future development of Main Lodge, it does seem very possible that Mammoth Lakes has more appreciation to be had similar to Tahoe, Aspen, and other luxury ski areas.
Mammoth Lakes Condo Trends and Stats
Mammoth condos performed similarly to Mammoth homes. Both listings and sales were down compared to 2019, 2020, and 2021. One metric was quite different though – median sale price. The median sale price for a Mammoth Lakes condo was $750,000 in 2022 vs. $614,000 in 2021. That's a 22.15% increase in value. Mammoth condos have been steadily increasing in median sale price since 2016 and even before that the dip was only -1.72%. As short-term rentals become more widespread the demand for Mammoth condos increases driving the price up.
| | | |
| --- | --- | --- |
| Year | Mammoth Condo Median Sale Price | Percent Change YOY |
| 2015 | $305,000 | |
| 2016 | $299,750 | -1.72% |
| 2017 | $350,000 | 16.76% |
| 2018 | $400,000 | 14.29% |
| 2019 | $450,000 | 12.50% |
| 2020 | $475,000 | 5.56% |
| 2021 | $614,000 | 29.26% |
| 2022 | $750,000 | 22.15% |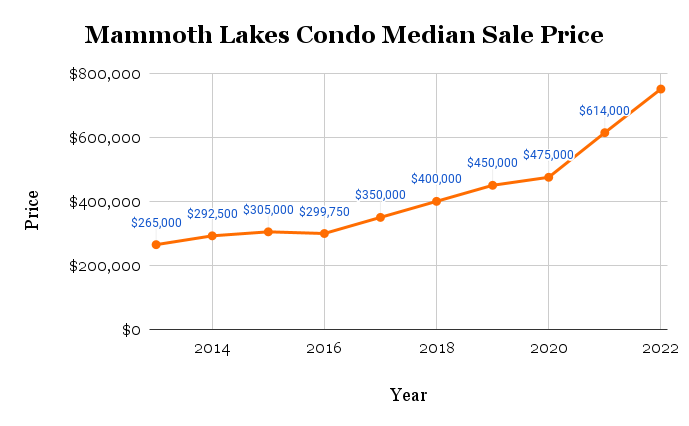 Inventory for Mammoth condos has been on a downward trend for a big chuck in 2022. Even today (writing this in early-mid January 2023) inventory is still extremely low. With not a lot on the market, sellers can generally ask for a higher price.
| | |
| --- | --- |
| Year | Mammoth Condos Listed |
| 2019 | 443 |
| 2020 | 515 |
| 2021 | 418 |
| 2022 | 385 |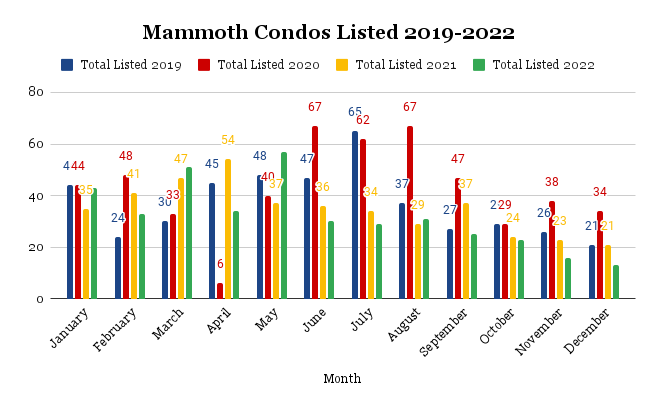 The Mammoth Lakes real estate market has changed, but it's still hot. In the beginning of the year it was almost impossible to find a one-bedroom condo for under $500,000. Now there are some two-bedroom, two-bathroom condos in that range. Like we've mentioned before, if a property is updated nicely (upgrades, furnishings, etc.) and priced competitively, it will attract a lot of attention and likely get multiple offers especially with our low inventory. This happened with a townhome near Mammoth Mountain's Canyon Lodge. When everyone thought the days of multiple offers were over, this Mammoth condo received 10 offers. Timing can play a big role as well. Big snow years help and this condo was close to the ski hill. Another example would be to sell your fishing cabin in the summer – timing.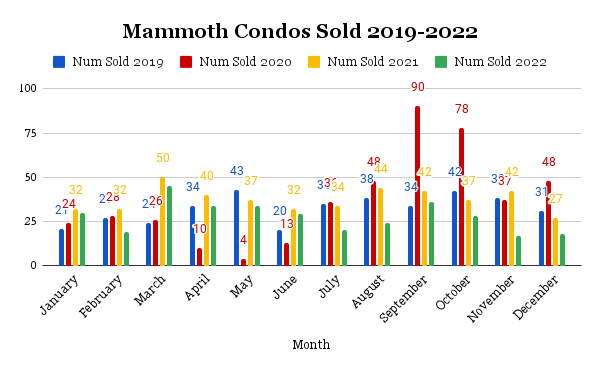 With not a lot of Mammoth condos on the market throughout 2022, sales were down. Last month (December 2022) only 18 Mammoth condos sold. This is a significant decrease from the previous Decembers in recent years. This has been a trend in 2022 – not as many Mammoth condo sales on a monthly basis compared to the last three years. There was a lot of uncertainty in the market when rates went up, which played a role for buyers. When the market starts shifting like that, it can take 6-12 months for sellers to be on the same page as buyers. Buyers felt the cost of higher interest rates, but a lot of sellers still wanted high prices. For the most part, it seems like capitulation has played its part for most sellers.
| | |
| --- | --- |
| Year | Mammoth Condo Sales |
| 2019 | 387 |
| 2020 | 442 |
| 2021 | 449 |
| 2022 | 335 |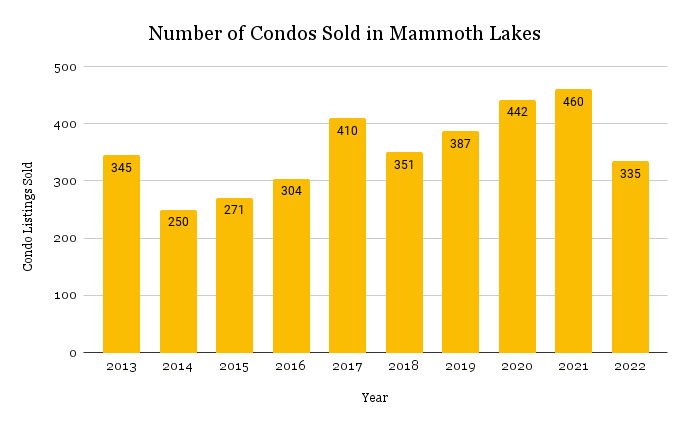 Overall, the Mammoth Lakes market is still going strong. There is still optimism in the market and people are excited about all this snow. Maybe the people who bought in the Eastern Sierra will get tired of shoveling snow and want to sell their place in Mammoth. Who knows? A lot can happen and it'll probably be a mix of everything. What we know right now is that people are buying and prices are still up for now. We'll keep track of these metrics, especially inventory.
If you have any Mammoth real estate goals for 2023, feel free to contact us here. We are always happy to help in any way we can. Wishing you and your family a happy and healthy 2023!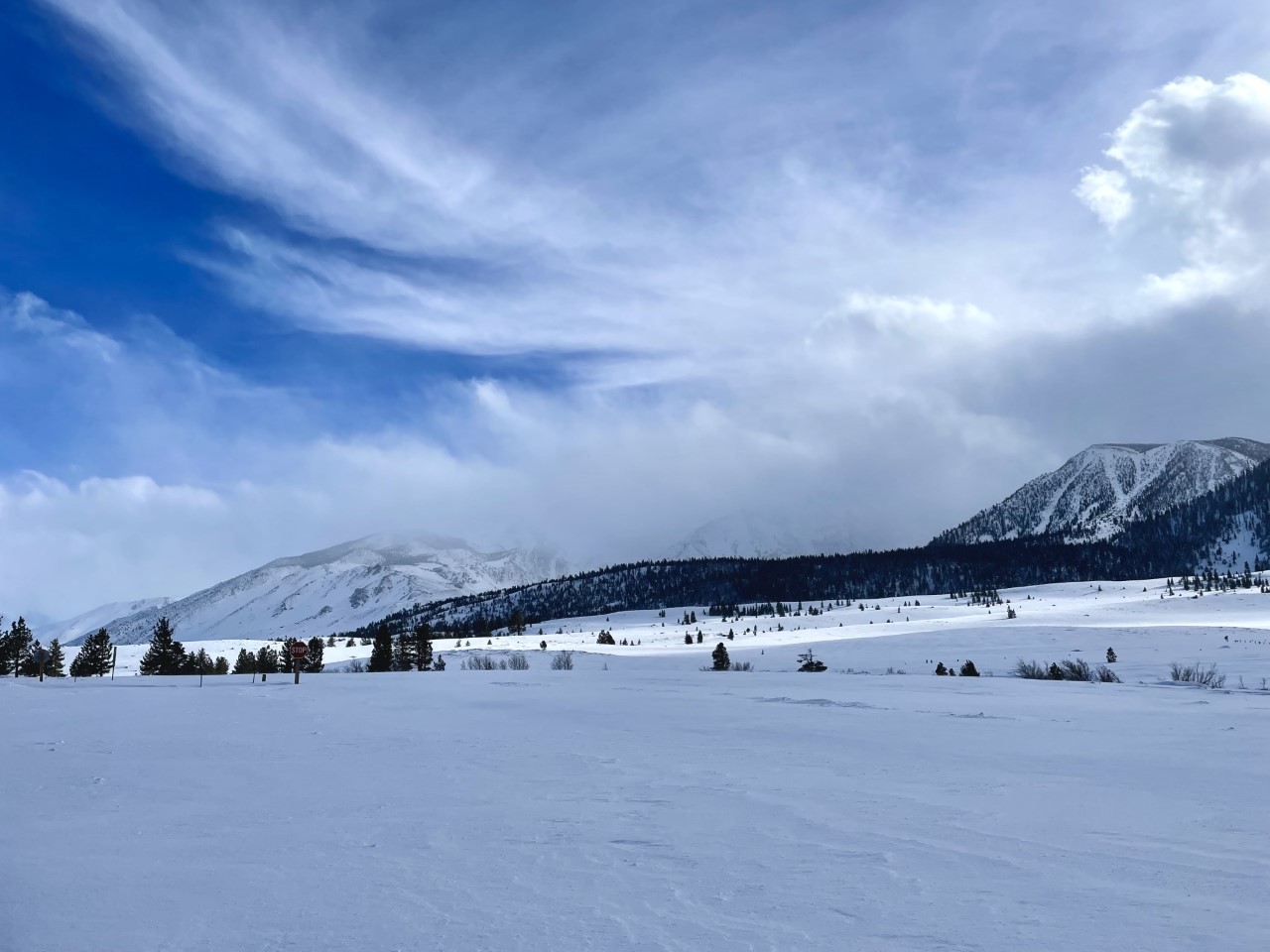 Disclaimer: Based on information from the Mammoth Lakes Board of REALTORS and other various sources. All data including all measurements and calculations of area, is obtained from various sources and has not been, and will not be, verified by broker or MLS. All information should be independently reviewed and verified for accuracy. Properties may or may not be listed by the office/agent presenting the information.