Mammoth Lakes News
Mammoth Lakes, California is experiencing all four seasons in one month. May had snowstorms, warm sunny days, and even some rain showers. There is still a lot of snow and ice on lakes above 8,000-9,000 feet. Summer hiking in the Eastern Sierra high country will be on hold for a while.
Mammoth Mountain is still open at Main Lodge featuring a lot of cool events. The Mammoth Yacht Club and the World Quarterpipe Championships were held this past week. There are still a lot of fun events coming up in Mammoth Lakes including opening day at the Sierra Star Golf Course, parties, and live music!
Mammoth Mountain operations consist of Main Lodge and The Mill from 7:30am-1:00pm daily , as of June 6th. Canyon and Eagle Lodge are now closed for the season including the trail Easy Rider. You can check out the full report here.
Mammoth Lakes Real Estate Recap
The Mammoth Lakes real estate market is finally starting to see an uptick in listings. The pace is still slower than the past few years and inventory is still at an all time low. When a competitively priced listing hits the market, it quickly gets an offer and in some cases multiple. Demand is still high throughout the Eastern Sierra.
Mammoth homes and condos for sale are hovering at a higher number now than the rest of the year. As of June 8th, 2023 there are 39 condos for sale and 14 Mammoth homes for sale. That is definitely better than the 10 active home listings and 25-30 Mammoth condos for sale that we witnessed at the start of 2023.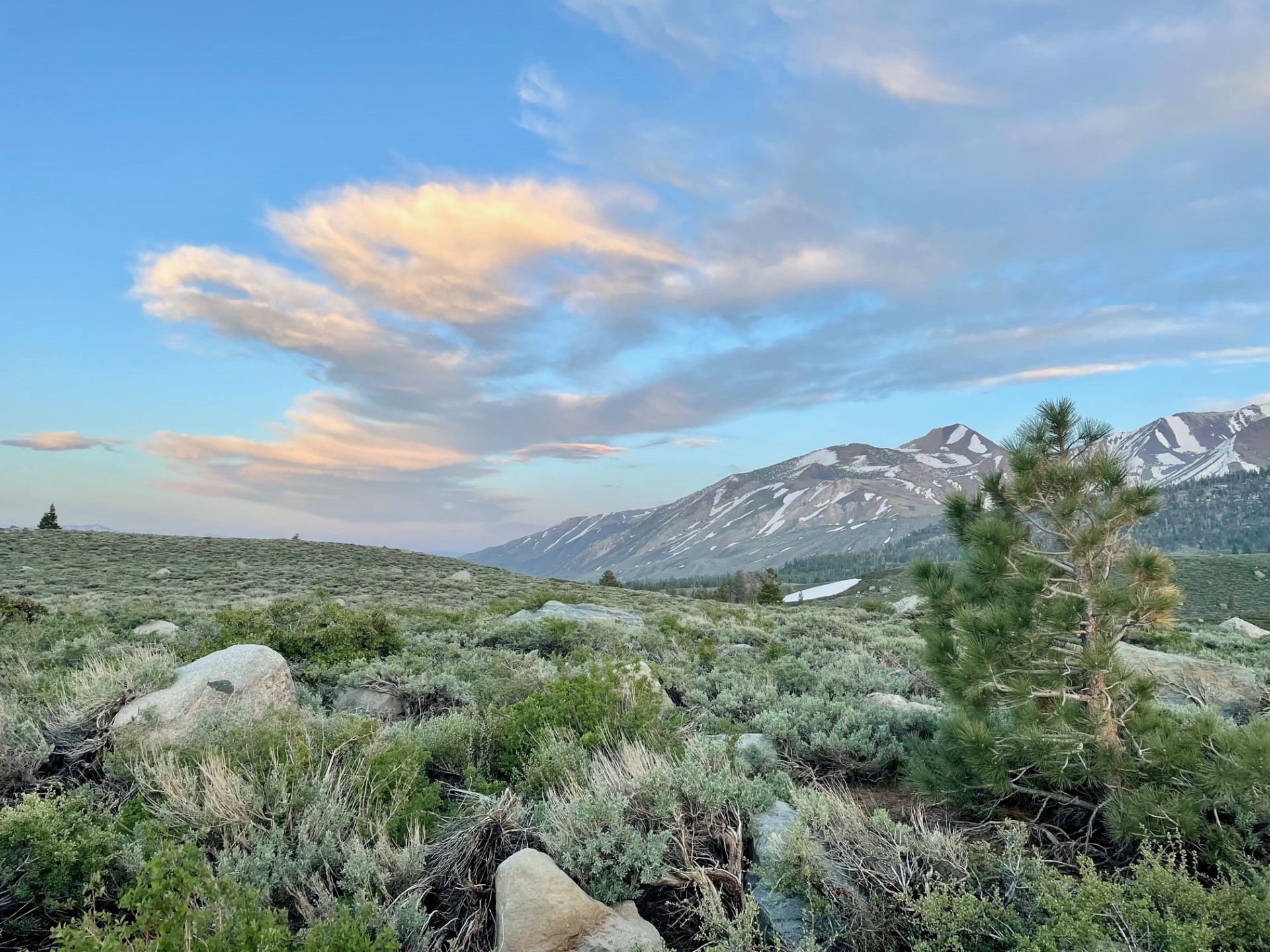 Mammoth Lakes Homes Trends and Stats
Mammoth homes haven't been selling as much as they were even going back to 2019. Five Mammoth homes sold in May, which isn't the least amount of homes sold in May looking back. In fact, two homes sold in May 2019. May is typically a slow month for the Mammoth Lakes real estate market. Still, sales are lagging behind previous years. 16 Mammoth homes have sold so far this year, while 32 homes sold in January–May 2019. The sloth like home sales in Mammoth Lakes is mostly like due to the inventory…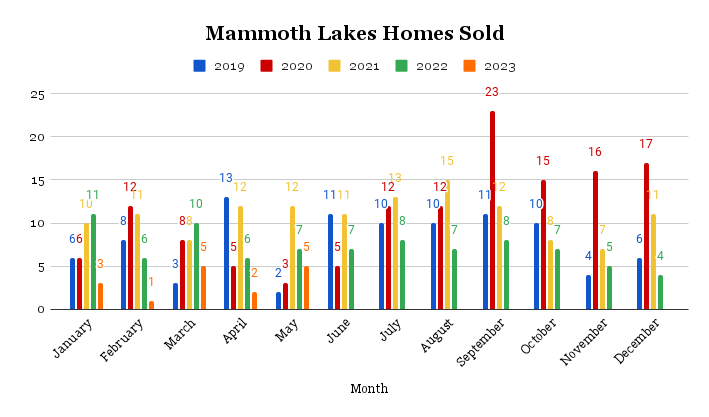 The Mammoth Lakes home inventory has been the determining factor for the state of our market. Ten homes were listed in May which is an incredible improvement considering the last few months of this year. The pace at which Mammoth homes have been listed this year is about 50% slower than the last few years. Considering the months January–May 2019, 57 homes were listed. During those same months, but this year, 26 homes have been listed.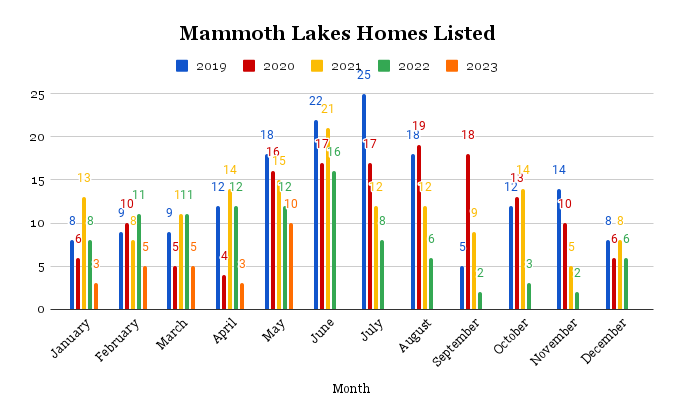 The median sale price for a home in Mammoth Lakes was $1,299,000. The median sale price tapering down at this time of year is quite normal as you can see from the graph below. Four out of the five homes that sold, sold for under asking price. One sold for the asking price. A lot of sellers want to start with a high asking price then adjust as the market "speaks." If the agent isn't getting calls, the price is probably too high. We saw a lot of this the past few years and to many people's surprise, the home would sell at an extremely high price. Now, a lot of the high prices are justified due to high demand and low supply.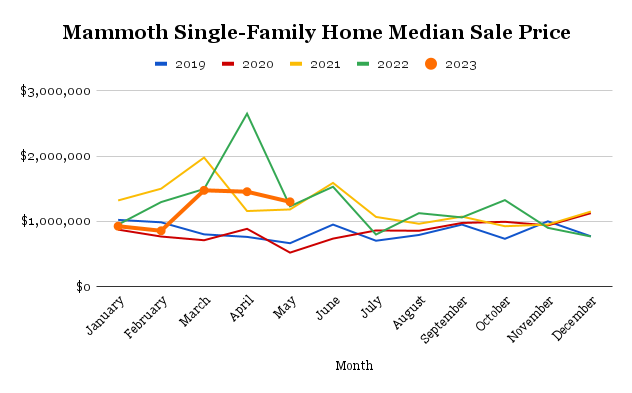 Mammoth Lakes Condo Trends and Stats
Mammoth condo sales have been slower than the past years, but steady this year. 15 Mammoth condos sold in the month of May. This past month, the condo trends were similar to the Mammoth home trends with an increase in sales and listings compared to the prior month of April.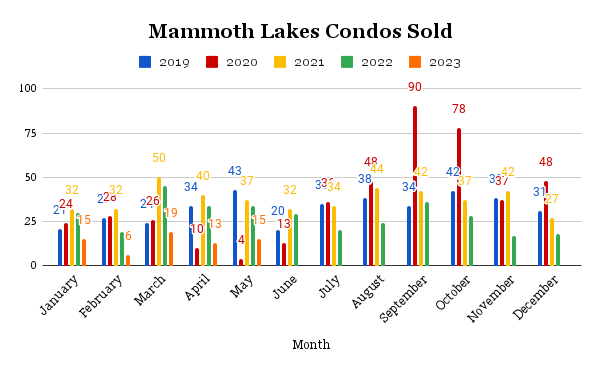 Mammoth condo listings doubled in May! Again, the active inventory isn't as much as the last few years, but it is an improvement comparing May to the other months this year. As of June 8th, there are eight Westin Monache condos for sale out of the 39 total condos on the market in Mammoth Lakes. The market is fickle and you don't know what's going to get an offer quickly. There have been some Mammoth condos sitting on the market and others sell overnight. The number one determining factor to this is price…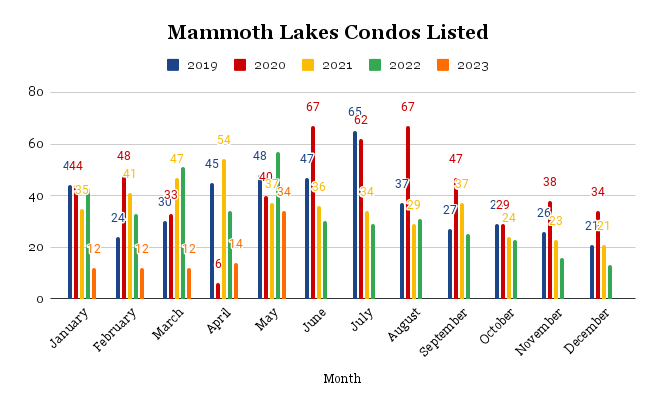 The median sale price for a Mammoth condo in May was $750,000. Prices have been trending lower than 2022 for all but one month in 2023. Prices have dropped only slightly. Overall they're keeping strong. Of the 15 Mammoth condos that sold in May, 10 sold for under asking price; three sold for above; and two sold at asking price. There have been multiple offers for a few condos that were listed in May. The condos that are 2-bedrooms and bigger are getting a lot of attention right now.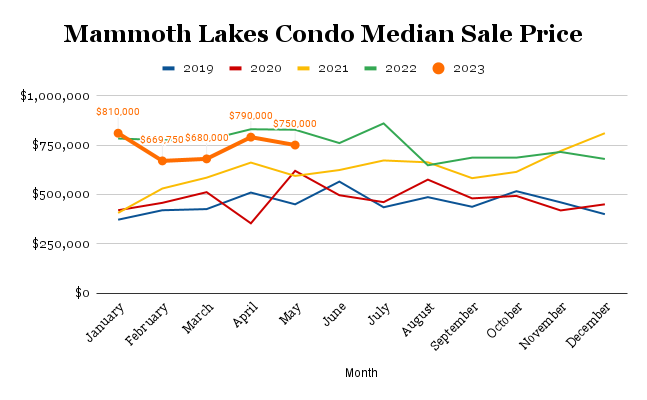 If you're curious about getting your piece of Mammoth, be sure to book a call with us so we're ready when the right property hits the market!
If you're ready for different adventures and you're thinking about selling, please feel free to give us a call/text/email anytime. If you'd like a free property marketing plan and valuation of your property, please book a call here.
We're always happy to help! Thanks for reading!
-Your Mammoth Agents, Joseph and Grace!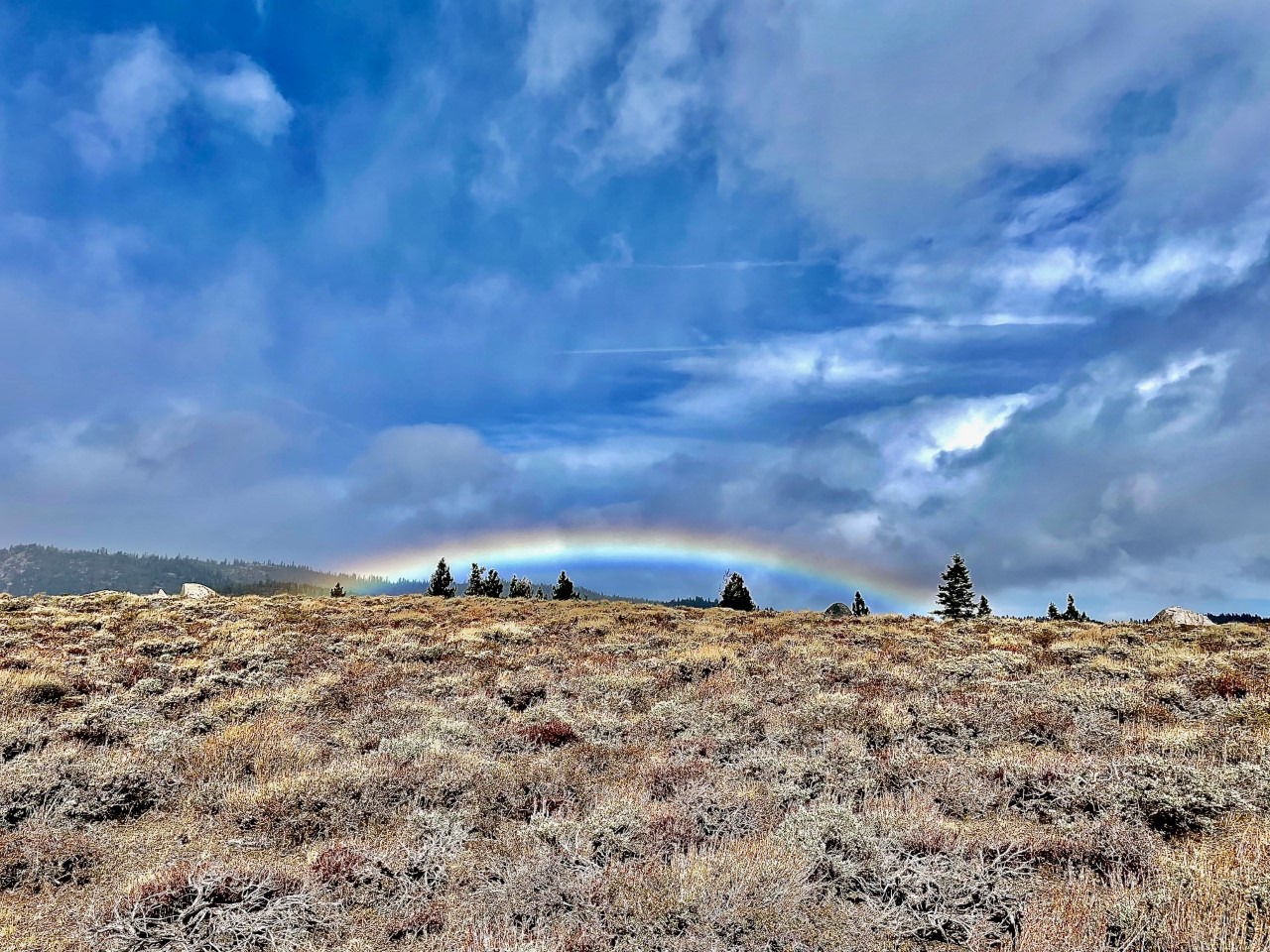 Disclaimer: Based on information from the Mammoth Lakes Board of REALTORS and other various sources. All data including all measurements and calculations of area, is obtained from various sources and has not been, and will not be, verified by broker or MLS. All information should be independently reviewed and verified for accuracy. Properties may or may not be listed by the office/agent presenting the information.