Fall in Mammoth Lakes
Fall is an amazing time to visit Mammoth Lakes. Usually, the summer crowds have slowed down, the temperature is cooler than summer and perfect for hiking. It's also a beautiful time to visit with all of the fall colors.
Typically fall colors start in mid to late September and continue throughout October. Even though it isn't officially fall yet, it sure is feeling like it! The mild summer has cooled off rather quickly and there were some cold days on the Labor Day weekend. If you're trying to escape the heat, Mammoth is a good place to be!
Events in Mammoth Lakes are typically before Labor Day, but there are still a few to look forward to before the snow falls. The Mammoth Yoga Festival, Andrew Bird concert at the new Sierra Nevada Resort (Outbound Mammoth), and the Mammoth Trail Fest are just around the corner. Check out the calendar here.
Mammoth Lakes Real Estate Recap–August 2023
Mammoth Lakes' real estate activity proved to be eventful in the month of August. More condos and homes sold in the month of August than any other month so far this year. This August, condo sales even trumped over last August.
Listings were up in Mammoth Lakes, as well. It's possible that people were finally ready to sell their homes after construction damage was addressed. It's definitely not easy to find a contractor this year.
Four homes in the Mammoth Knolls were listed in the past 30 days. If you drove through the Knolls neighborhood this winter, you would've probably regretted it. This neighborhood is off of Minaret Rd. right after the Village. The snowbanks were at least 20 feet high and the road was a single lane. We heard the cost of snow removal was astronomical in this area. It's likely that these property owners are ready to part with their Mammoth home after the historic winter.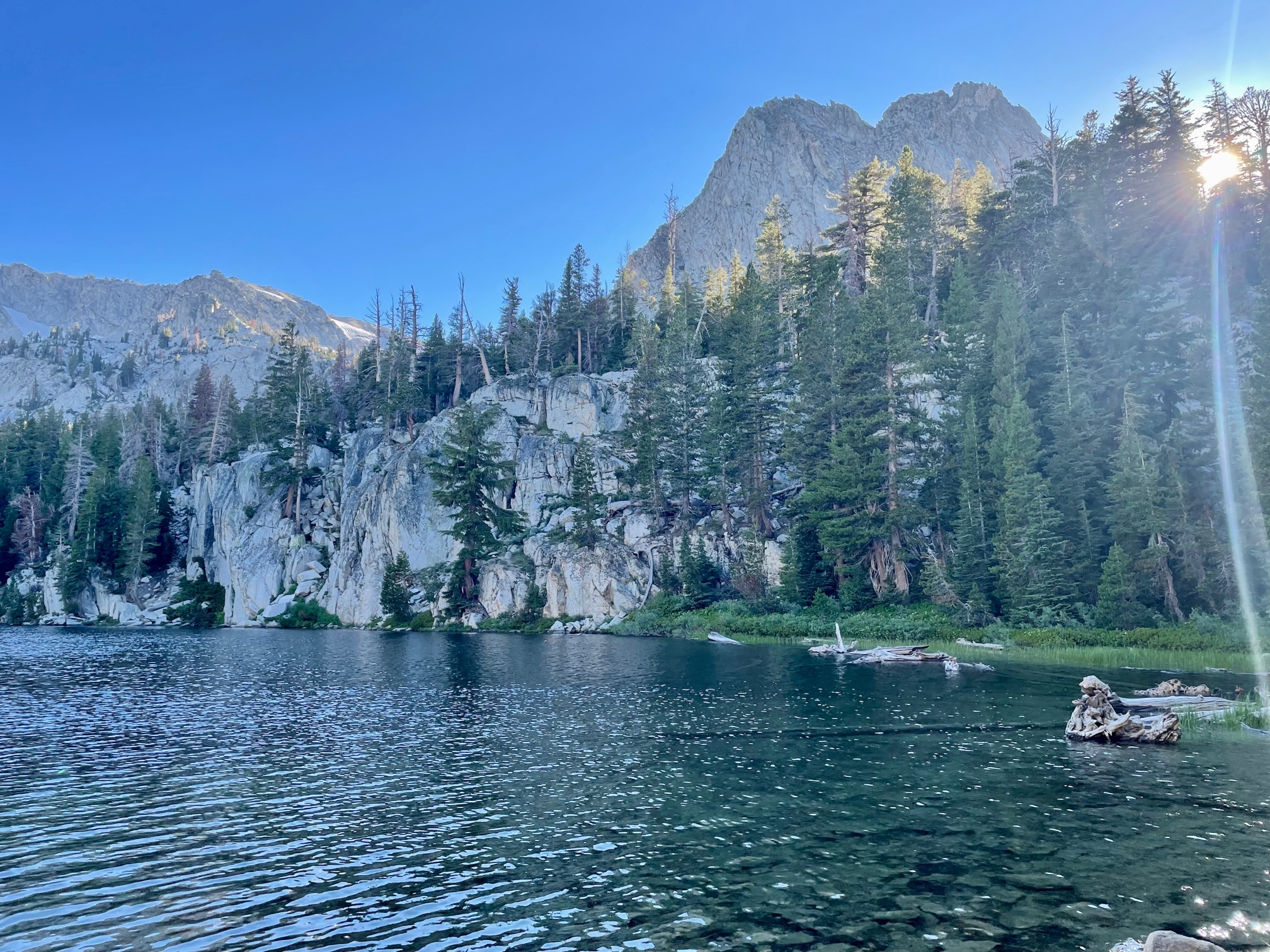 So what does this August show us? For buyers, there is still demand, however, many aren't as eager as we saw in the covid boom. The word we're using to describe buyer sentiment right now is patient. The majority of buyers in Mammoth are looking for a second home, but nobody needs a second home. Of course, everyone wants one, so if the right opportunity arises, they'll jump on it. If you're a buyer, let us know if this is how you feel!
For sellers, it seems like the majority demographic is older people who have cherished their Mammoth home, but now they have grandchildren. They'd like to spend more time with them and unfortunately, nobody is visiting their Mammoth property anymore. It's a considerable expense to only visit a few times a year. So, it's time to take advantage of the market.
This is a huge generalization, but this seems to be the biggest reason to sell a Mammoth property–a single-family home at least. For other sellers, they simply hope to put their profit into another investment. Potentially one closer to home.
Remember, most sellers in Mammoth Lakes are elective sellers. Meaning, they don't have to sell and they can wait to get their price. So, it's extremely difficult to find a real "deal."
Mammoth Lakes Home Trends
Mammoth Lakes saw six single-family homes sell and one mobile home sell in August. This is the highest number we've seen so far this year for Mammoth home sales in a single month. However, it is below previous years.
The most expensive home to sell this year sold in August–285 Juniper Rd. at $4,221,000. The two most expensive homes and the mobile home sold for cash. The other four homes sold with a conventional loan. Two homes sold above the asking price and four homes sold under the original listed price.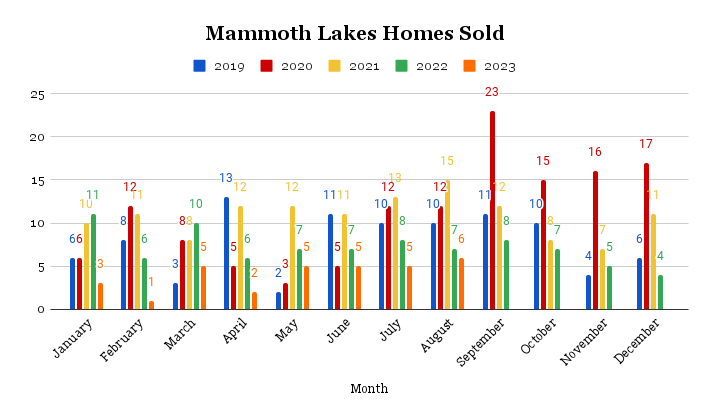 15 Mammoth homes were listed in August. This is more than double last year in August and above 2021. It's great to see a steady stream of homes and more staying on the market. Of course, the prices are still high..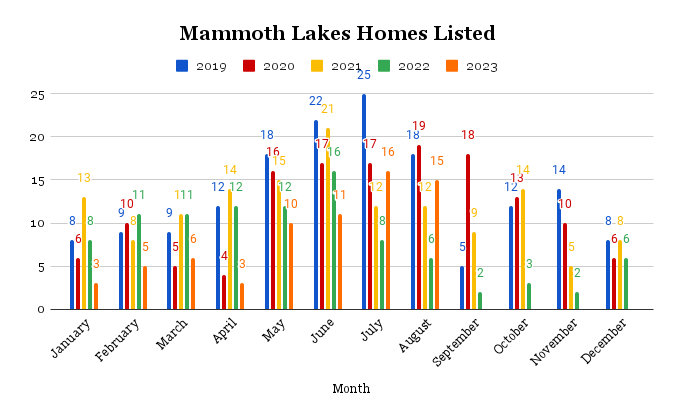 The median sale price in the month of August for a Mammoth home was $1,275,000. This is a big drop from the previous month simply because a few more expensive homes sold in July. Year-to-date the median sale price this year is higher than last year.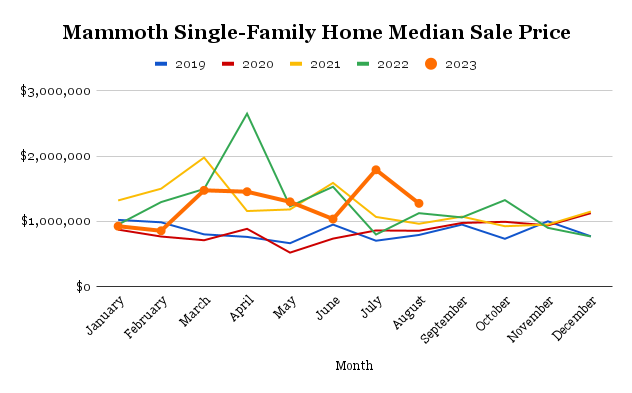 Mammoth Lakes Condo Trends
A whopping 31 Mammoth condos sold in August. We haven't seen that high of a number since September 2022. Nine of the 31 Mammoth condos that sold, sold for all cash. The other 22 were financed with a conventional loan.
Mammoth saw 12 condos sell over the asking price. Three Mammoth condos sold at the listing price and the rest of the 16 condos sold below the asking price. Mammoth condos with a great location and a competitive price always get the most attention and sell quickly.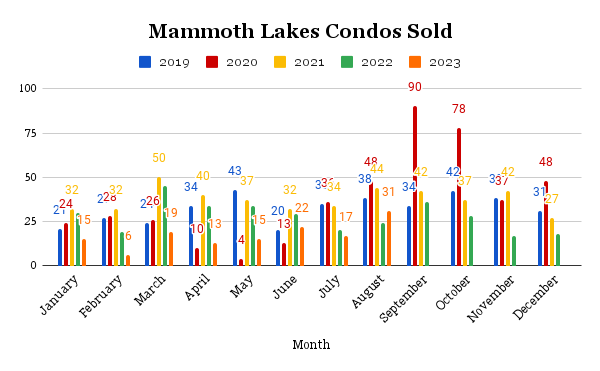 Amazingly, 42 Mammoth condos were listed in August. We haven't seen that many listings in a single month since May 2022. With that many listings, there are more condos actively for sale–63 condos for sale as of September 6th, 2023.
Mammoth real estate listings have been extremely sluggish for the entire year. This month has proved that there are still sellers out there. It's going to be interesting to see if we see a similar trend in September. After enjoying this incredible summer, it might be time to capitalize before potentially another big winter.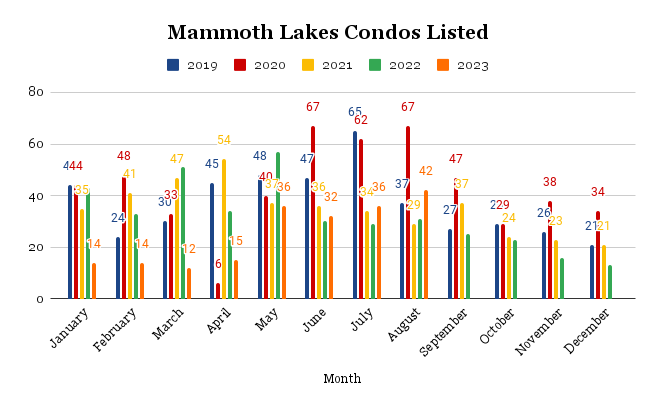 Mammoth Lakes' median sale price for a Mammoth condo jumped to $701,000 for the month of August. This is higher than all the previous Augusts. The low inventory is once again, keeping prices high.
The year-to-date median price isn't as high as 2022, but it's pretty close! It's only a 2.33% difference. 2022 saw a median sale price for a Mammoth condo at $750,000 and so far the 2023 year-to-date median sale price is $732,000. High interest rates haven't put too much of a damper on Mammoth Lakes real estate, but it is slowly changing it.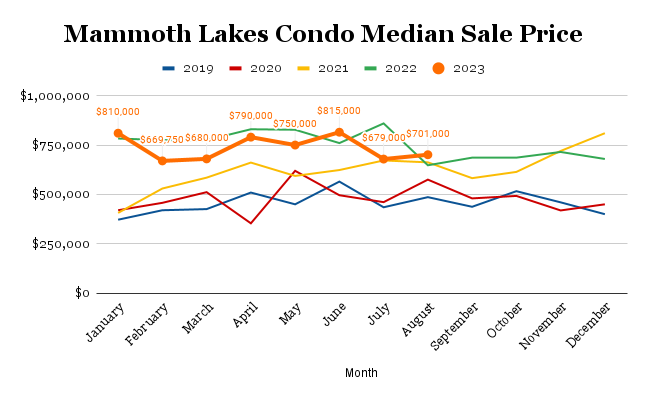 If you're curious about getting your piece of Mammoth, be sure to book a call with us so we're ready when the right property hits the market!
If you're ready for different adventures and you're thinking about selling, please feel free to give us a call/text/email anytime. If you'd like a free property marketing plan and valuation of your property, please book a call here.
We're always happy to help. Thanks for reading!
-Your Mammoth Agents, Joseph and Grace!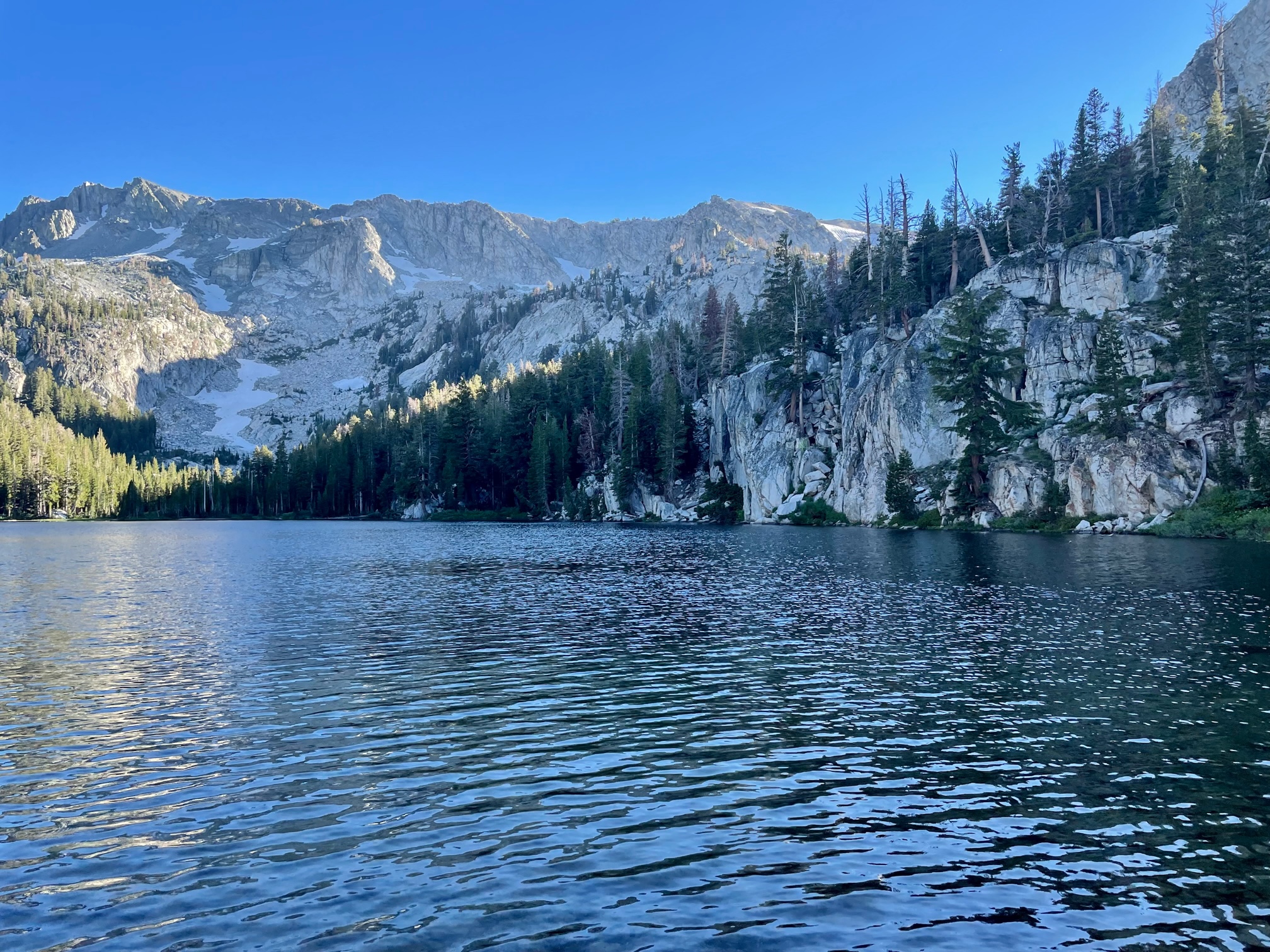 Disclaimer: Based on information from the Mammoth Lakes Board of REALTORS and other various sources. All data including all measurements and calculations of area, is obtained from various sources and has not been, and will not be, verified by broker or MLS. All information should be independently reviewed and verified for accuracy. Properties may or may not be listed by the office/agent presenting the information.